Cuban Black Beans & Rice
Prep: 10 mins
Cook: 25 mins
Hola amigos, este receta quiere decir... Pardon me, I've gotten a little carried away. This divine recipe is really black beans & rice jazzed up with cinnamon and organge. Olé!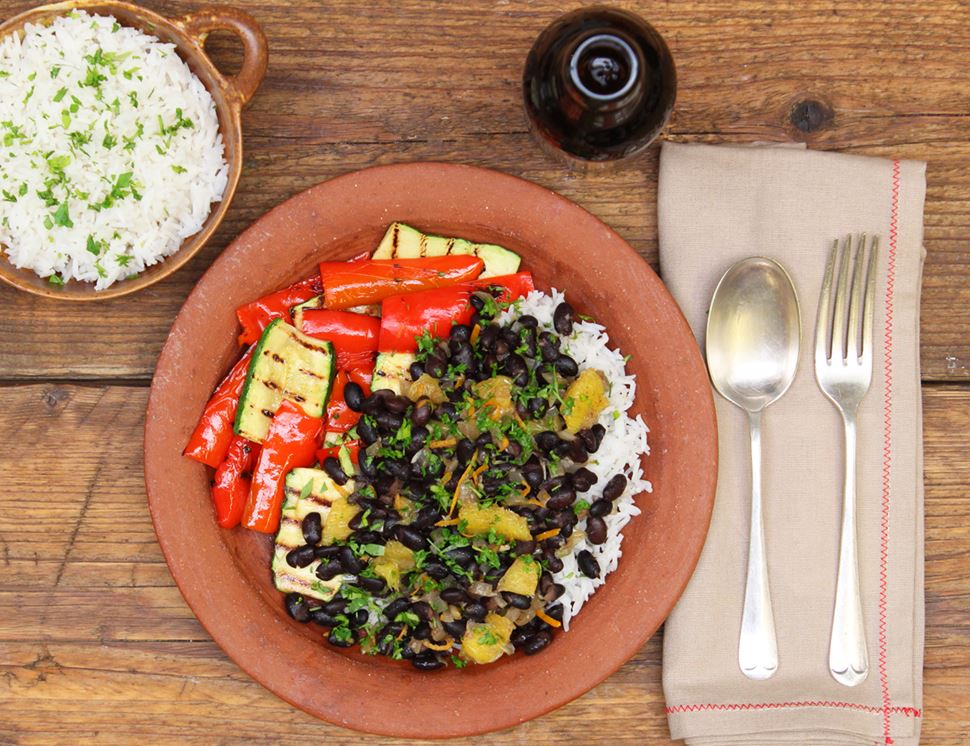 Ingredients you'll need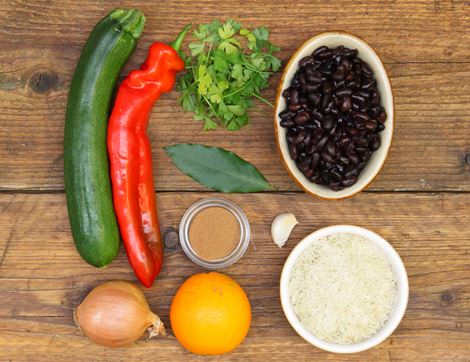 1 onion
1 garlic clove
1 bay leaf
1 tsp ground cinnamon
1 orange
A tin of black beans
A bag of white basmati rice
1 courgette
1 red pointed pepper
A handful of flat leaf parsley
From your kitchen
A splash of olive oil
Sea salt
Freshly ground pepper
4 tbsp cold water
250ml hot water
You'll need
Chopping board
Knife
Garlic crusher or grater (optional)
A couple of pans with lids
Wooden spoon
Zester (optional)
Colander or sieve
Measuring jug
Griddle pan
Pastry brush (optional)
Tongs
Plate
Kitchen paper
Step by step this way
1.

Peel and finely chop the onion. Peel and grate or crush the garlic. Warm a glug of olive oil in a pan. Add the onion. Season with salt and pepper. Gently cook over a lowish heat for 5 mins. Stir now and then till the onion looks soft. Fill a kettle and boil it.

2.

While the onion cooks, finely grate or pare the zest from the orange. Slice off the skin. Slice the orange into segments, peeling off the thin membranes. Stir the garlic, orange zest, segments and 1 tsp of the cinnamon into the onion.

3.

Drain the beans. Rinse them. Stir them into the pan with 4 tbsp water. Pop on a lid. Simmer over a low heat for 5 mins. Take off the lid. Gently cook and stir for another 5 mins till the beans are thick. Taste and adjust the seasoning.

4.

While the beans are cooking, tip the rice into a pan. Pour in 250ml hot water from the kettle. Cover. Bring to the boil. Turn the heat right down. Gently simmer for 6 mins till all the water has been absorbed. Take off the heat. Leave to steam, lid on, for 2-4 mins to finish cooking the rice.

5.

Put the beans and rice to one side with their lids on to keep warm. Trim the ends off the courgette. Slice into short thin lengths. Halve the pepper. Scoop out the seeds and white bits. Slice into short lengths.

6.

Warm a griddle pan. Brush the courgettes and peppers with olive oil. Add the courgette slices to the pan. Fry for around 1 min each side till they're charred. Cook them in batches if you can't fit them all in the pan. Pop them on a plate.

7.

Add the pepper strips to the pan. Fry for 2-3 mins till charred. Turn them once or twice while they cook.

8.

Rinse the parsley. Pat it dry with kitchen paper. Finely chop the leaves. Serve the rice and beans with the griddled veg and chopped parsley.