Spaghetti Pancetti Squashetti
Prep: 15 mins
Cook: 20-25 mins
Ever been at the Gravelly Hill interchange on the M6? Also known as Spaghetti Junction, I think you'll prefer this spaghetti junction where roasted squash gives way to pancetta.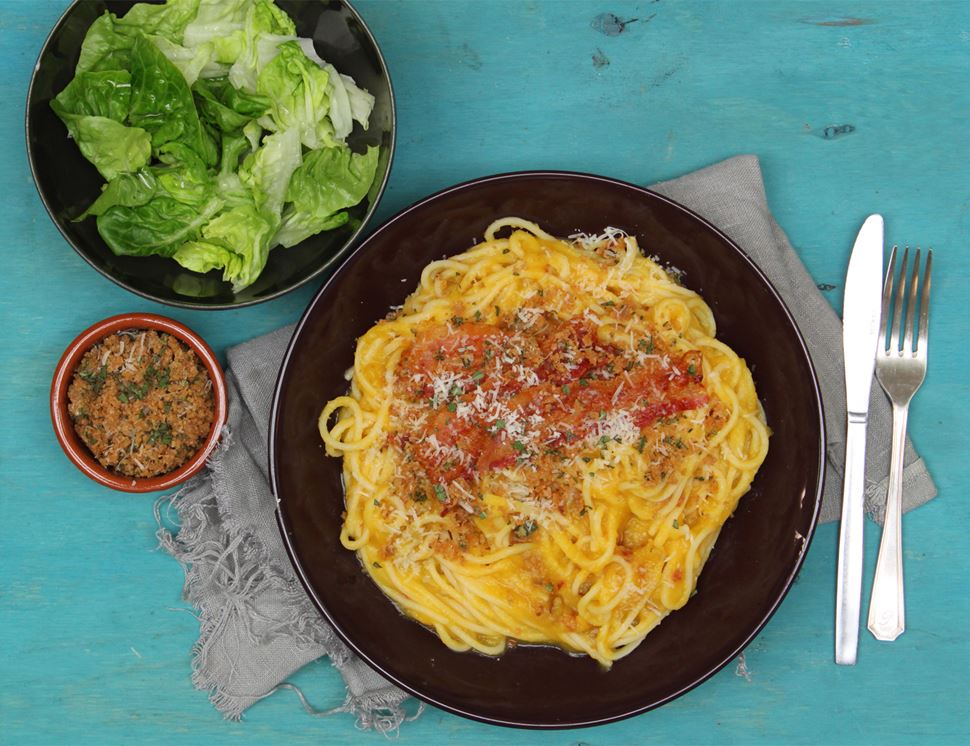 Ingredients you'll need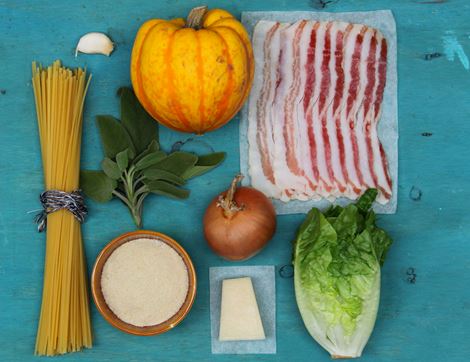 1 festival squash
1 onion
1 garlic clove
A handful of sage
A chunk of Parmesan cheese
1 lettuce
A pack of pancetta
A bag of spaghetti
A bag of breadcrumbs
From your kitchen
A splash of olive oil
Sea salt
Freshly ground pepper
250ml boiling water
You'll need
Chopping board
Knife
Vegetable peeler (optional)
Grater
Garlic crusher (optional)
A couple of pans with lids
Wooden spoon
Measuring jug
Colander
Salad spinner (optional)
Frying pan
Tongs or spatula
Plate
Kitchen paper
Hand-held blende, food processor or masher
Step by step this way
1.

Drain the spaghetti. Toss with the squash sauce. Top with the rest of the pancetta, the breadcrumbs and the remaining Parmesan and sage.

2.

Halve the squash. Scoop out the seeds and peel it. Chop it into small chunks. Peel and chop the onion. Peel and grate or crush the garlic. Finely chop the leaves from the sage sprigs. Grate the Parmesan cheese. Fill the kettle and boil it.

3.

Warm a splash of oil in a pan. Add the squash and onion. Season. Stir and fry over a medium heat for 5 mins till the veg are soft and golden. Add the garlic. Fry for 30 seconds. Pour in 250ml hot water from the kettle. Cover. Simmer for 15 mins till the squash is soft.

4.

While the squash cooks, tear the lettuce leaves into small pieces. Wash them and dry with a salad spinner or kitchen paper. Dress with a little olive oil and some salt and pepper.

5.

Warm a dry frying pan over a high heat. Add the pancetta. Fry for 2-3 mins till crisp. Lift out of the pan and pop on a plate lined with kitchen paper to drain. Take the pan off the heat, but leave the fat in the pan.

6.

Fill a pan with hot water from the kettle. Bring to the boil. Add the spaghetti. Simmer for 8 mins till the spaghetti is cooked but not too soft. It should have a little chew to it.

7.

Take the squash off the heat. Use a hand-held blender or food processor to blitz it to make a smooth sauce. If you don't have either gadgets, just mash the squash with a masher.

8.

Crumble half the pancetta into the sauce. Taste and adjust the seasoning. Cover. Warm the frying pan with the pancetta fat in it. Add the breadcrumbs. Fry for 1-2 mins till golden. Stir in half the Parmesan and most of the sage.