Sorrel's Jerk Chicken
Prep: 20 mins
Cook: 1 hr 15 mins + resting
Smoky and spicy, sticky and sweet, our Sorrel's twist on roast chicken will get you in the carnival spirit.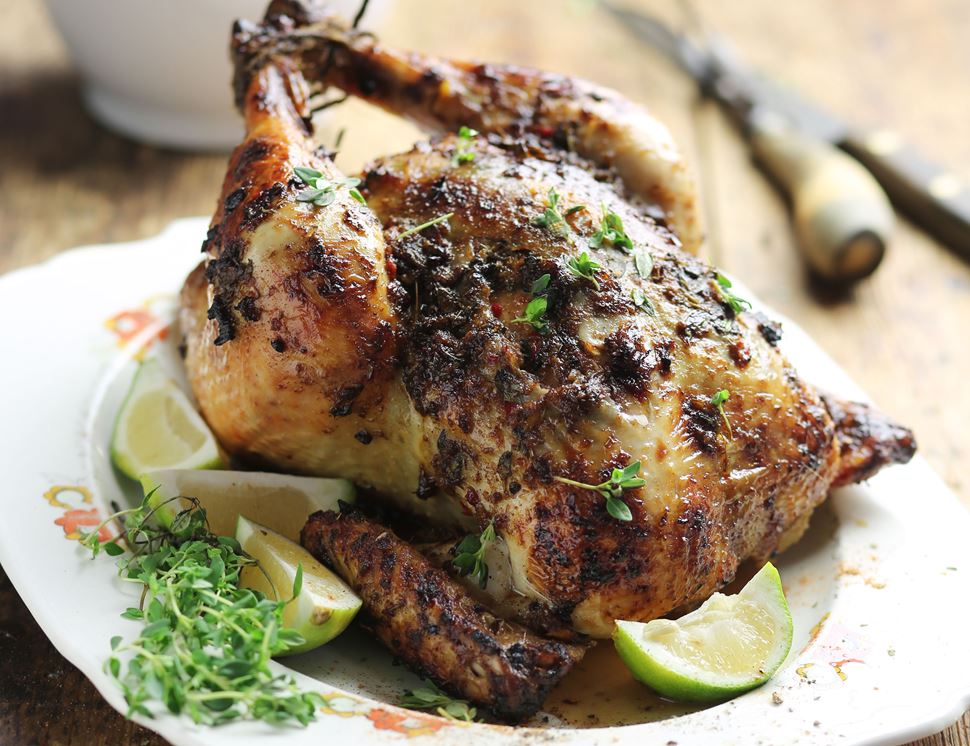 Ingredients you'll need
1.7kg (avg) whole free range chicken
A thumb of ginger
3 garlic cloves
3 chillies
A handful of thyme
4½ tsp Jerk spice mix
60g honey
1½ lime
From your kitchen
2 tbsp olive oil
1/2 tsp salt
200ml water, stock or beer
Step by step this way
1.

Heat your oven to 180C/Fan 170C/ Gas 4. Unwrap your chicken and pat dry. Set the giblets aside (you can use them in a homemade stock).

2.

Peel and grate the ginger and garlic. Finely chop the chillies, removing the seeds for a little less heat. Strip the leaves from the thyme. Mix everything together with 2 tsp Jerk spice mix, 1 tbsp honey, 2 tbsp olive oil and 1/2 tsp salt.

3.

Using the end of a wooden spoon, loosen the skin on the top of the chicken breast. Move the spoon around to loosen the skin and separate it from the flesh. Take care to not break the skin.

4.

Push half of the Jerk mix under the skin. Rub the rest over the chicken breasts and legs. Place the chicken in a roasting tin. Cover tightly with foil. Roast for 1 hr. Check the chicken is cooked by inserting a sharp knife into the leg. The juices should run clear. If not, pop back into the oven till they do.

5.

While the chicken is cooking, fire up your BBQ. The coals should be grey. After the chicken has cooked for 1 hour, place a sheet of foil on top of the BBQ grill. Place the chicken on top and close the lid. Finish cooking the chicken on the BBQ for 15 mins. This will crisp up the skin and give it a smoky flavour. Save any juices from the roasting tin.

6.

Alternatively, remove the chicken from the oven and whip off the foil. Crank up the oven to 220C/Fan 200C/Gas 7. Pop the chicken back into the oven and cook for 15-20 mins till the skin has darkened.

7.

Remove the chicken from the oven or the BBQ. Leave the chicken to rest for about 30 mins.

8.

While the chicken is resting, place the roasting tin with the juices on the hob over a medium heat. Add the remaining honey. Pour in 200ml water, stock or beer. Bring to a bubble and simmer for 10 mins.

9.

Carve the chicken and serve with the Jerk juices and wedges of lime.