Smoky Sweet Potato Cakes with Sweet Chilli Dressed Veg
Prep: 30 mins
Cook: 10 mins
Golden tofu and sweet potato fritters roll up next to a bright salad of chilli and ginger dressed veg ribbons and toasted peanuts.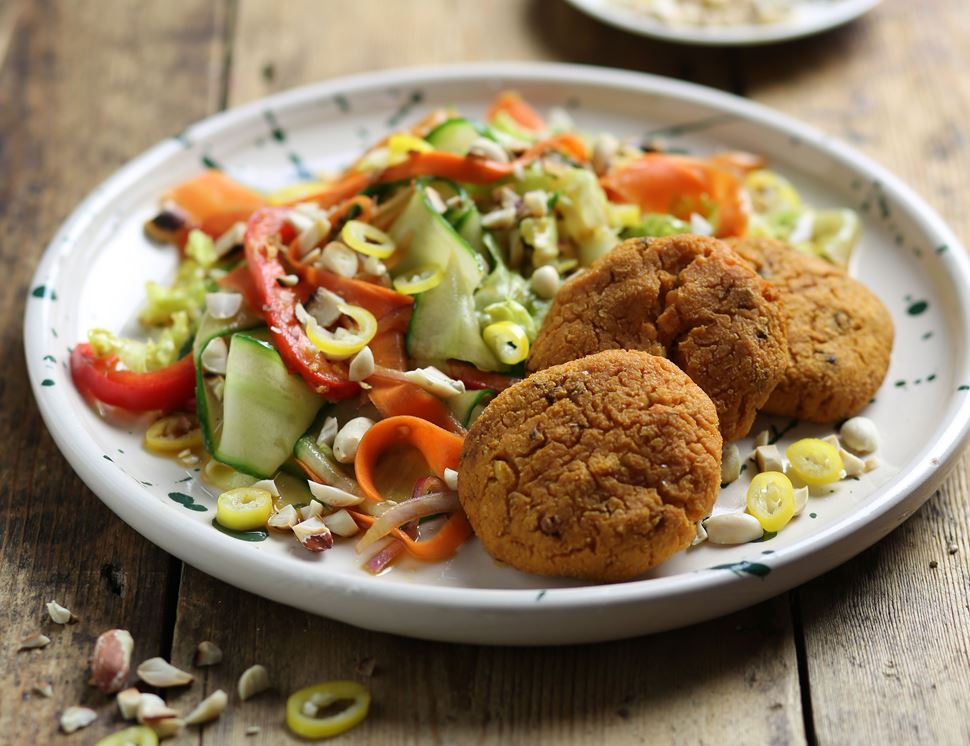 Ingredients you'll need
1 sweet potato
A thumb of ginger
1 garlic clove
1 lemon
40g sweet chilli sauce
2 tbsp tamari
1 red onion
225g smoked tofu
1 tsp szechuan peppercorns
1 red pepper
200g carrots
1 cucumber
1 lettuce
35g peanuts
1 chilli
From your kitchen
Step by step this way
1.

Heat your oven to 180°C/Fan 160°C/Gas 4. Put a pan of water on to boil. Peel the sweet potato and chop into small cubes. Add to the boiling water and simmer for 15 mins till the sweet potato can be easily pierced with a fork. Drain and leave to dry and cool slightly.

2.

While the sweet potato simmers, peel and finely grate the ginger and garlic into a large bowl. Squeeze in the juice of the lemon. Add the sweet chilli sauce, 2 tbsp tamari (keep the rest for later) and 1 tbsp olive oil. Whisk together.

3.

Peel and thinly slice the red onion. Add to the sweet chilli dressing. Toss and leave to marinate.

4.

Chop the tofu into small chunks. Place in a food processor. Grind 1 tsp Szechuan peppercorns and add them to the processor with the remaining tamari. Tip in the drained sweet potato. Pulse together till combined. No processor? Crumble the tofu into small pieces and mash with the cooked sweet potato, Szechuan peppercorns and tamari.

5.

Line a baking tray with baking paper. Scoop the sweet potato mixture into around 8 balls and pat into flattish rounds. Lay them on the baking tray. Bake in the oven for 20-25 mins till they are firm and pale golden.

6.

While the sweet potato cakes bake, halve the pepper. Scoop out the seeds and pith. Finely slice it. Peel the carrots. Use a peeler to peel ribbons off the carrots. When you've peeled down to the middle, finely slice it. Peel long ribbons from the cucumber in the same way, stopping at the seeded middle. Finely chop that. Finely shred the lettuce.

7.

Place all the prepped veg in the bowl with the marinating onions, but don't mix together yet (they will go soggy if you mix them too soon). Set aside.

8.

Set a frying pan on a medium heat and tip in the peanuts. Toast for 2-3 mins. Tip onto a clean tea towel and leave to cool for a few mins, then rub off any loose skins (not all the skins will come off). Roughly chop them. Finely slice the chilli.

9.

Toss the veg tigether with the chilli dressing. Divide between a couple of plates. Serve with the sweet potato tofu cakes, scattered with the peanuts and sliced chilli.