Smoky Spanish Pork with Rosemary Butter Bean Mash
Prep: 15 mins
Cook: 20 mins
¡Arriba! We're so excited about this smoky Spanish delight. Paprika-rubbed pork reclines on a bed of cumin and rosemary-spiced butter bean mash.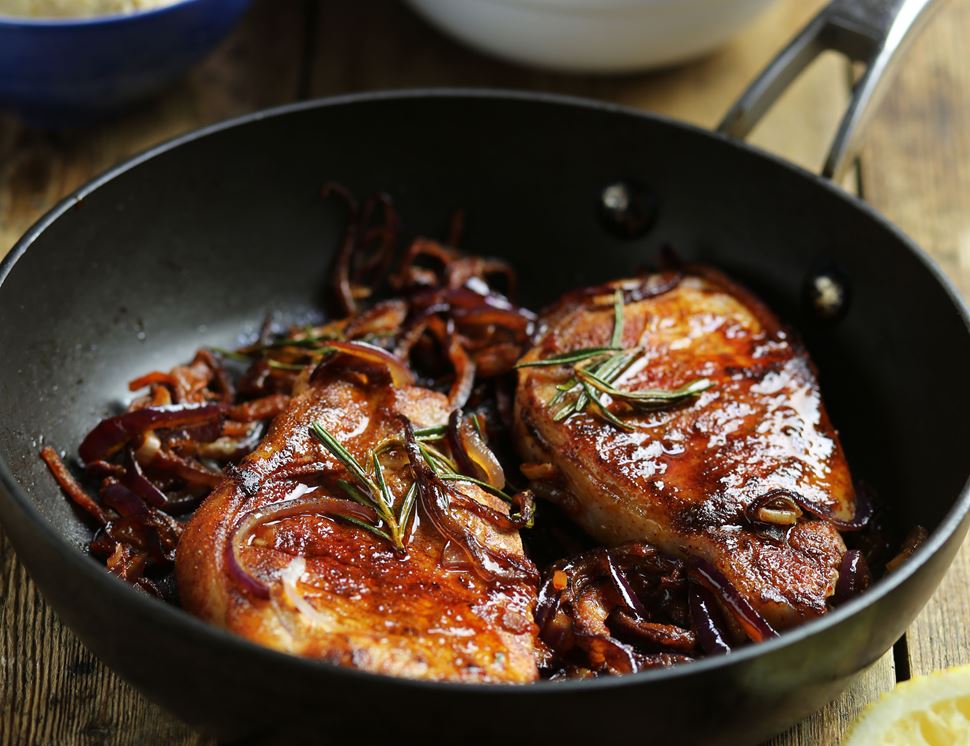 Ingredients you'll need
2 pork loin steaks
1 tbsp smoked paprika
2 tsp ground cumin
400g tin of butter beans
2 garlic cloves
A handful of rosemary
1 lemon
1 red onion
1 red pepper
50g watercress
From your kitchen
Sea salt and freshly ground pepper
1 tbsp olive oil
Step by step this way
1.

Mix 1 tbsp smoked paprika with 1 tsp ground cumin and a good pinch of salt and pepper. Dust over the pork. Use a fork to pierce the meat all over - this tenderises the meat and helps get more flavour into it. Set aside.

2.

Drain your butter beans. Pop in a sauce pan. Peel the garlic cloves. Add them, a good pinch of pepper, and 1 tsp ground cumin. Simmer for 10 mins.

3.

Strip the leaves from 1 rosemary stalk. Finely chop. Add to the butter beans, along with the zest and a good squeeze of juice from your lemon. Puree the butter beans till smooth, adding a little more lemon juice or water, if needed, to get a nice smooth, houmous-like texture.

4.

Set a large frying pan over high heat. Halve, peel and thinly slice your onion. Rub 1 tsp olive oil into each pork steak, on both sides. Press the pork into the hot pan. Add the remaining rosemary sprigs and the sliced red onion. Cook the pork 3-5 mins on each side, or till nicely golden and fully cooked through - the meat will be fully white in the centre. Stir and sizzle the onions alongside the pork. Spoon them out as soon as they're tender and a little charred around the edges.

5.

Let the pork rest. Thinly slice your red pepper, discarding the seeds and stem. Mix with the watercress, plucking out any thick stems. Toss with a spritz of lemon juice, a pinch of salt, and 1 tsp olilve oil.

6.

Thinly slice the pork, perch it and the sizzled onion atop of bed of butter bean mash. Serve the salad on the side.