Smokey Chicken with Sweet Potato Wedges & Tzatzikish
Prep: 15 mins
Cook: 30 mins
Peter and Sue's high welfare chicken is a dream with chunky organic potato wedges and a side of tzatzikish for dipping. Now tzatz what I call a good supper.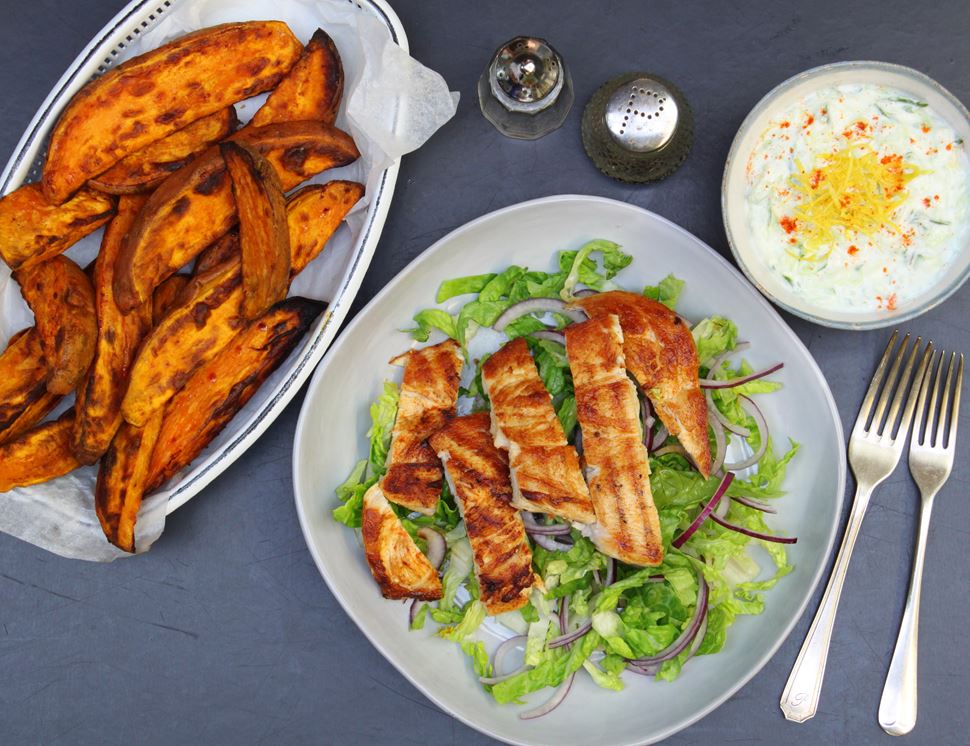 Ingredients you'll need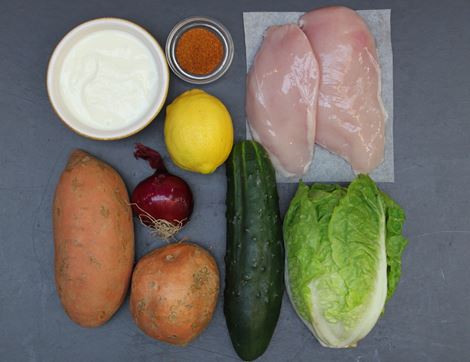 2 sweet potatoes
A pinch or two of smoked paprika
1 lemon
1 red onion
1 crisp lettuce
A pack of skinless chicken breasts
A pot of yogurt
1 ridged cucumber
From your kitchen
2 tbsp olive oil + 1 tsp
Sea salt
Freshly ground pepper
You'll need
Bowl
Baking tray
Kitchen paper or salad spinner
Cling film
Rolling pin
Dish
Griddle or frying pan
Step by step this way
1.

Heat your oven to 200ºC/Fan 180ºC/Gas 6. Scrub the sweet potatoes. Chop each potato into 8 chunky wedges. Pop in a bowl. Mix with 1 tbsp oil, a pinch of paprika and a little salt and pepper. Shake to mix. Grate or pare the zest from the lemon. Juice it.

2.

Arrange the wedges on a baking tray. Pop in the oven and roast for 30 mins till soft and a little charred. Peel the onion and slice into thin rounds. Pop in the bowl with a squeeze of lemon juice. Rinse the lettuce. Pat dry or use a salad spinner.

3.

Pop a chicken breast on a chopping board. Carefully slice through it, holding it down with the palm of your hand. Be carefully not to cut all the way through. Open the chicken out like a butterfly. Repeat with the other chicken breast.

4.

Lay a piece of cling film over the chicken. Bash with a rolling pin to flatten them so they are the same thickness. Pop the chicken into a dish. Add a good pinch of the smoked paprika, 2 tsp olive oil and some salt and black pepper. Pop to one side.

5.

Spoon the yogurt into a bowl. Rinse the cucumber. Coarsely grate it. Use your hands to squeeze as much liquid as you can from the cucumber. Add it to the yogurt. Stir in 1 tsp oil, a squeeze of lemon juice, the zest and a little salt and pepper.

6.

Add the lettuce to the onion. Season with salt and pepper. Squeeze in the last of the lemon juice. Toss to mix.

7.

Heat a large griddle or frying pan till it's smoking hot. Add the butterflied chicken breasts. Fry for 6-8 mins, turning once or twice so the chicken is golden brown on both sides and cooked through.

8.

Slice the chicken into finger length pieces. Serve them with the lettuce and red onion, the sweet potato wedges and the tzatzikish sprinkled with a little smoked paprika.