Smoked Haddock Soufflé Omelette
Prep: 20 mins
Cook: 30 mins
Smoky haddock with creamy spinach is wrapped in a fluffy duvet of omelette made from Andrew Jackon's hens' eggs. Roasted toms make for some great pillow talk.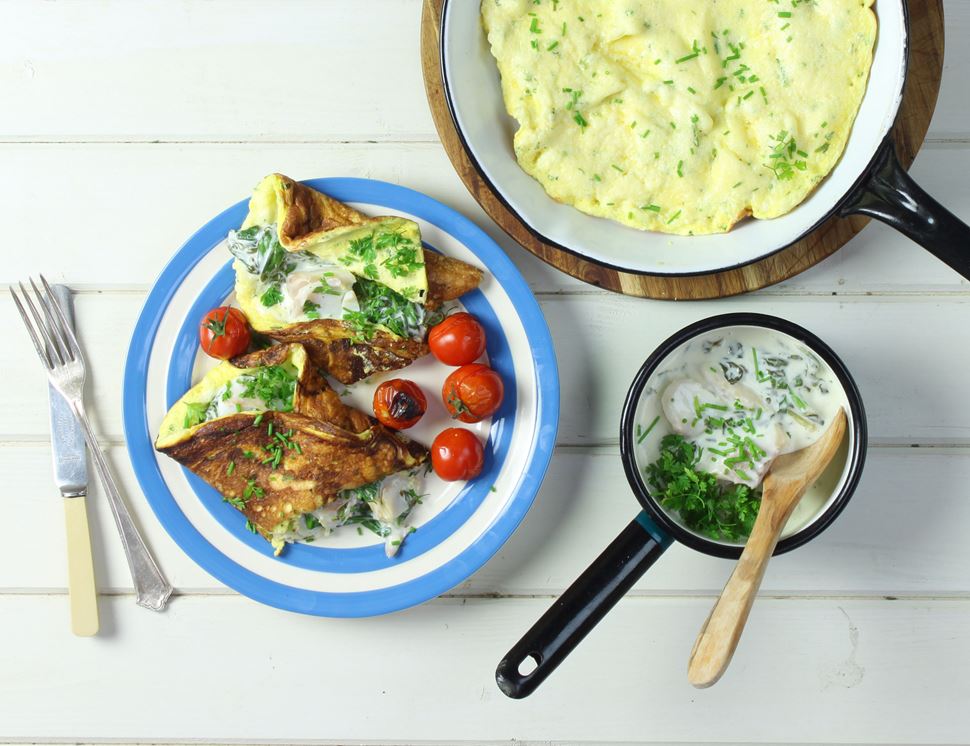 Ingredients you'll need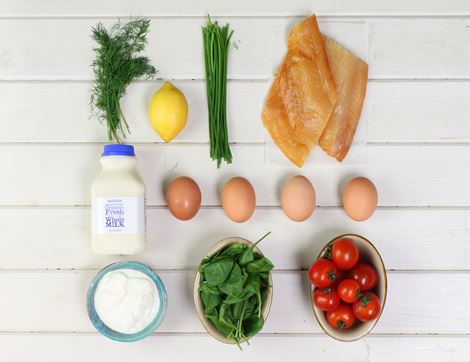 A 240g pack of smoked haddock fillets
500ml whole milk
A 250g punnet of cherry tomatoes
4 eggs
1 lemon
A handful of dill
A handful of chives
2 handfuls of baby leaf spinach
A 200g pot of half fat crème fraîche
From your kitchen
A few whole peppercorns
Sea salt and freshly ground pepper
1 tbsp olive oil
You'll need
Large pan with a lid
Ovenproof dish
Bowl
Large frying pan
Step by step this way
1.

Heat your grill to its highest setting. Pour the milk into a large pan. Drop in a few peppercorns and add the haddock fillets. Bring to a gentle simmer, then take off the heat. Clamp on a lid and leave for 6 mins. Take the haddock out of the pan and pop on a warm plate. Keep the milk.

2.

Meanwhile, tip the tomatoes into a heatproof dish and place under the grill. Cook for 4-6 mins till they're bursting from their skins. Finely chop the dill stalks and the chives.

3.

Cut your lemon in half and rub it round a spotlessly clean, non-plastic bowl. Separate your eggs, cracking the whites into this bowl and putting the yolks in another bowl.

4.

Add the dill stalks and half the chives to the yolks. Add 2 tbsp of the haddocky milk and beat with a pinch of salt. Whisk the egg whites till you have soft peaks that stand on their own when you lift the whisk out.

5.

Gently fold the yolks through the whites, taking care not to beat out too much air. Heat a large frying pan. Add ½ tbsp olive oil. Spoon in half the soufflé omelette mixture and tip the pan so it covers the base. Cook for 3-4 mins till almost set and puffy.

6.

Slide carefully onto a plate. Repeat to make a second omelette, sliding that onto a separate plate. Pop them both under the grill for 2 mins to cook the top. Turn the grill off and close it to keep the omelette warm whilst you finish the dish.

7.

Tip the spinach into a pan. Zest and juice the lemon into it. Cook for 2-3 mins till it wilts. Add the crème fraîche. Heat gently for 2 mins. Flake the haddock into the sauce. Stir gently to warm through. Top the omelettes with the creamy haddock and tomatoes. Garnish with dill fronds and the remaining chives.
Tip

Got milk?
Keep the haddock-infused milk in your fridge for 2-3 days or freeze it for up to 3 months. You can use it in white sauces for fish pie or fish chowders.