Smoked Haddock & Kale Hash
Prep: 15 mins
Cook: 40-45 mins
Step forwards, step back, do a twirl, begin at step one. Everyone's favourite super veg kale is the star of the show with our sustainable smoked haddock.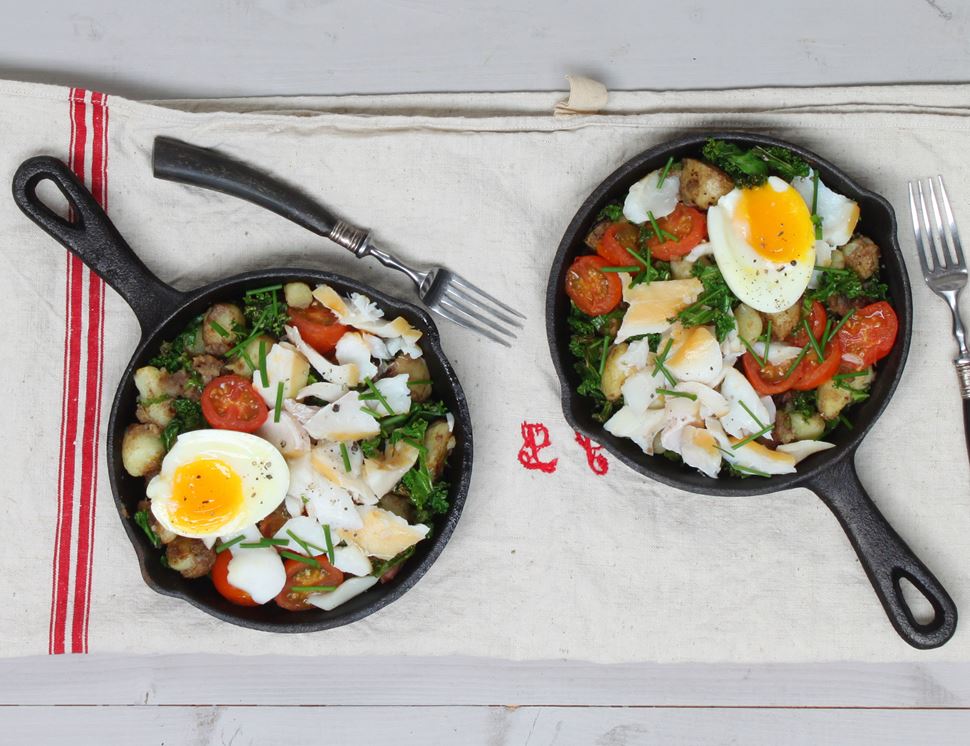 Ingredients you'll need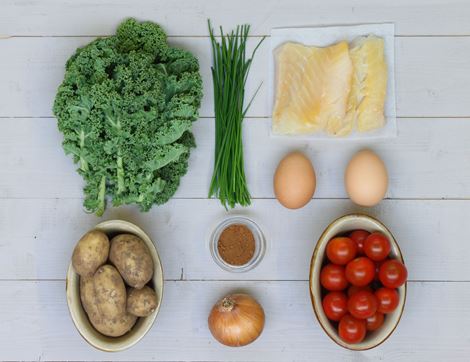 A 500g bag of potatoes
2 smoked haddock fillets
1 onion
A 200g bag of kale
A 250g punnet of cherry tomatoes
1 tsp garam masala
2 eggs
A handful of chives
From your kitchen
2 tbsp olive oil
Sea salt and freshly ground pepper
You'll need
Deep frying pan or wok
Colander
Small pan
Bowl
Step by step this way
1.

Fill a deep frying pan or wok with water and bring to the boil. Chop the potatoes (no need to peel them) into small cubes around 1 ½ cm big. Add to the pan and simmer for 10 mins till the potatoes are soft when pressed with a fork or skewer.

2.

Use a slotted spoon to scoop the potatoes out of the frying pan and pop them in a colander. Add the smoked haddock fillets to the pan. Simmer for 5 mins till the fish is cooked through and flakes. Lift the fillets out of the pan and transfer to a plate.

3.

Empty the frying pan and wipe it clean. Peel and finely slice the onion. Warm 1 tbsp oil in the pan over a medium heat. Add the onion. Season well. Fry for 5 mins till the onion is soft and has a little colour.

4.

Add the potatoes to the frying pan with 1 tbsp oil. Fry for 10-15 mins, stirring now and then, till the potatoes are golden and crisp all over. Stir often, scraping the pan to make sure they don't stick.

5.

While the potatoes cook, bring a small pan of water to the boil. Slice the thick middle cores out of the kale and shred the leaves. Halve the cherry tomatoes.

6.

Add the kale to the potatoes and onion with 1 tsp of the garam masala. Cook and stir for 5 mins to wilt the kale. Add the tomatoes. Flake in the haddock. Gently stir and cook for another 5 mins to warm everything through. Taste and adjust the seasoning.

7.

When the pan of water is boiling, add 2 of the eggs. Simmer for 6 mins. Lift them out and plunge into a bowl of cold water to cool them a little. Carefully peel the eggs when they're cool enough to handle.

8.

Spoon the hash into two warm bowls. Halve the eggs and nestle them in the bowls. Garnish the hash with chopped chives to serve.