Sloppy Giuseppe Frying Pan Pizza
Prep: 15 mins
Cook: 45 mins
Pizzaioli and pizzaiole report to the hob! Tonight your frying pan is hosting a pizza party and spiced high welfare beef, green peppers and organic cheese are the guest toppings.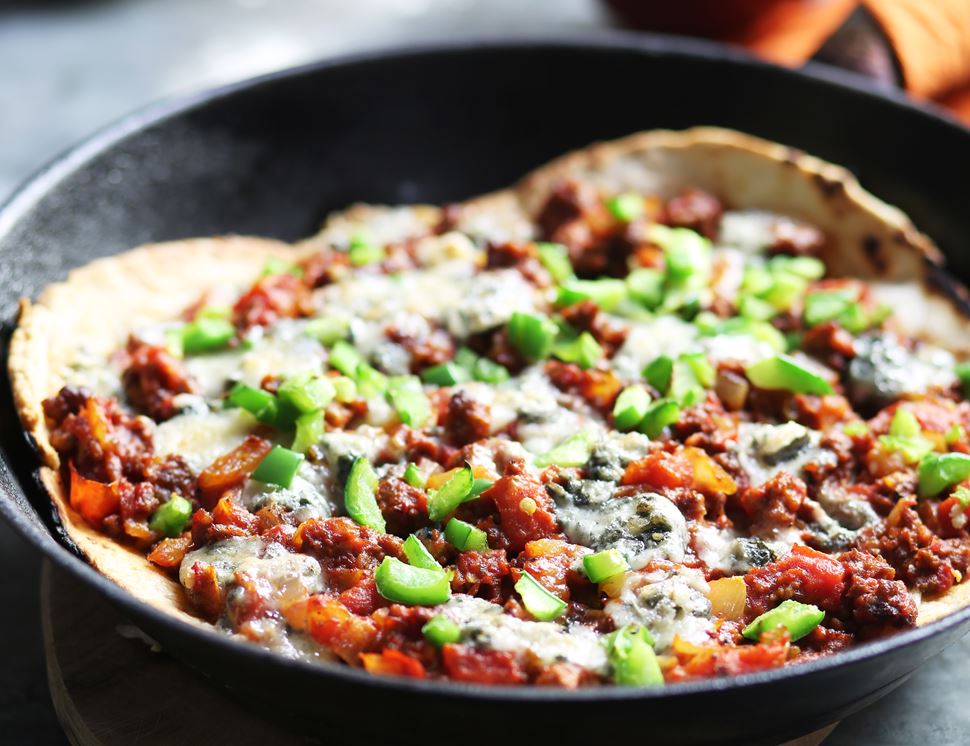 Ingredients you'll need
1 onion
1 green pepper
1 chilli
1 garlic clove
250g beef mince
400g chopped tomatoes
1 tsp baking powder
100g Gorgonzola Dolce
150g plain flour
From your kitchen
4 tsp olive oil
Sea salt
Freshly ground pepper
3-5 tbsp warm water
You'll need
Pan with a lid
Bowl
Rolling pin
28 cm non-stick frying pan
Step by step this way
1.

Warm 2 tsp olive oil in a pan. Add the mince. Stir and fry for 5 mins till the mince is brown all over. Stir often to break up any lumps. Drain off any excess liquid.

2.

While the meat fries, peel and finely chop the onion. Halve the chilli. Scoop out the seeds and white bits. Finely slice the chilli. Peel and grate or crush the garlic.

3.

Stir in the onion and cook for 5 mins to just soften the onion. Stir in the chilli and garlic with a pinch of salt and pepper. Stir in the chopped tomatoes. Pop on the lid. Bring to the boil. Turn the heat down. Simmer the sauce for 20 mins till thick. Taste and adjust the seasoning if it needs it.

4.

While the mince is simmering, halve the pepper. Scoop out the seeds and white bits. Dice the pepper into small chunks. Set aside.

5.

Sift the flour into a mixing bowl. Take out 1 tbsp flour and set aside. Sift in 1 tsp baking powder and a pinch of salt. Add 1 tsp oil and 3-5 tbsp warm water. Stir to make a soft dough.Turn the dough out onto your work surface. Knead a few times to bring it together to make a smooth dough. Sprinkle with the flour you saved. Roll out to make a round about 28 cm across. Heat your grill to high.

6.

Warm a large non-stick frying pan for 1 min over a medium heat. Brush with 1 tsp oil. Roll the pizza base around the rolling pin and unroll it into the pan. Cook for 3-4 mins till the bottom is browned. Flip over. Fry for 2-3 mins till it's browned all over. Take off the heat.

7.

Top the pizza base with the beef sauce. Crumble half the pack of Gorgonzola (around 100g) and scatter it over the pizza. Top with the pepper. Slide the pizza under the grill and cook for 5 mins till it's bubbling and golden. Serve straight away in slices.
Tip

Please cheese me
You just need half the Gorgonzola for this recipe (although you can use it all if you like for an extra cheesey pizza. This will affect the nutritional information). Gorgonzola is delicious in a green salad with sliced pears or apples, or crumbled over a root vegetable soup.