Simple Singapore Noodles
Prep: 15 mins
Cook: 15-20mins
Our friends at Clear Spot marinate their original tofu in a mixture of cider vinegar, spices and tamari to make it extra tasty. It's even better with ginger, garlic and curry powder (and really easy to boot).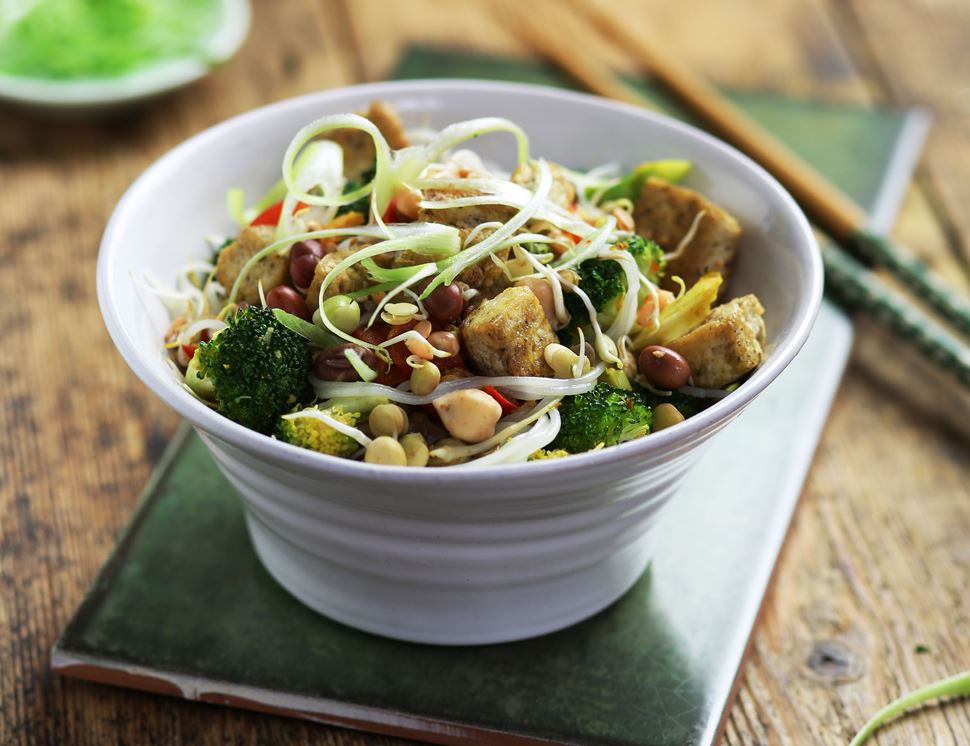 Ingredients you'll need
A 190g pack of marinated tofu
2 salad onions
1 red pepper
A head of broccoli
1 garlic clove
A thumb of ginger
2 bundles of Thai rice noodles
2 tsp mild curry powder
½ a 227g pack mixed bean sprouts
From your kitchen
You'll need
Kitchen paper
Deep frying pan or wok
Pan with a lid
Colander or sieve
Step by step this way
1.

Drain the tofu. Pat it dry with kitchen paper. Slice into chunks around 1 cm across. Pop to one side.

2.

Trim the salad onions. Finely slice the thicker, more solid white parts. Shred the green, leafier top bits into thin strands. Halve the pepper. Scoop out the seeds and white bits. Roughly chop it.

3.

Break the broccoli into small florets. Peel and grate the garlic and ginger.

4.

Warm 1 tbsp olive oil in a deep frying pan or wok. Add the tofu. Fry over a high heat for 3-4 mins till the tofu is golden and crisp all over. Lift out of the pan. Pop on a plate lined with kitchen paper.

5.

Fill a large heatproof bowl or dish with boiling water. Add the Thai rice noodles and leave to soak for 5 minutes.

6.

While the noodles soak, add another ½ tbsp olive oil to the pan. Add the sliced spring onions, pepper and broccoli. Stir fry for 2-3 mins till they start to soften. Add the garlic, ginger and curry powder. Stir fry for 1 min.

7.

Add the tofu back to the pan with half the pack of mixed bean sprouts. Drain the noodles. Add them to the pan. Pick everything up with 2 forks and drop it back into the pan a couple of times to mix it all together.

8.

Divide the noodles between 2 warm plates. Garnish with the shredded salad onion tops and serve straight away.