Self-Saucing One Pot Summer Spaghetti
Prep: 15 mins
Cook: 15 mins
This clever pasta dish uses just one pan, and the spaghetti sauces itself with a mix of garlic, lemon and sweet juicy cherry tomatoes. Emerald green broad beans and the first of this year's UK basil finish the dish off perfectly.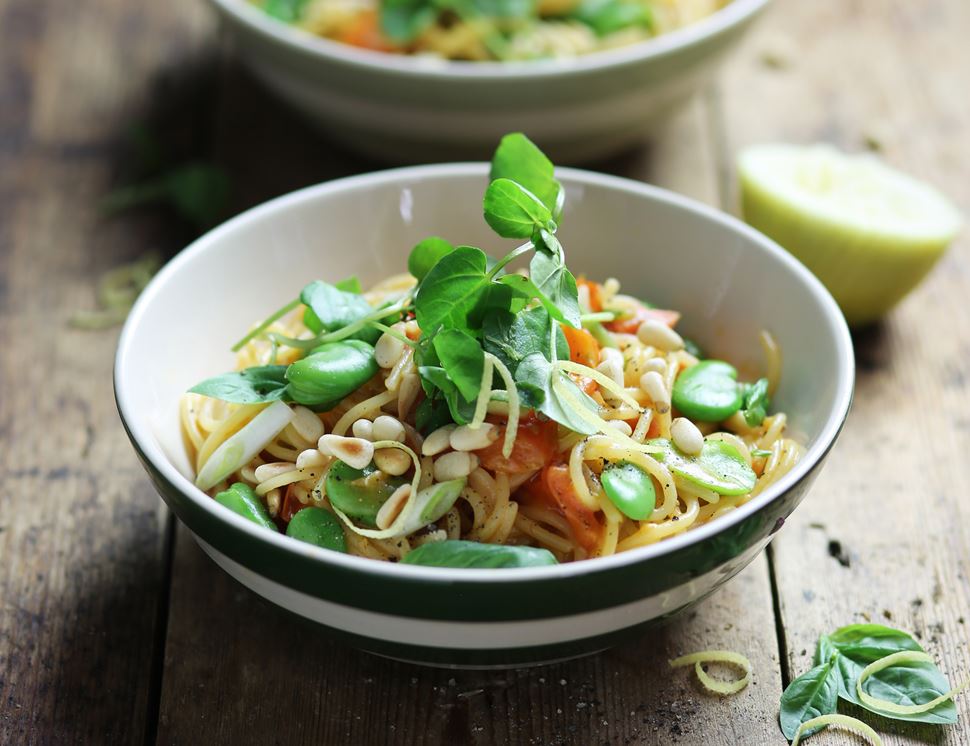 Ingredients you'll need
1 garlic clove
1 lemon
250g cherry vine tomatoes
1 spring onion
A handful of basil
25g pine nuts
500g broad beans
200g spaghetti
50g peppery salad mix
From your kitchen
3 tbsp olive oil
Sea salt
Freshly ground pepper
Step by step this way
1.

Peel and thinly slice the garlic. Finely grate the zest from the lemon and juice one half (keep the other half for later). Quarter the cherry tomatoes. Trim the roots off the spring onion and finely slice the white and green parts of the spring onion. Pick the leaves from the basil.

2.

Heat a large, heavy-based pan for 2 mins. Tip in the pine nuts and toast, shaking the pan so they don't burn, for 2-3 mins till golden. Tip out into a bowl. Fill the pan with water and bring to a boil.

3.

While the water is coming to the boil, pop the broad beans from their pods by pulling the pods open and scooping out the beans. When the water is bubbling, drop in the beans. Cook for 2 mins. Drain, catching 500ml of the cooking water in a jug. Plunge the beans into ice cold water to stop them cooking further.

4.

Pour the 500ml water back into the pan and bring to the boil. Add 3 tbsp oil and ½ tsp salt. Add the garlic, lemon zest and juice and cherry tomatoes.

5.

Snap the spaghetti in half, so it sits flat in the pan. Add it to the pan. Clamp on a lid till the water comes back to the boil again. Remove the lid. Simmer on a high heat for 8 mins. Toss the pasta every now and then while it cooks.

6.

Meanwhile, pop the broad beans from their grey skins. The easiest way to do this is to pinch one end and squeeze so they pop out. This is optional: when broad beans are young the grey skins aren't too tough. The larger the bean, the tougher and more bitter the skin.

7.

After 8 mins, the spaghetti should be soft with a slight bite, and most of the water evaporated. Throw in the broad beans and the spring onions Toss together for 1 min to warm through.

8.

Add most of the basil and fold it through the spaghetti with a crack of pepper. Add more salt if needed. Tangle into warm bowls, spooning over any sauce and the veg. Top with the remaining basil, the peppery salad leaves and toasted pine nuts. Serve with lemon wedges.