Sausages, Cannellini Beans, Walnuts & Green Sauce
Prep: 35 mins
Cook: 35 mins
This recipe is part of our partnership with The Sunday Times and Florence Knight. Florence knight: "Poaching sausages gently keeps them succulent and removes any risk of their skins bursting in the pan. The cannellini beans become a rich, silken purée for them."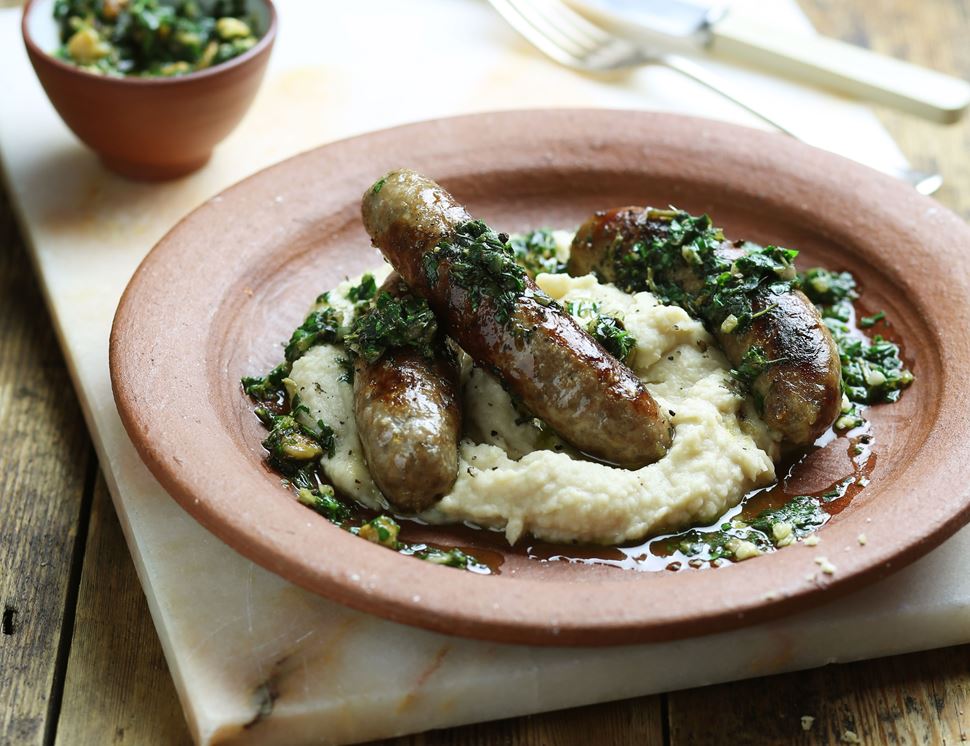 Ingredients you'll need
3½ shallots
2 tsp red wine vinegar
15g walnuts
2 garlic cloves
1 vegetable stock cube
2 x 400g tins of cannellini beans
1 lemon
A handful of flat leaf parsley
A handful of mint, leaves only
3 anchovies
4 pork sausages
From your kitchen
200ml boiling water
2 tbsp olive oil
? tsp sea salt + extra
to season
8 tbsp extra virgin olive oil
Freshly ground pepper
Step by step this way
1.

Heat your oven to 180°C/Fan 160°C/Gas 4. Peel and finely dice half a shallot. Put the dice in a bowl. Cover with 2 tsp red wine vinegar to soak for 30 mins.

2.

Spread the walnuts on a baking tray and toast in the oven for 5 mins till fragrant. Remove and, while warm (but not hot), rub them between your hands to remove the bitter skin. Roughly chop them.

3.

Peel and roughly chop the remaining 3 shallots. Peel and roughly chop the garlic. Crumble the stock cube into a heatproof jug and stir in 200ml boiling water to dissolve it. Drain the beans and rinse them. Finely grate the zest from half the lemon. Juice the lemon.

4.

Put a large pan of water on to boil. Set a medium pan over a low heat. Add 2 tbsp olive oil, the roughly chopped shallots and ? tsp salt. Cover and cook for 10 mins till soft and without colour. Add the garlic. Cook for a further 5 mins. Add the cannellini beans and vegetable stock. Simmer for 5 mins.

5.

Remove the pan from the heat, add 3 tbsp extra virgin olive oil and 1 tsp of the lemon juice. Use a stick blender in the pan and blend till smooth. Put the lid back on the pan and set aside to keep warm.

6.

Pick the parsley and mint leaves and pulse them with 3 anchovies (see our tip) a couple of times in a food processor (or pound with a pestle and mortar), keeping the texture coarse. Add 5 tbsp extra virgin olive oil and pulse again to combine. Stir through the walnuts, lemon zest and the vinegar soaked shallot. The sauce should be coarse and bright green. Don't be tempted to blitz the mixture further as it will lose its vibrant colour.

7.

When the large pan of water is boiling, reduce the heat to a simmer and add the sausages. Cook for 5 mins. (It's worth poaching all the sausages, as any remaining can be quickly grilled till hot in the morning for breakfast.) Heat your grill to high.

8.

Use a slotted spoon to remove the sausages from the pan. Set them under a hot grill and cook for a further 3-5 mins till they have deep golden skins and are cooked through.

9.

Spoon the warm cannellini purée onto two plates. Top with the sausages and green sauce.
Tip

FLORENCE'S TOP TIP
Any leftover anchovies will keep for a few months in the fridge, decanted into a jar and submerged in olive oil. Bring to room temperature before beating into softened butter with plenty of Parmesan and spreading over soldiers of toast, or add to a joint of lamb before slow roasting.