Sausage & Broccoli Penne
Prep: 5 mins
Cook: 10-15 mins
It's all North by Northwest tonight. Think less espionage, more North West England and North West Italy. They'll come in the guise of Cumberland sausages and penne pasta.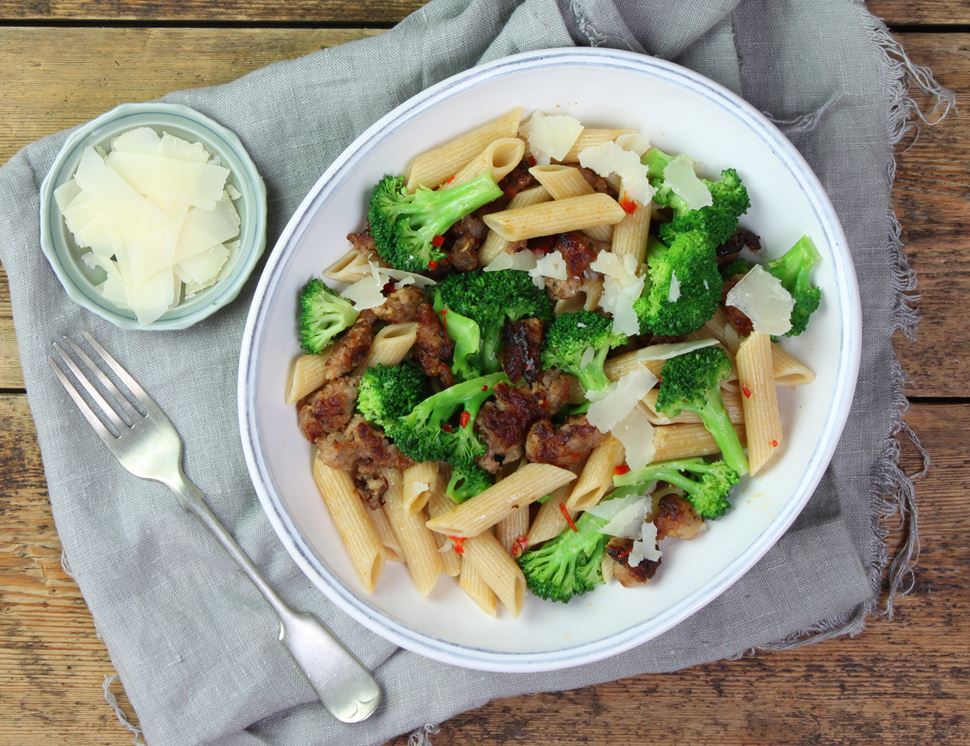 Ingredients you'll need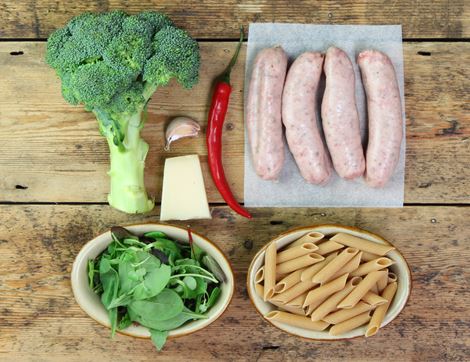 A head of broccoli
1 garlic clove
1 red chilli
4 Cumberland sausages
A 200g bag of wholewheat penne
2 large handfuls of baby leaf salad
A 50g chunk of Parmesan
From your kitchen
1 tbsp olive oil
Sea salt and freshly ground pepper
You'll need
Large pan with a lid
Deep frying pan or wok
Colander
Step by step this way
1.

Break the broccoli into small florets. Peel and grate or crush the garlic. Halve the chilli. Scoop out the white bits and seeds if you like less heat. Finely chop the chilli.

2.

Put a large pan of water on to boil for the pasta. Peel the skins off 4 of the Cumberland sausages.

3.

Warm ½ tbsp olive oil in a deep frying pan or wok. Add the sausage meat. Cook and stir over a medium heat for 8 mins till the sausage meat is browned and cooked through. If it starts to stick, add a splash of water.

4.

When the pasta water is boiling, add the penne. Simmer for 6 mins till the penne is almost cooked but still a little chalky.

5.

Add the broccoli florets to the penne. Simmer for another 2-3 mins till the pasta and broccoli is tender but still has plenty of chew. Drain. Keep a few spoonfuls of pasta water in the pan.

6.

Stir the garlic and chilli into the sausage meat. Cook and stir for 1-2 mins till the pan smells aromatic.

7.

Toss the penne and broccoli into the pan. Stir together, adding a little of the pasta water to loosen up the sausage meat sauce.

8.

Tip the salad into a bowl. Toss with ½ tbsp olive oil and some salt and pepper. Serve the pasta with the salad and the Parmesan for grating.