Salt & Pepper Tofu with Bergamot Dipping Sauce
Prep: 15 mins
Cook: 30 mins
Crispy cubes of fried tofu jumbled with tamari veg on a bed of fluffy rice, served with a sharp lime and bergamot lemon dipping sauce.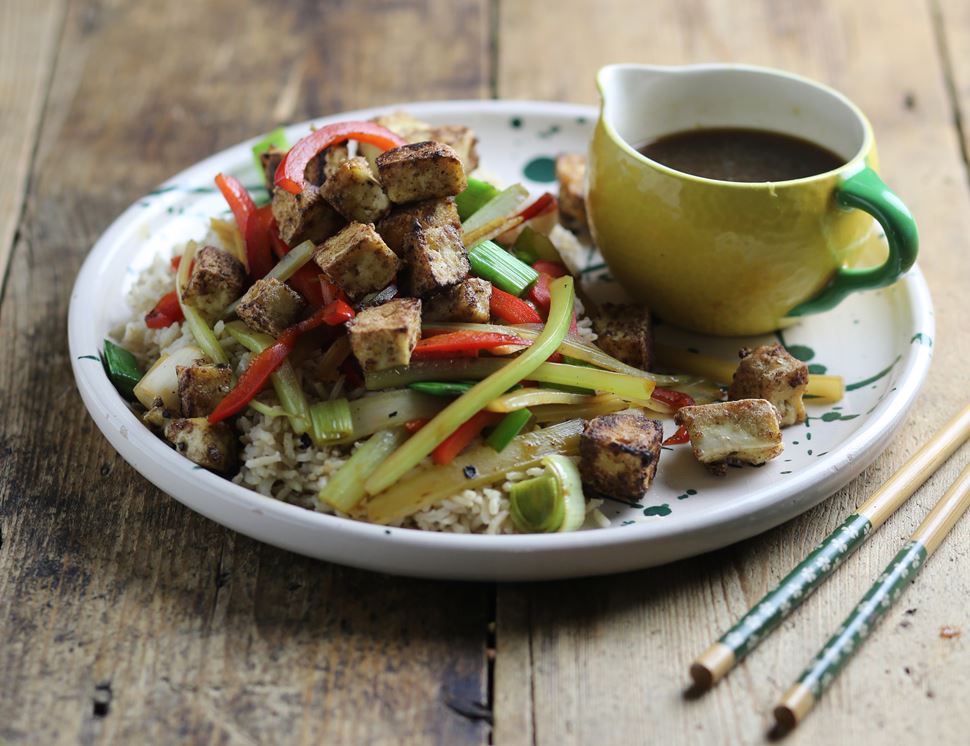 Ingredients you'll need
150g brown basmati rice
50g tamari
1 lime
1 bergamot lemon
1 tsp caster sugar
1 leek
2 celery sticks
1 red pepper
1 garlic clove
A thumb of ginger
280g plain tofu
2 tbsp cornflour
1 tsp China 5 spice
10 black peppercorns
From your kitchen
350ml boiling water
Sea salt
3 tbsp olive, coconut or rapeseed oil
Step by step this way
1.

Tip the rice into a bowl and cover with cold water. Whisk for 1-2 mins till the water goes cloudy. Drain and rinse. Tip into a small pan. Add 350ml boiling water and a pinch of salt. Bring the to the boil. Turn the heat right down, cover and gently simmer the rice for 25 mins till it's tender and the water is absorbed. Once cooked, let the rice sit in the pan, covered, till ready to serve. Prepare everything else while the rice is cooking and resting.

2.

In a small bowl, combine half the tamari (keep back of the rest) with the juice of the lime and bergamot lemon and 1 tsp sugar. Mix well and set aside.

3.

Trim the top and roots off the leek and pull off the outer layer. Rinse off any grit. Slice it in two lengthways, and cut into 1cm half-moons. Trim the ends from the celery. Cut each stick into thirds, and then into matchsticks. Slice the red pepper into matchsticks, discarding the stalk, white bits and seeds. Peel and finely chop the garlic and ginger.

4.

Cut the tofu into 1cm cubes and pat dry with kitchen paper. Tip 2 tbsp cornflour and 1 tsp China 5 spice into a bowl. Grind 10 peppercorns and add to the bowl with 3 pinches of salt. Mix well. Add the tofu cubes and gently tumble around with your fingers to ensure they get completely coated in the seasoned flour.

5.

Warm a wok or deep frying pan over a high heat. Add 2 tbsp oil. Fry half of the tofu for 2-3 mins, turning occasionally and carefully so that the coating doesn't get knocked off. Use a slotted spoon to remove the fried tofu and place it on kitchen paper. Add 1 tbsp oil and fry the rest of the tofu. Place it on kitchen paper.

6.

Add the peppers and celery to the hot wok and stir fry for 2 mins. Add the leek, garlic and ginger and stir fry for a further 2 mins. Add the remaining tamari, and stir fry for a final 1 min.

7.

Fluff the rice up with a fork and divide between two serving bowls. Top with the vegetables, then with the crispy tofu. Divide the dipping sauce between two dipping bowls and serve.