Salmon, Leek & Spud Chowder
Prep: 10 mins
Cook: 20 mins
Originally from the United Soups of America, chowders are a chunky soupy stew and this British twist celebrates our very own Inverawe's fab flaky roast salmon.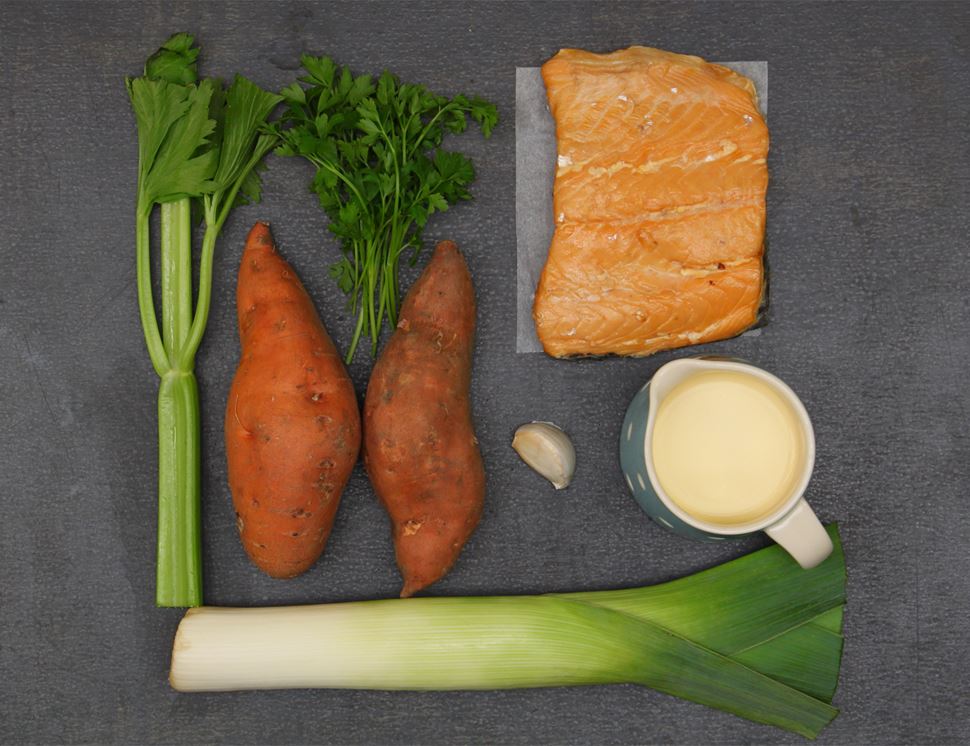 Ingredients you'll need
1 leek
1 stick of celery
2 potatoes
1 garlic clove
A handful of flat leaf parsley
A pack of flaky roast smoked salmon
150ml full cream milk
From your kitchen
A glug of olive oil
Sea salt
Freshly ground pepper
500ml hot water
You'll need
Chopping board
Knife
Vegetable peeler
Grater
Pan with a lid
Wooden spoon
Step by step this way
1.

Rinse, trim and slice the leek and celery. Peel and chop the potatoes. Peel and grate the garlic. Rinse and chop the parsley leaves and stalks.

2.

Peel the skin off the salmon. Flake the salmon into good-sized chunks.

3.

Warm a glug of olive oil in a pan. Add the leek, celery and garlic. Season. Fry for5 mins over a medium heat till the veg is soft and glossy.

4.

Pop the potatoes into the pan. Give everything a good stir. Fill the kettle and boil it.

5.

Pour in 500ml of hot water from the kettle. Stir and cover. Let the chowder bubble for 10 mins. The potatoes should be nice and soft.

6.

Turn the heat right down. Add the salmon. Pour in the milk. Give the chowder a stir. Let it warm through. Don't let it bubble. You just want to gently warm the milk and salmon.

7.

Stir in most of the parsley. Taste. Adjust the seasoning if you think it needs it. Ladle into warm bowls. Top with the last of the parsley to serve.
Tip

If the soup overheats and separates (the milk will look lumpy), take it off the heat and add a few ice cubes. Blitz with a hand blender to make a smooth soup rather than chowder.