Salad Potato & Mushroom Hash
Prep: 15 mins
Cook: 30-35 mins
The name hash comes from the French word for 'to chop', hacher. You'll be chopping your potatoes and mushrooms to make your very own hash, topped with a fried egg and our delicate chervil from Simon Weir in the New Forest.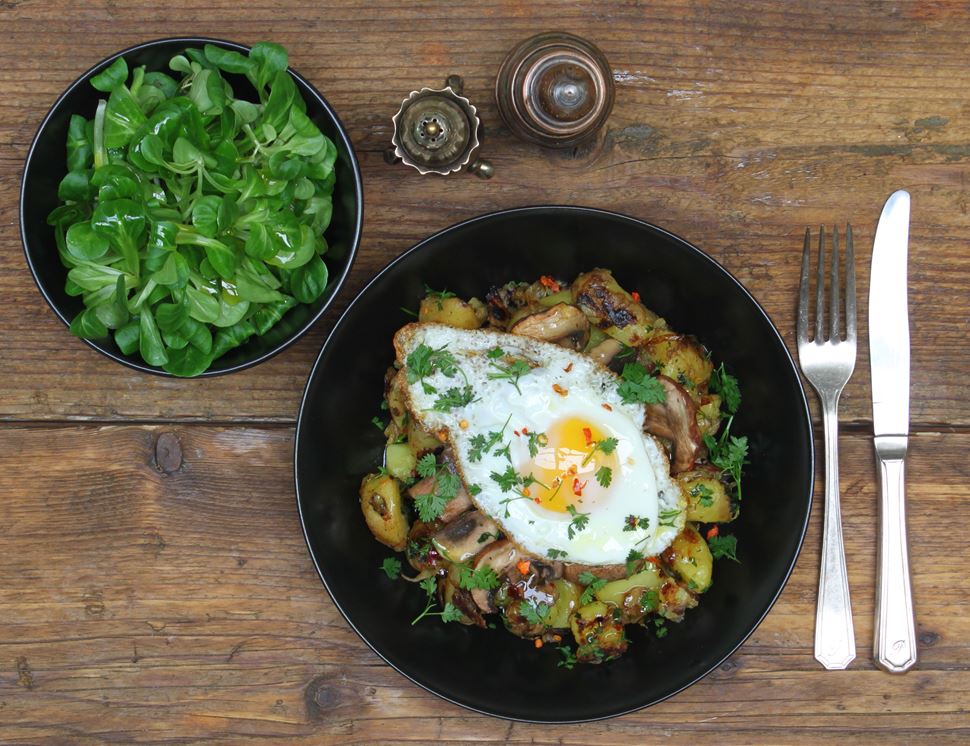 Ingredients you'll need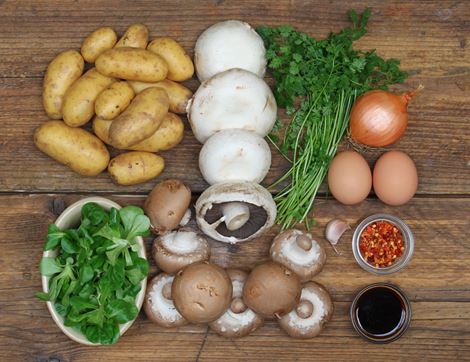 A bag of salad potatoes
A punnet of chestnut mushrooms
A punnet of Portobello mushrooms
1 onion
A handful of chervil
1 garlic clove
2 large handfuls of lamb's lettuce
1 tbsp balsamic vinegar
A pinch of dried chilli flakes
2 eggs
From your kitchen
Sea salt
2½ tbsp olive oil
Freshly ground pepper
You'll need
Pan with a lid
Deep frying pan or wok
Colander
Masher
Kitchen paper
Step by step this way
1.

Fill the kettle and boil it. Scrub the potatoes. Halve or quarter them so they're the same size. Fill a pan with hot water. Add a pinch of salt. Pop the potatoes into the pan. Cover. Bring to the boil. Lower the heat and simmer for 10 mins till they're just soft.

2.

Slice any large mushrooms so they are all roughly the same size. Peel the onion. Finely slice it. Finely chop the chervil. Peel and grate or crush the garlic. Heat your oven to its lowest setting.

3.

Warm ½ tbsp olive oil in a deep frying pan or wok. Add the mushrooms. Season with salt and pepper. Fry over a medium heat for around 10 mins till they're golden. Stir occasionally while they cook.

4.

While the mushrooms and potatoes cook, tumble the lamb's lettuce into a bowl. Mix 1 tbsp olive oil with 1 tbsp vinegar. Season. Drizzle over the lettuce. Toss to mix.

5.

Tip the mushrooms onto a plate. Keep them warm in the oven. Add ½ tbsp oil to the pan. Add the onion. Fry for 2-3 mins. Stir in the garlic. Drain the potatoes. Add to the pan. Use a masher to crush them.

6.

Fry the potatoes for around 10-15 mins till they have plenty of golden edges. Keep stirring them with a wooden spoon while they fry. When they're golden, stir in most of the chervil and a pinch of chilli flakes.

7.

Taste the potatoes and adjust the seasoning if it needs it. Divide the hash between 2 warm plates. Top with the mushrooms. Pop back in the oven. Wipe the pan with kitchen paper and add another ½ tbsp olive oil.

8.

Crack the eggs into the frying pan. Pop on a lid. Keep the heat medium-low and fry for 2-3 mins till the yolks are set as you like. Put the eggs on top of the hash. Sprinkle the last of the chervil and some more chilli flakes to serve.