Rosemary & Juniper Venison Steak
Prep: 10 mins
Cook: 30 mins
Some juniper facts for you. 1. They're a conifer cone, not a berry. 2. They were found in Tutankhamun's tomb. 3. Their pine-y flavour goes brilliantly with our wild venison.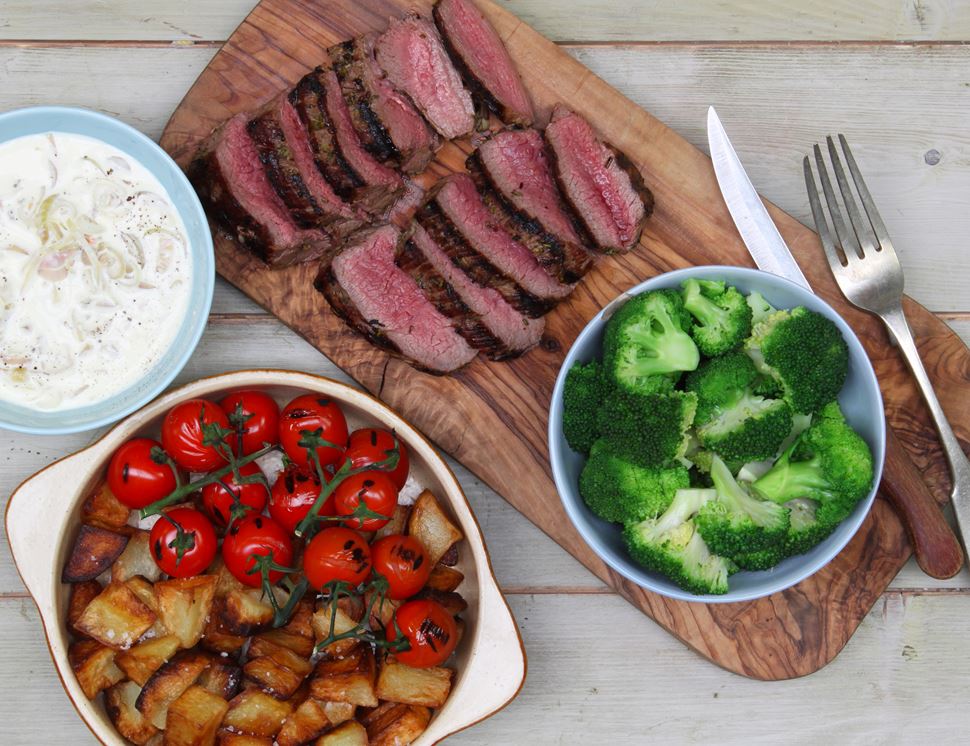 Ingredients you'll need
1 garlic clove
A handful of rosemary
2 shallots
1 small head of broccoli
A sachet of juniper berries
2 venison minute steaks
2 large potatoes
A punnet of cherry vine tomatoes
A pot of single cream
Step by step this way
1.

Peel the garlic. Strip the leaves from a sprig of rosemary and finely chop them. Peel and finely slice the shallots. Break the broccoli into florets. Crush all the juniper berries in a pestle and mortar, or use the bottom of a jam jar.

2.

Mix the garlic and half the rosemary with the juniper. Add 1 tbsp olive oil. Grind to a rough paste. Rub it on both sides of the venison steaks. Set aside for 10 mins.

3.

Fill a kettle and boil it. Peel the potatoes. Chop them into 2 cm cubes. Pop them in a pan. Pour in enough boiling water from the kettle to cover them. Pop on the lid. Boil for 5 mins. Drain.

4.

Warm 1 tbsp olive oil in a large frying pan or wok. Add the drained potatoes. Season with salt and pepper. Fry over a medium heat for about 10 mins. Stir till they're golden all over.

5.

While the potatoes cook, warm 1 tbsp olive oil in a separate frying or griddle pan. Add the steaks. Fry each side for 2-3 minutes till browned (cook for a few mins more for well done or if the steaks are thick).

6.

Pop the steaks on a plate. Cover with foil to rest. Pop the tomatoes in the pan. Fry for 1-2 mins till soft and lightly charred. Set your oven to its lowest setting. Keep the tomatoes warm in there, with the potatoes if they're cooked.

7.

Add the shallots to the steak pan. Fry over a high heat for 3-4 mins till golden. Turn the heat down. Stir in the rest of the rosemary. Add the cream. Simmer for 2 mins to warm through. Taste and season. Cover. Set aside.

8.

While the cream sauce cooks, pop the broccoli florets in a pan (use the one you used for boiling the spuds). Cover with boiling water from the kettle. Cover. Cook for 3-4 mins. Drain. Serve with the steaks, potatoes, tomatoes and cream sauce.