Roman Rosemary Roast Lamb
Prep: 10 mins
Cook: 3 hrs 30 mins
Inspired by the traditional flavours used to roast lamb in Italy's capital city, this rolled lamb shoulder is slow cooked to give you meltingly tender meat that will fall apart when you press it with a fork.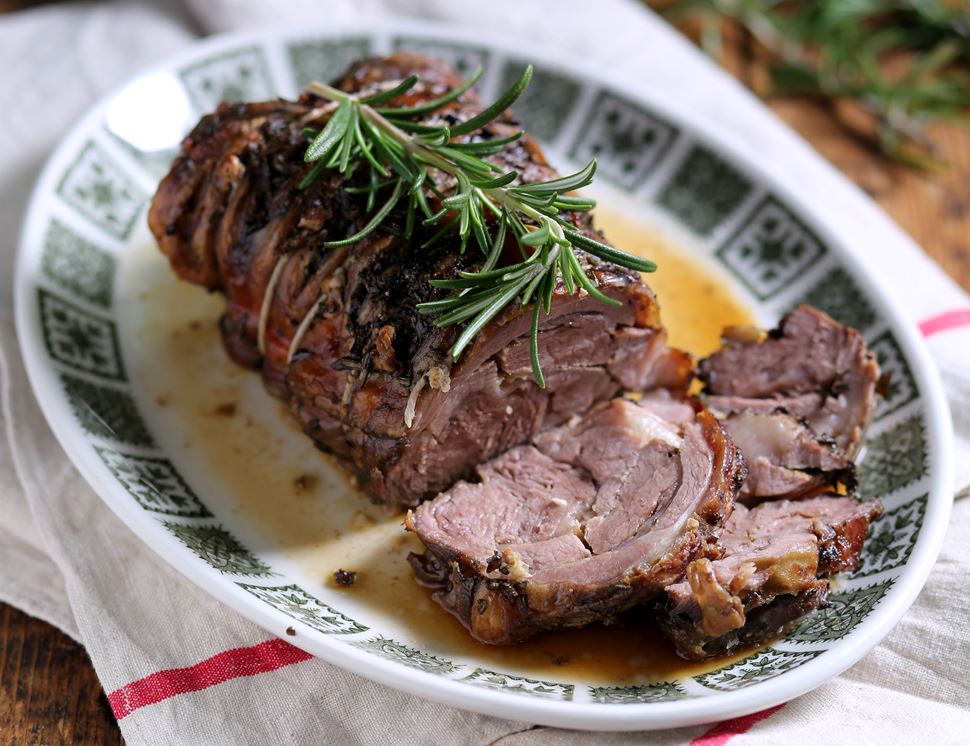 Ingredients you'll need
1kg lamb shoulder, boned & rolled
2 garlic cloves
A handful of rosemary, leaves only
2 tbsp red wine vinegar
From your kitchen
Sea salt
Freshly ground pepper
Step by step this way
1.

One hour before you want to cook it, take the lamb out of the fridge. Remove the packaging and sit it in a snug roasting tin. Heat the oven to 140°C/Fan 120°C/Gas 1.

2.

Peel and crush or grate the garlic. Scrape into a small bowl. Finely chop the leaves from the rosemary sprigs and add them to the garlic. Pour in 2 tbsp red wine vinegar and add a good pinch of salt and pepper. Stir together.

3.

Use a small, sharp knife to cut shallow slashes all over the lamb. Rub the herby mix into the lamb, make sure the herbs and garlic are worked in and push some into the ends of the lamb too. Cover the tin with foil, crimping the foil to the edges to the tin to seal it.

4.

Roast the lamb in the oven for 3 hrs. Then take the foil off, turn the heat up to 180°C/Fan 160°C/Gas 4 and roast the lamb for 30 more mins to brown it.

5.

Take the lamb out of the tin, sit it on a board and loosely cover with foil. Rest for at least 30 mins before carving.
Tip

Join the gravy train
If you want to make gravy to go with your lamb, pour the juices form the tin into a cold bowl or jug and let the fat rise to the surface. Scoop out the fat, saving 1 tbsp. Add the fat and 1 tbsp flour to a small pan and cook for 2-3 mins, stirring, to make a roux. Whisk in the juices from the tin, then add 150ml red wine and 250ml vegetable or chicken stock (or use all stock). Bring to the boil, then simmer for 5-10 mins till thickened.

Tip

On the side
Braised greens are the perfect side with the tender roast lamb. Shred cavolo nero, then sweat the leaves in a splash of olive oil with finely chopped garlic and a pinch of salt and pepper. Cook, stirring, till the cavolo nero is tender and dark green.

Tip

Next week
We're staying in Italy for next week's roast, giving an organic pork shoulder a Tuscan rub of fennel, rosemary and garlic then slow roasting it till tender - bit not forgetting a blast of heat to make our favourite bit of roast pork, crackling.