Roast Spring Chicken with Wild Garlic Butter
Prep: 20 mins
Cook: 1 hr 45 mins
Organic spring chicken (a proper whopper at 1.7kg avg.) is roasted till crisp and tender with a meltingly gorgeous, super seasonal rub of foraged wild garlic butter.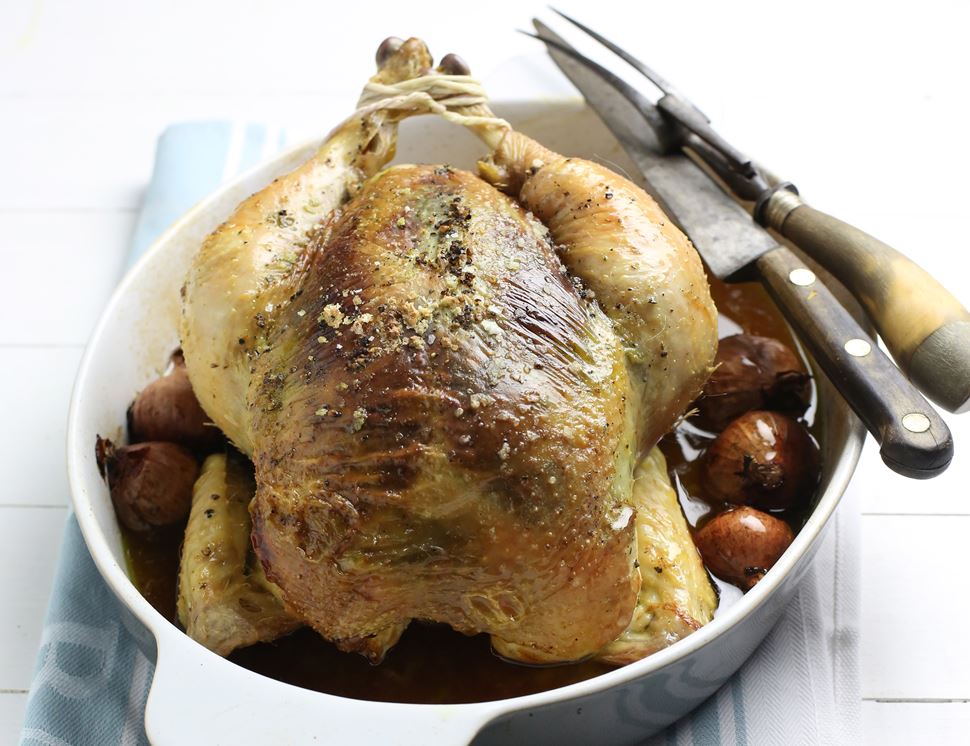 Ingredients you'll need
1.7kg avg. whole chicken
50g wild garlic
1 garlic bulb
2 x 45g butter, room temperature
1 lemon
8 shallots
From your kitchen
Sea salt
350ml water (stock or white wine optional)
You'll need
Step by step this way
1.

Unwrap your chicken and pat dry with kitchen paper. Take out the giblets (keep them for making a stock or gravy late). Place the chicken in a roasting tin and leave to come to room temperature.

2.

Heat your oven to 200°C/Fan 180°C/Gas 6.

3.

Finely chop the wild garlic leaves and place them in a bowl. Pull a garlic clove from the bulb. Peel and finely grate it into the bowl. Add the soft, room temperature butter and finely grate in the lemon zest. Add plenty of salt and pepper. Mix together till well combined and vivid green.

4.

Using your fingers, or the end of a wooden spoon, lift the skin from the chicken breast, taking care not to tear the skin. Place half of the butter under the skin and massage it in. Keep the rest of the butter for later.

5.

Halve the garlic bulb and the lemon and pop them into the cavity of the chicken. Arrange the unpeeled shallots around the chicken. Loosely cover the chicken with foil, scrunching it onto the sides of the tin. Roast in the oven for 45 mins.

6.

Remove the chicken from the oven and pour 350ml water, white wine or chicken stock into the base of the dish. Recover with foil and roast for a further 30 mins.

7.

After the chicken has cooked for 1 hr 15 mins, remove the foil. Baste it with the juices. Spoon over the remaining butter and place back into the oven, uncovered for 15 mins.

8.

The chicken should be cooked through. Check by inserting a knife or skewer into the leg. The juices should run clear. If they are pink, slide back into the oven for 10 mins or till the juices are clear.

9.

Lift the chicken and shallots out of the dish and onto a plate. Remove the garlic and lemon. Cover the chicken with a loose tent of foil and leave to rest for 30 mins.

10.

Serve slices of the buttery wild garlic chicken with the roast shallots and the juices from the pan spooned over.