Roast Pork with Crunchy China 5 Spice Crackling
Prep: 15 mins
Cook: 1 hr 30 mins + 30 mins resting
Inspired by Chinese New Year, we've whipped up a roast celebrating the flavours of China. A fragrant sweet and sour marinade helps lacquer the skin on this organic pork leg joint, giving it a crunchy red finish, and roasting it quickly keeps it juicy.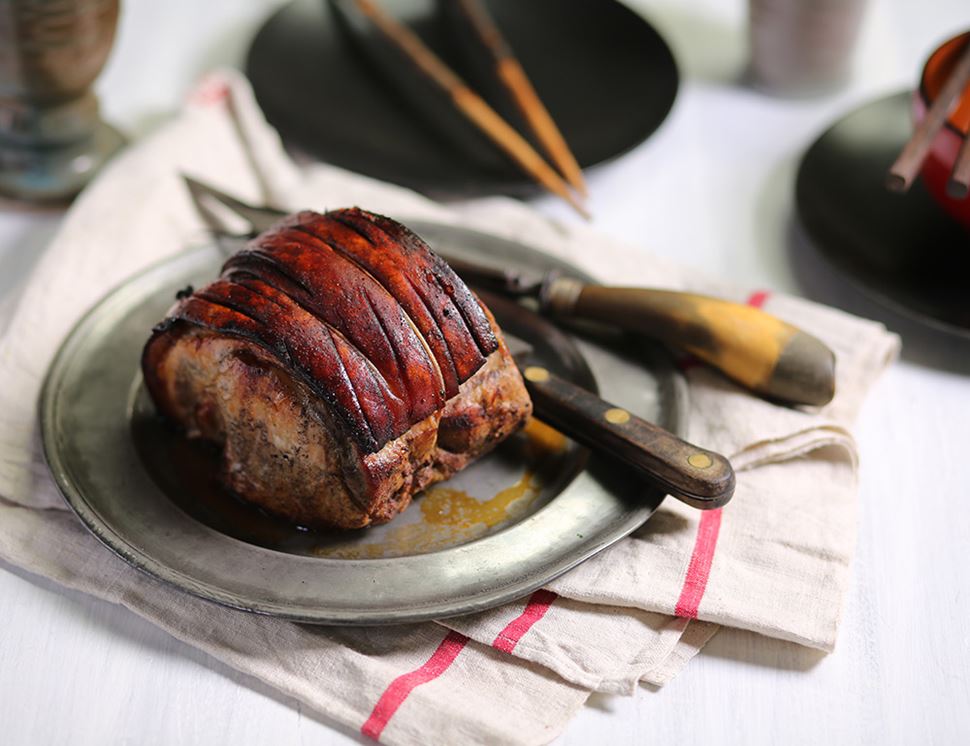 Ingredients you'll need
1.2kg leg of pork, boned & rolled
2 tsp China 5 spice
1 tsp caster sugar
2 tbsp brown rice vinegar
From your kitchen
Sea salt
Freshly ground pepper
Step by step this way
1.

Heat your oven to 240°C/Fan 220°C/Gas 9. Unwrap the pork and pat it dry with kitchen paper. Set it in a roasting tin, skin-side up, and set aside for 30 mins-1 hr to get it up to room temperature.

2.

Measure 2 tsp of the China 5 spice into a small bowl. Add 1 tsp of the caster sugar and all of the brown rice vinegar with a good pinch of salt and pepper. Stir thoroughly to dissolve the sugar as much as possible.

3.

Pour the China 5 spice marinade all over the pork and turn it to make sure it is well covered. Make sure the pork ends up skin side up in the tin.

4.

Roast the pork leg for 30-35 mins till the skin has crackled and sounds hollow when you tap it, then take the tin out of the oven and cover it with foil. Loosely crimp the foil to the edge of the tin (use oven gloves to protect your fingers). Reduce the oven to 180°C/160°C/Gas 4, return the pork to the oven and roast for another 1 hr.

5.

Take the pork out of the oven – it should be meltingly soft, with crispy skin. Pop the roast pork on a board or warm plate and rest for at least 30 mins before carving. If the crackling isn't quite crunchy enough, slice it off in one big piece and place on a foil-lined tray. Grill for 2-5 mins till the crackling is crunchy. Meanwhile, loosely wrap the pork in foil while it rests.

6.

Carve the pork into thick, juicy slices and serve with crunchy shards of the spiced crackling.
Tip

On the side
Wok-fried greens are a quick, easy and perfect with this roast pork dish. Warm a splash of oil in a large wok and add a couple of chopped garlic cloves and fry for 30 secs to scent the oil. Add a couple of handfuls of broccoli florets and some shredded green leaves, like pak choi or green cabbage. Add 2 tbsp tamari and 1 tbsp agave syrup and stir fry for 3-4 mins till the greens are just cooked. Add 1 tbsp sesame oil and toss to mix, then serve with slices of your roast pork and steamed rice.

Tip

Next week
We're going from China to Italy to make a slow cooked dish of Rosemary & Garlic Roast Lamb, inspired by the flavours and cooking methods of Rome. Organic lamb leg rubbed with a fragrant mix of herbs and garlic and gently cooked till it falls apart at the touch of your knife and fork. Delizioso!