Roast Chicken with Shawarma Spices
Prep: 15 mins
Cook 1 hr 20 mins
A heady Levantine mix of spices is just the thing to infuse your new year with warmth – and flavour when they are slathered generously over one of our organic chooks.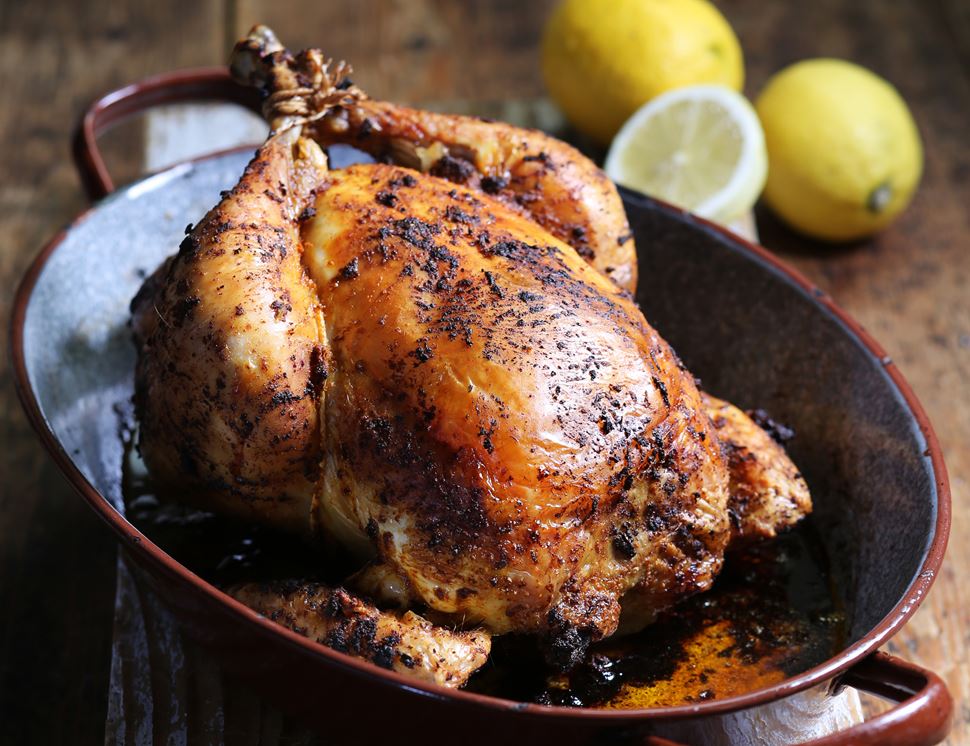 Ingredients you'll need
1.7kg av. whole chicken
8 cardamom pods
2 tsp ground coriander
2 tsp ground cumin
2 tsp smoked paprika
A pinch of cayenne pepper
2 garlic cloves
1 lemon
From your kitchen
Sea salt
Freshly ground pepper
1 tbsp olive oil
Step by step this way
1.

Heat your oven to 190°C/Fan 170°C/Gas 5. Take the chicken out of the fridge, unwrap it and remove the giblets (see our tip on how to use them). Pop the chicken in a roasting tin. Let it come to room temperature (around 30 mins should do).

2.

While the chicken is warming up, make the shawarma spice rub. Pop the cardamom pods in a pestle and mortar and crush them to open them up. Shake out the black seeds and discard the papery husks. Grind the seeds as finely as you can. No pestle and mortar? Use a small bowl and a jam jar or the end of a rolling pin instead.

3.

Add 2 tsp each ground coriander, cumin and smoked paprika to the ground cardamom seeds. Add a pinch of cayenne – it's spicy, so use as much or as little as you prefer. Peel and grate in the garlic cloves. Grate in the lemon zest and squeeze in the juice from half the lemon. Add a pinch of salt and pepper and 1 tbsp oil. Stir together to make a thick spice paste.

4.

Spread the spice paste all over the chicken to coat it. You can tie the legs together with kitchen string to keep them neat, or just leave them as they are. Loosely cover the chicken with a large sheet of foil, scrunching it onto the sides of the tin. Slide into the oven and roast the chicken for 1 hr. Remove the foil and return the chicken to the oven for another 20 mins.

5.

Take the chicken out of the oven and check whether it's done by inserting a skewer into the thick part of a thigh. If the juices run clear, it's ready. If not, slide back into the oven for another 5-15 mins.

6.

When the chicken is cooked, take it out of the oven and rest it on a warm plate or board, loosely covered with foil, for 20 mins before carving.
Tip

Giblet stock
While the chicken roasts, make a giblet stock. Rinse the giblets. Add them to a pan with some aromatics, such as sliced carrot, celery, onion, shallots, garlic, peppercorns, bay, parsley, thyme or rosemary. Pour in 1 ltr water. Cover. Bring to the boil. Turn the heat down. Simmer for 1 hr. Strain. For gravy, whisk into the pan juices with a spoonful of flour mashed with butter. Great for soups and risottos, and the stock freezes really well.

Tip

On the side
Make a crunchy slaw to go with your spice rubbed chicken. Peel and coarsely grate celeriac, carrots and apples and mix with finely shredded red or white cabbage and a finely sliced red onion or two. Stir in a few spoonfuls of mayonnaise or crème fraîche and plenty of chopped herbs, such as dill, parsley, mint, chervil or coriander. Add a little mustard and a good grinding of salt and pepper, then stir to mix.

Tip

Next week
Put some spice in your weekly roast with our Harissa Rubbed Topside of Beef. A gorgeous chunk of organic beef rubbed with fiery harissa from North Africa (via Yorkshire, where Steenberg's mix their version) and roasted on top of sticky, melting onions.