Rich Mushroom Ramen
Prep: 20 mins
Cook: 25 mins
Mush-room for another? Buckwheat ramen noodles are whirled into a rich mushroomy broth with our favourite oriental green, organic pak choi.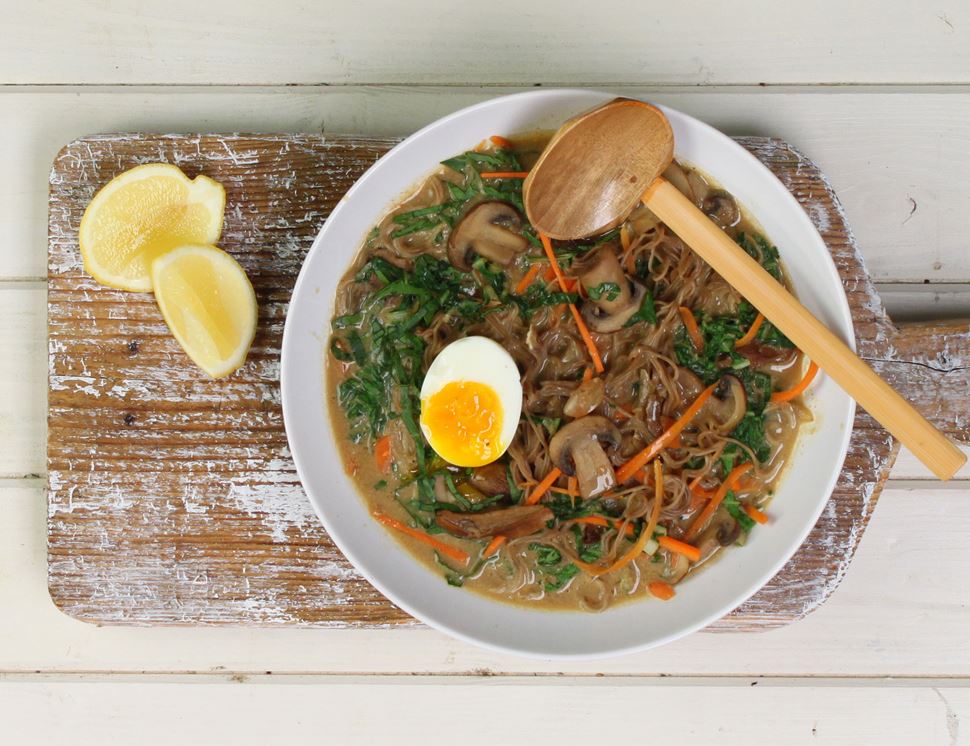 Ingredients you'll need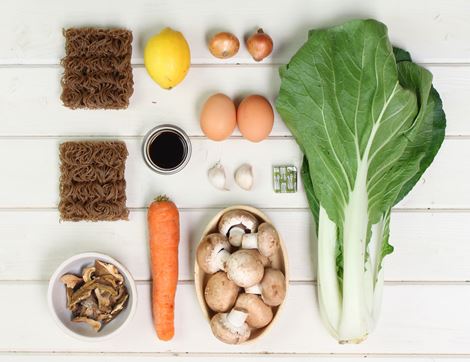 1 vegetable stock cube
A 12g pack of dried porcini mushrooms
A 200g punnet of chestnut mushrooms
2 shallots
2 garlic cloves
A 50g sachet of tamari
2 eggs
1 carrot
A head of pak choi
2 nests of buckwheat ramen noodles
1 lemon
From your kitchen
1ltr boiling water
½ tbsp olive oil
Sea salt and freshly ground pepper
You'll need
Heatproof measuring jug
Deep pan
Small pan with lid
Step by step this way
1.

Crumble the stock cube into a heatproof jug. Pour in 1 ltr boiling water and stir till the stock cube has dissolved. Tip in the dried porcini mushrooms and set aside to infuse.

2.

Finely slice the chestnut mushrooms. Peel and thickly slice the shallots. Peel and crush the garlic.

3.

Heat ½ tbsp oil in a deep pan. Fry the sliced mushrooms and shallots for 4-5 mins till all the liquid from the mushrooms has evaporated. Add 1 tbsp of the tamari and the garlic. Stir fry for 1 min.

4.

Pour in the porcini stock, reserving 200 ml. Leave to simmer for 15 mins. Crack an egg into a bowl and beat with 1 tbsp of the tamari. Pour into the reserved stock and whisk (this will enrich the broth). Set aside.

5.

Place the remaining egg in a pan and cover with cold water. As soon as the water comes to a boil, cover the pan and turn off the heat. Set a timer for 7 mins. After this time, plunge the egg into ice cold water. Once cool, carefully peel the egg.

6.

Trim the carrot and cut into thin matchsticks. Finely slice the pak choi. Drop the buckwheat noodles into the mushroomy broth. Cook for 2 mins.

7.

Chuck in the carrot and pak choi. Pour in the reserved egg and stock mix. Mix well and cook for 2 mins. Juice the lemon. Taste the ramen and add as much lemon juice as you like. Adjust the seasoning if needed. Ladle into two warm bowls and top each with half an egg.

8.
Tip

Eggcellent
You can cook the extra two eggs in your box and serve them with the ramen. Or, for an easy breakfast, scrunch some spinach into a ramekin and crack in the eggs. Dot with butter, add a splash of cream and bake in the oven till starting to set.