Quick Chinese Barbecue Pork Noodles
Prep: 15 mins
Cook: 20 mins
A sweet and sticky barbecue marinade makes our organic pork escalopes mouth-wateringly moreish. Served on a tangle of rice noodles stir-fried with fresh veg and golden hunks of omelette, we've made this dish a speedy one so you'll be able to get your forks – or chopsticks – in as soon as possible.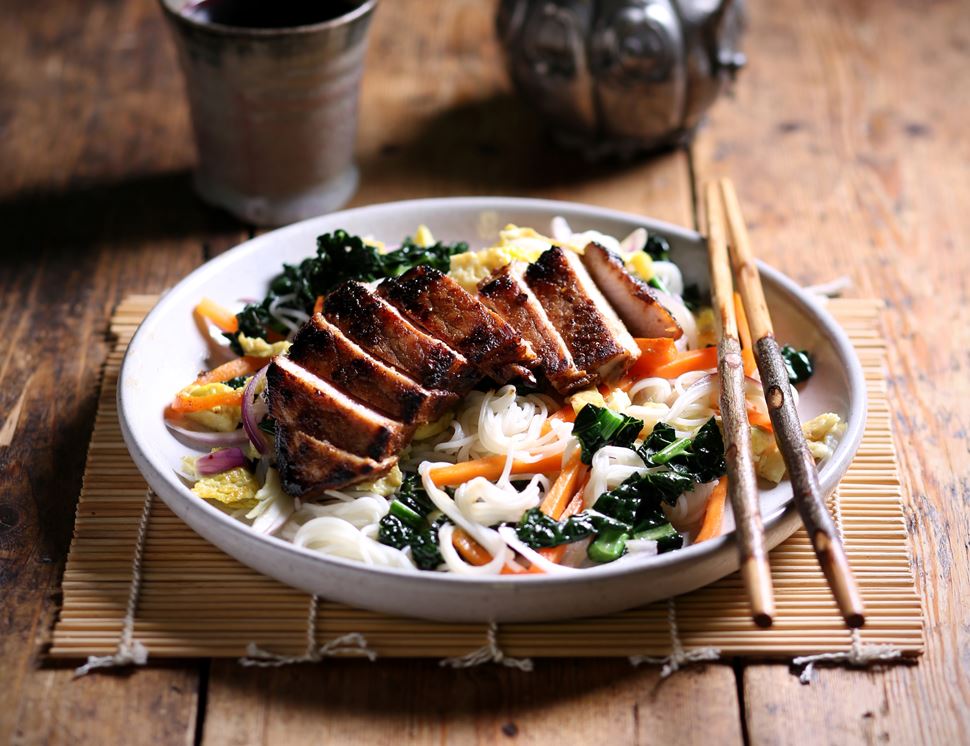 Ingredients you'll need
1 garlic clove
A thumb of ginger
1 tsp China 5 spice
40g honey
50g tamari
2 pork escalopes
1 red onion
1 carrot
100g cavolo nero
2 eggs
2 bundles of Thai rice noodles
1 tbsp sesame oil
From your kitchen
Sea salt
1 tbsp olive, sunflower or coconut oil
150ml boiling water
Step by step this way
1.

Put a large pan of salted water on to boil. Set your oven to its lowest setting.

2.

Peel and crush or grate the garlic. Peel and grate the ginger. Pop them both in a medium-sized dish and add 1 tsp China 5 spice, the honey and the tamari. Stir together to make a marinade. Add the pork escalopes to the marinade and turn them to coat them in the marinade. Set aside to marinate for 10 mins.

3.

While the pork marinates, peel and finely slice the red onion. Trim and peel the carrot, then slice it into batons about as big as your little finger. Shred the cavolo nero leaves into thin strips, discarding the dry ends. Set the veg aside.

4.

Crack the eggs into a bowl and beat them with a fork to mix them together. Warm a large frying pan or wok over a high heat for 2 mins, then add 1/3 tbsp oil and the beaten eggs. Swirl the eggs to coat the base of the pan. Fry for 2-3 mins, using a spatula to draw the edges of the omelette in and swirl more soft egg over the pan. When set, slide onto a board and set aside.

5.

Add another 1/3 tbsp oil to the pan and carefully lay in the pork escalopes (keep any marinade left in the dish). Fry for 4 mins till well browned underneath, then flip and fry for another 4 mins till browned all over and cooked through – if you slice into the escalope there should be no pink. Slide the pork escalopes onto a heatproof plate or dish, and transfer to the oven to keep warm.

6.

Add another 1/3 tbsp oil to the pan and add the onion, carrot and cavolo nero. Stir fry for 3 mins till the veg start to soften.

7.

The water in the pan should be boiling by now. Add the noodles, simmer for 5 mins, then drain.

8.

Scrape in any marinade left in the dish into the frying pan. Pour in 150ml boiling water and bubble up. Let it boil for 2 mins. While the pan simmers, roughly chop the omelette. Add the omelette and noodles to the veg with 1 tbsp sesame oil and toss to mix. Warm for 1-2 mins.

9.

Heap the noodles and veg up on 2 warm plates. Slice the escalopes and use them to top the noodles. Serve straight away.
Tip

Your leftover eggs and noodles are a dream team, and can be easily whipped up into a rice noodle frittata. Cook the noodles by simmering in boiling water for 5 mins, then drain. Whisk the eggs together in a small bowl. Heat ½ tbsp oil in an ovenproof frying pan, then add some chopped veg like pepper, onion, mushrooms or chilli, and stir fry for 3 mins. Add the noodles and stir to mix well with the veg, then pour over the beaten eggs. Let cook, without stirring, for 3 mins then slide under a hot grill for 5 mins, till the top is set and golden.