Quick Beef Bourgignon with Celeriac Mash
Prep: 10 mins
Cook: 30 mins
Roll your sleeves up to Master the Art of French Cooking. Jassy's brilliant recipe makes it a doddle and then you can start telling your friends to refer to you as Ms/Mr Child.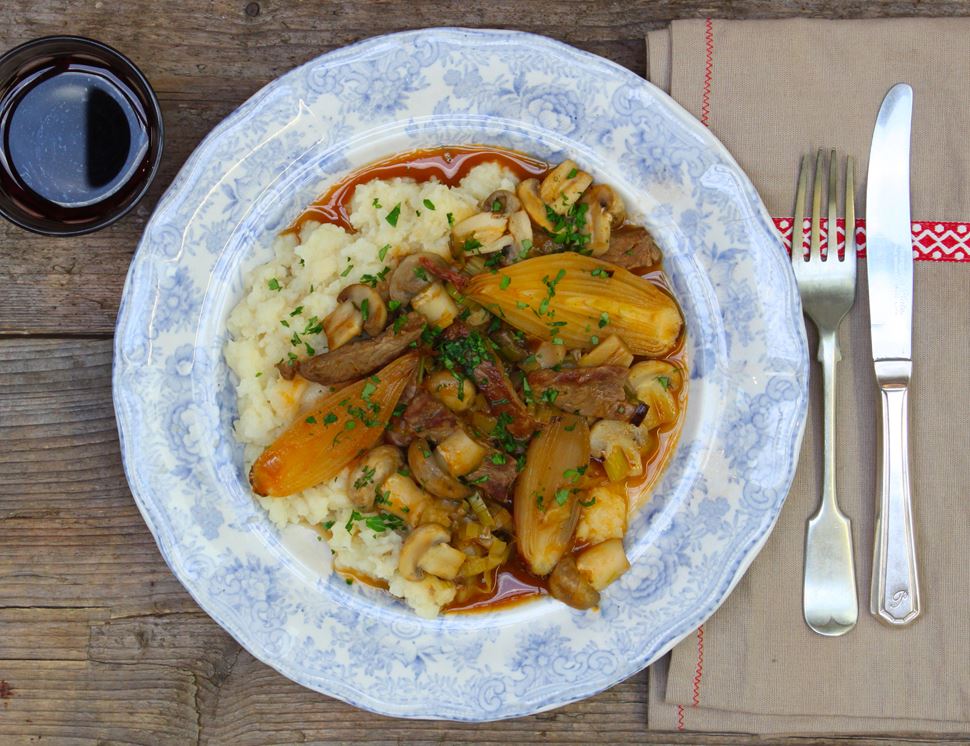 Ingredients you'll need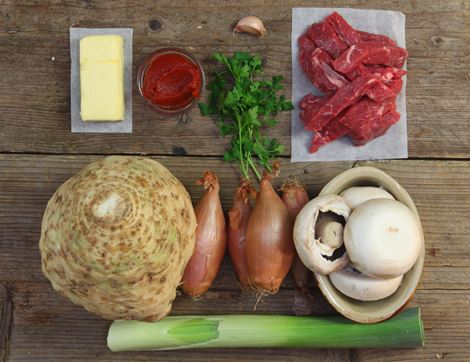 1 leek
4 shallots
A punnet of white mushrooms
A handful of flat leaf parsley
1 garlic clove
1 celeriac
A pack of beef stir-fry strips
A pot of butter
1 tbsp tomato purée
From your kitchen
1 tbsp olive oil
Sea salt
Freshly ground pepper
300ml hot water
You'll need
Pan with a lid
Deep frying pan or wok
Measuring jug
Colander
Step by step this way
1.

Trim and rinse the leek. Slice into rounds. Peel the shallots. Halve them if they are large. Rinse the mushrooms. Slice them. Rinse the parsley. Pat dry. Separate the leaves from the stalks. Roughly chop the stalks. Finely chop the leaves. Peel and finely chop the garlic.

2.

Fill the kettle and boil it. Halve the celeriac. Peel and chop it into small chunks. Pop them in a pan. Cover with hot water from the kettle. Bring to the boil. Reduce the heat and simmer for 10 mins or till tender.

3.

Warm 1 tbsp olive oil in a deep frying pan or wok. Add the beef. Stir-fry over a high heat for 2-3 mins till it is browned all over. Lift out of the pan. Pop on a plate. Leave to one side.

4.

Add half the butter and the leeks to the frying pan. Fry for 5 mins over a medium heat. Stir every so often. Add the shallots and mushrooms. Stir and fry for 5-6 mins till everything is juicy and browned. Season with salt and pepper.

5.

Stir the chopped parsley stalks, garlic and beef into the veg. Add 1 tbsp of the tomato purée. Pour in 300ml hot water from the kettle. Pop on the lid. Turn the heat down to medium-low.

6.

Gently simmer the bourgignon for 10 mins. Take the lid off. Simmer for another 5 mins till the shallots are soft.

7.

While the beef is cooking, press a fork into the celeriac to check it's cooked. When soft, drain well. Tip back into the pan. Add the other half of the butter. Mash till it's smooth. Pop over a low heat and warm for 2-3 mins to cook off any excess water. Season.

8.

Taste the beef bourgignon and adjust the seasoning if you think it needs it. Serve with the mashed celeriac, sprinkled with the chopped parsley leaves.