Pork Meatballs, Aubergine & Parmesan
Prep: 20 mins
Cook: 60 mins
This recipe is part of our partnership with The Sunday Times and Florence Knight. Florence says: "Caponata has been in my thoughts since my last holiday in Sardinia. The braised aubergine, celery and red onion are balanced with red wine vinegar and cooked to a comforting silken texture without being at all mushy."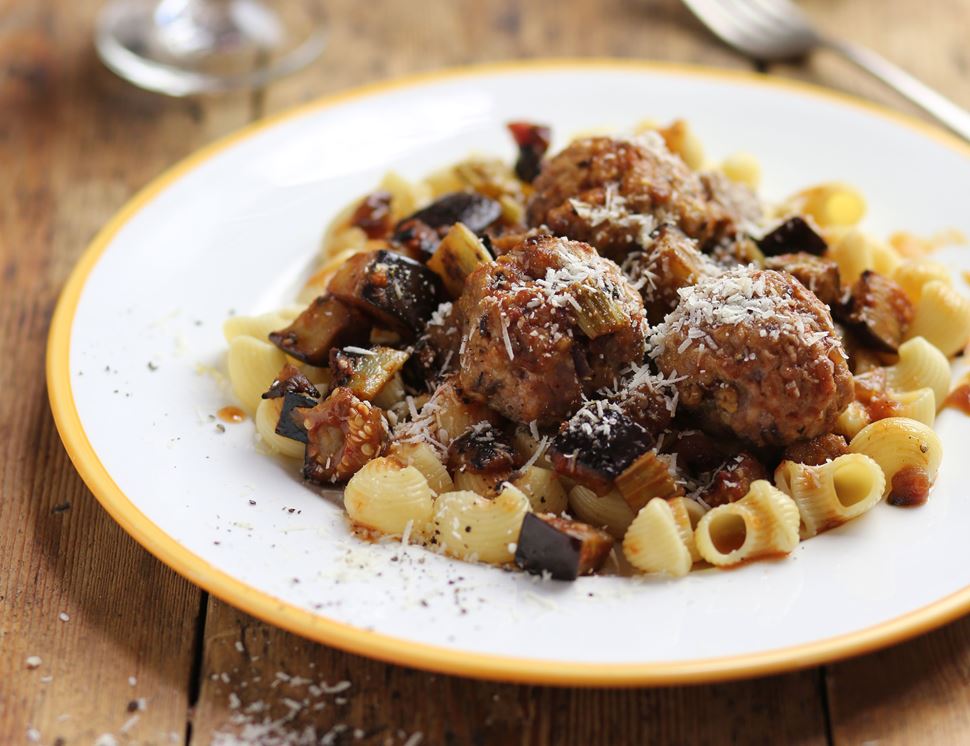 Ingredients you'll need
1 red onion
2 celery sticks
1 aubergine
400g tin of plum tomatoes
2 tbsp red wine vinegar
1 garlic clove
40g Parmesan
250g pork mince
1 egg yolk
1 tsp Dijon mustard
75g chifferini pasta
From your kitchen
Sea salt
7 tbsp olive oil + a little extra for your hands
Step by step this way
1.

Halve and peel the onion. Cut half in half again and very finely dice one quarter, setting it aside for later. Cut the remaining onion into 2cm dice. Wash the celery sticks and trim away both ends. Peel the skin away then chop into 2cm dice.

2.

Cut the stem from the aubergine and cut the body in half lengthways. Slice lengthways again into 2cm-wide strips. Cut across the strips to form 2cm dice. Place in a colander with a scattering of salt.

3.

Heat a large, heavy-bottomed pan with 2 tbsp olive oil. Add the 2cm-diced red onion and celery with a pinch of salt, cover and cook over a low heat for 15-20 mins till tender with no caramelisation.

4.

Meanwhile, set a wide-based pan over a low heat. Add 2 tbsp olive oil, grate over half the garlic clove and stir for a couple of mins. Drain the tomatoes, keeping the juice and setting the tomatoes aside for another time. Pour the juice into the garlic pan with the vinegar. Turn up the heat and allow to simmer away until reduced by one third.

5.

Return to the onion and celery and turn up the heat. Add 1 tbsp olive oil and stir through the aubergine, cooking it in the pan for 8 mins. Pour over the garlicky tomato sauce and stir to combine. Cover with a lid and cook for a further 5 mins; do not let the vegetables become soggy. Remove from the heat and set aside. This is best made early in the day to give the flavours a chance to merge fully.

6.

For the meatballs, heat a small pan with 2 tbsp olive oil and stir through the finely diced onion and a pinch of salt. Cover with a lid and cook over a low heat for 10-15 mins or until soft. Grate over the remaining garlic and stir to combine. Cook for 2 mins and remove from the heat. Spoon onto a plate and set aside to cool.

7.

Heat the oven to 200°C/Fan 180°C/Gas 6. Set a large pan of salted water on to boil for the pasta. Finely grate 5g Parmesan into a medium bowl and gently combine with 1 egg yolk, 1 tsp Dijon, the pork mince and cooled onion mixture. Divide into 6 balls about 50g each. Roll these between your lightly greased hands and place onto a baking tray. Place in the oven for 10-15 mins till cooked through (you can check with a meat thermometer that the core temperature is over 63°C, if you have one).

8.

While the meatballs are cooking, cook the pasta in the boiling water for 7 mins or until al dente. Drain the pasta and divide it between shallow bowls. Spoon over the caponata and a few meatballs. Grate over Parmesan to taste and eat hot .