Pork Escalopes with Peperonata Sauce
Prep: 15 mins
Cook: 40 mins
Peperonata is a traditional Italian stew of sweet peppers and onions simmered till they're tender, with a tang of vinegar to keep things sharp. It's a great sauce for cooking our organic pork steaks in.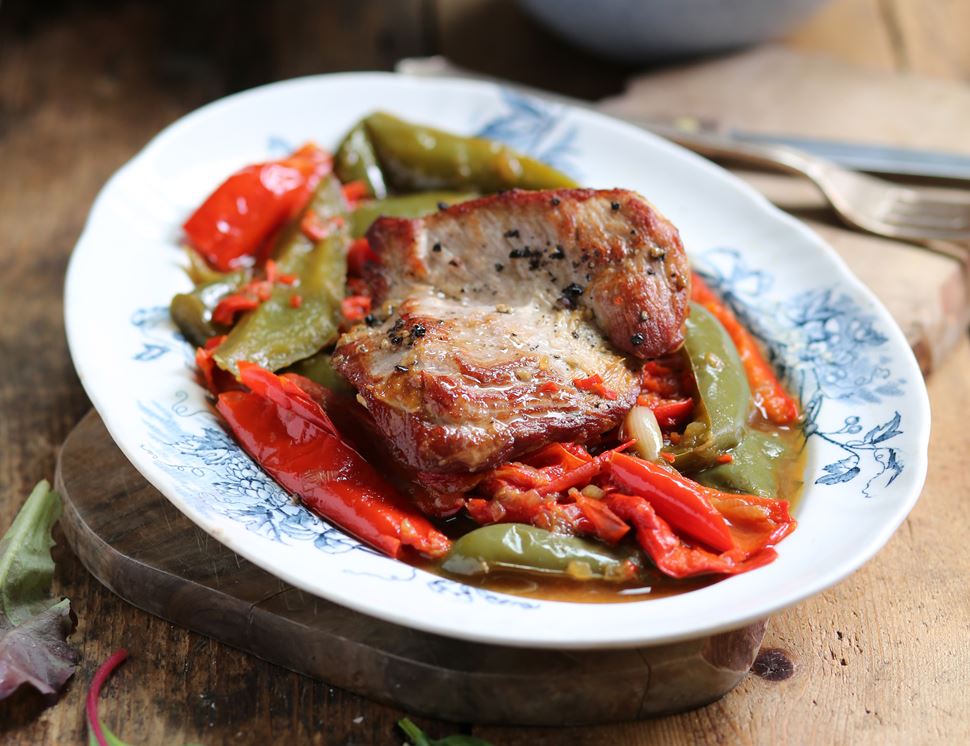 Ingredients you'll need
1 onion
2 pointed red peppers
1 pointed green pepper
2 pork escalopes
2 garlic cloves
1 chilli
2 tbsp red wine vinegar
50g sweet salad mix
From your kitchen
4 tsp olive oil
Sea salt
Freshly ground pepper
2 tbsp water
Step by step this way
1.

Peel and finely chop the onion. Halve the red and green peppers and scoop out the seeds and white pith. Roughly chop them.

2.

Warm a deep frying pan over a medium-high heat for 2 mins. Rub 1 tsp oil and some salt and pepper into each pork escalope. When the pan is hot, add the pork steaks. Fry for 2 mins, then turn them over and fry for another 2 mins till they're pale brown all over. Lift them out of the pan and pop them on a plate.

3.

Add the onion to the frying pan with 2 tbsp water. Season with a pinch of salt and pepper. Cover with a lid (or use a baking tray if you don't have a lid). Turn the heat down to medium-low and cook for 5 mins, stirring once or twice, till the onion has softened and picked up a little colour.

4.

Stir the peppers into the onion. Put the lid back on and cook for another 10 mins, stirring a few times, till the peppers have softened.

5.

While the peppers cook, peel and grate or crush the garlic. Halve the chilli, flick out the seeds and white pith. Finely chop the chilli.

6.

Stir the garlic and chilli into the veg with 1 tbsp of the red wine vinegar (keep the rest for later). Slide the pork escalopes back into the pan and pour in any juices from the plate. Pop the lid back on and simmer for 12-15 mins till the peperonata sauce has broken down and thickened, and the pork escalopes have cooked through – they'll be white if you slice into them, with no pink juices.

7.

While the pork and peperonata cook, whisk the remaining vinegar with 2 tsp olive oil and a pinch of salt and pepper. Toss with the salad leaves.

8.

Taste the peperonata sauce and add a pinch more salt and pepper if you think it needs it. Place the pork escalopes on 2 warm plates and spoon over the peperonata sauce. Serve with the dressed salad leaves on the side.