Pork & Lemon Grass Curry
Prep: 10 mins
Cook: 35-40 mins
A really snazzy, quick high welfare pork curry, using lemony grass for a fantastic aromatic twist.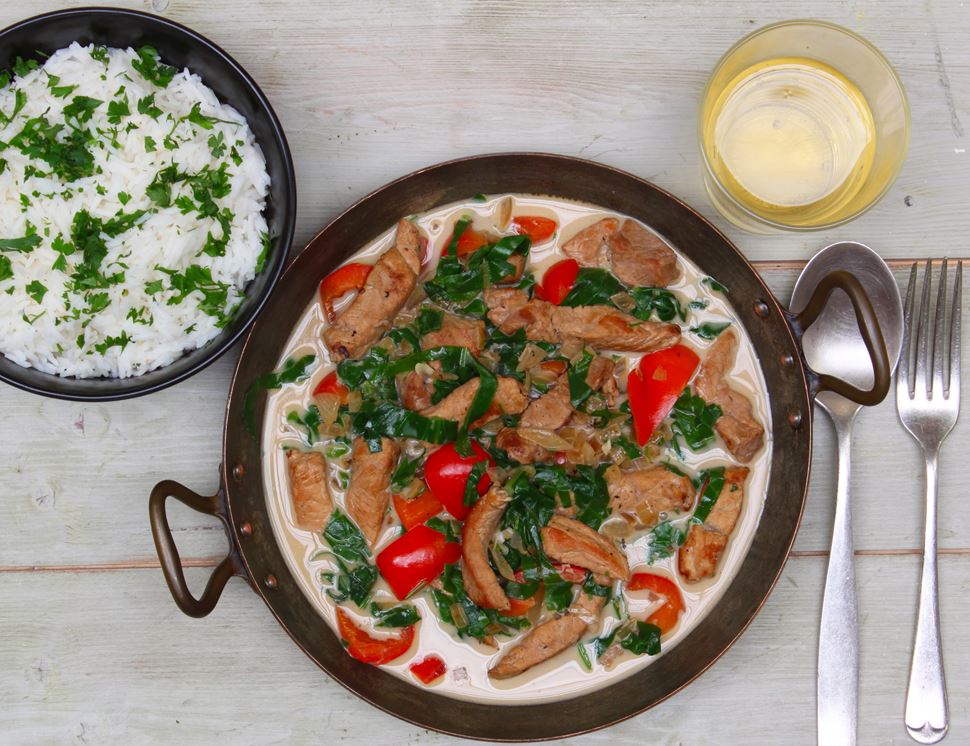 Ingredients you'll need
1 onion
1 red pepper
A bag of spinach
1 garlic clove
1 chilli
A handful of coriander
1 stick of lemongrass
A pack of pork stir-fry strips
1 tin of coconut milk
A bag of basmati rice
From your kitchen
A splash of olive oil
Sea salt
Freshly ground pepper
550ml hot water
You'll need
Chopping board
Knife
Grater or garlic crusher (optional)
Rolling pin, pestle or tin
Wok or deep frying pan
Wooden spoon
Colander or sieve
Pan with a lid
Measuring jug
Step by step this way
1.

Peel and finely chop the onion. Halve the pepper. Scoop out the seeds and white bits. Roughly chop the pepper. Pick the thick stalks off the spinach. Shred the leaves. Fill a kettle and boil it.

2.

Peel and grate or crush the garlic. Finely chop the chilli. Pick the leaves off the coriander stalks. Finely chop the stalks. Bash the lemon grass stick a few times with a rolling pin, pestle or tin to bruise it.

3.

Warm a splash of olive oil in a wok or deep frying pan. Add the pork stir-fry strips. Stir-fry over a medium-high heat for 4-5 mins till the pork is golden all over. Turn the heat down slightly.

4.

Add the onion, pepper. Season with salt and pepper. Fry over a medium heat for 5 mins till the onion is soft but not too coloured. Stir every so often.

5.

Add the garlic, chilli, coriander stalks and lemon grass. Stir and fry for 1 min till the pan smells aromatic.

6.

Pour in the coconut milk with 300ml hot water from the kettle. Bring to the boil. Turn the heat down. Pop on a lid. Simmer over a lowish heat for 20-25 mins. Stir now and then till the pork is tender.

7.

Rinse the rice under cold water. Tip into a pan. Pour in 250ml hot water. Add a pinch of salt. Cover. Bring to the boil. Turn the heat right down. Simmer for 6 mins till all the water has been absorbed.

8.

Take the rice off the heat. Steam with the lid on for 2-4 mins to finish cooking it. Stir the spinach into the curry to wilt it. Adjust the seasoning. Serve with the rice, throwing away the lemon grass and topping it with the coriander leaves.