Poached Whiting, Sea Purslane, Spaghetti
Prep: 20 mins
Cook: 35 mins
This recipe is part of our partnership with The Sunday Times and Florence Knight. Florence says: "Whiting is a lesser-known, smaller member of the cod family. The firm and delicate flesh lends itself to the light clean flavours of the spaghetti, sea purslane and chilli."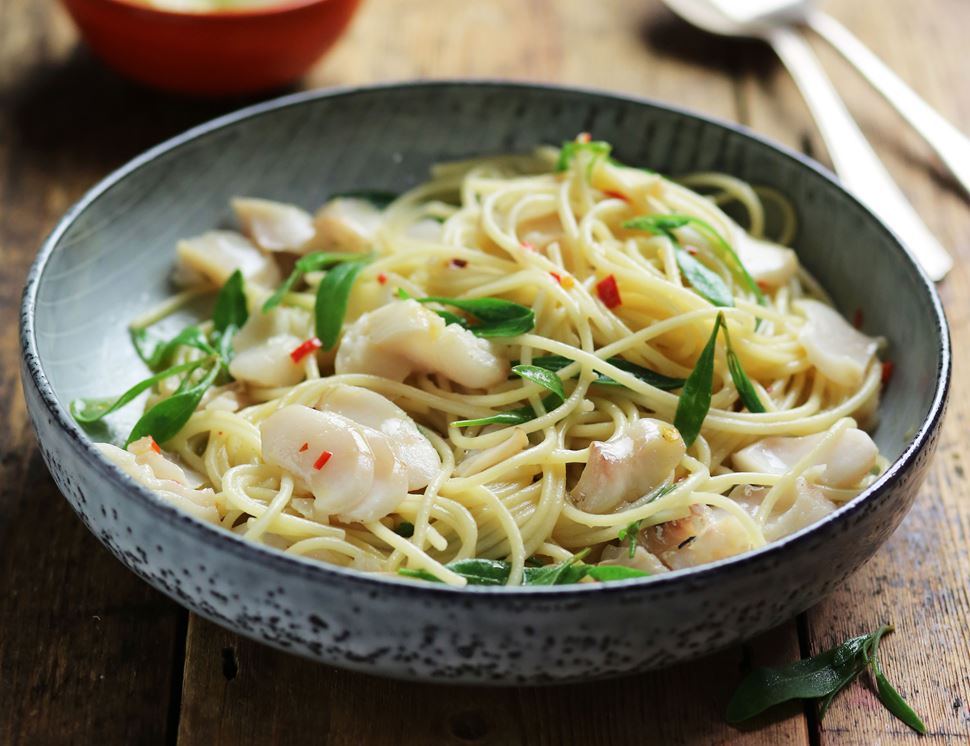 Ingredients you'll need
1 celery stick
2 shallots
1 fennel bulb
10 black peppercorns
½ red chili
1 garlic clove
30g sea purslane, leaves only
2 whiting fillets, skin on
200g spaghetti
A pinch of dried chilli flakes
1 lemon
From your kitchen
1 pint cold water
1 tsp sea salt + extra
for seasoning
3 tbsp olive oil
1 tbsp extra virgin olive oil
You'll need
Step by step this way
1.

Trim and roughly chop the celery. Peel and halve the shallots. Halve the fennel bulb.

2.

Pour 1 pint of cold water into a medium pan. Add the celery, shallots, one of the fennel halves and 10 whole black peppercorns. Set over a high heat. Once it has come to the boil, reduce the heat and simmer for 30 mins.

3.

Meanwhile, halve the chilli. Remove the white membrane and the seeds from one half and dice it finely. Peel and roughly chop the garlic. Pick the sea purslane leaves into pairs (where possible). Place a large pan of water on to boil and add 1 tsp sea salt.

4.

Add the whiting fillets, whole, to the pan of veg, making sure they're submerged in the liquor. Cover with a lid and cook for 3 mins. Use a slotted spoon to remove the fish. Gently flake the flesh and discard the skin, being sure to keep the flakes quite large. Set the fish aside and reduce the stock by half by boiling rapidly. Pass the stock through a fine sieve into a jug. Set aside.

5.

When the pan of salted water is boiling, add the spaghetti and boil for 5 mins.

6.

While the spaghetti is cooking, set a large, deep frying pan over a very low heat and add 3 tbsp olive oil, the garlic, diced fresh chilli and a pinch of chilli flakes. Use tongs to lift the spaghetti from the boiling water and place it in the frying pan.

7.

Add 150ml of the stock and a ladleful of the pasta's cooking water. Stir to combine and work the starch of the spaghetti. Cook for 2 mins, then add the flaked fish, sea purslane and 2-3 tsp lemon juice. Season to taste and cook for a final 1 min till the spaghetti is al dente.

8.

Slice the remaining fennel as thinly as you can, using a mandoline if you have one, and dress with juice from half the lemon, a pinch of salt, some fresh black pepper and 1 tbsp extra virgin olive oil.

9.

Use the tongs to plate the spaghetti and serve immediately with the shaved fennel alongside.