Poached Chicken with Gremolata Broth
Prep: 15 mins
Cook: 2 hrs
Beautifully tender high welfare chicken in a delicate broth is given extra zing with swirls of gremolata, a mix of lemon, garlic and parsley.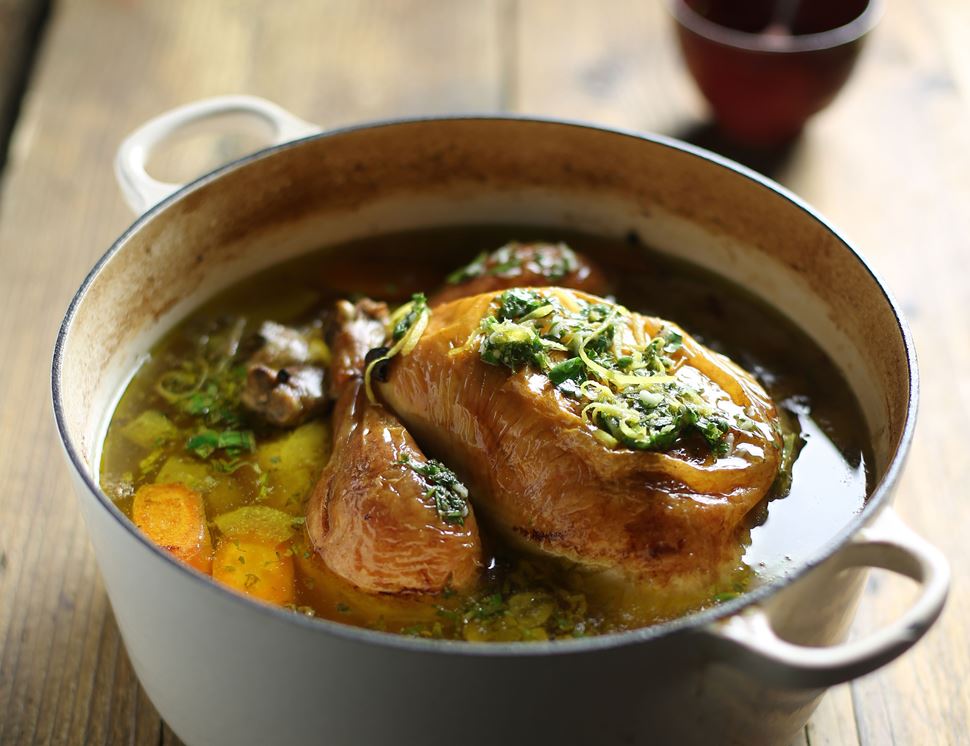 Ingredients you'll need
1.6kg whole chicken
1½ carrot
1½ celery stick
1½ onion
1½ garlic bulb
1½ lemon
A handful of flat leaf parsley
From your kitchen
Sea salt and freshly ground pepper
1 tbsp olive oil
You'll need
Large pot or roasting tin
Foil
Bowl
Step by step this way
1.

Remove the giblets from your chicken and set the liver aside (you can use it to make pâté if you like). Place the chicken in a large pot. (If you don't have a big enough pot, you can poach your chicken in a roasting tin in the oven.) Arrange the rest of the giblets around the chicken to enrich the stock.

2.

Scrub the carrot clean. Halve it. Halve your garlic bulb and take 2 halved cloves from it for later. Roughly chop the celery and onion. Trim the big stalks from your parsley (keep the leaves for later). Place it all (except the reserved garlic cloves) in and round the bird.

3.

Dust over some salt and pepper. Pour enough water into your pot to fully cover the bird, or at least reaching the top of the bird. If you're using a roasting tin, crank your oven up to 200°C/Fan 180°C/Gas 6. Fill the roasting tin ¾ full with water and cover securely with foil.

4.

For the pot method, bring it to the boil. Reduce the heat right down. Cover. Simmer for 1½ hrs. Heat your oven to 200°C/Fan 180°C/ Gas 6. If cooking in the oven, cook on the middle shelf for 1½ hrs.

5.

Transfer the pot to your preheated oven (or uncover the roasting tin). Roast for 20 mins or till golden on top.

6.

Remove the chicken from pot/tin. The legs should come away when gently tugged and the juices should run clear. If not, roast the chicken for a bit longer. Strain the veg/giblets from the broth. Bring the clear broth to a gentle simmer or keep warm in the oven.

7.

Finely chop the parsley leaves and reserved garlic. Finely grate the lemon zest. Mix together with 1 tbsp oil and some salt and pepper to make a kind of loose pesto. This is your gremolata.

8.

Thinly slice your lemon. Flick out the seeds. Add the slices to the simmering broth along with a good swirl of the gremolata. Return the chicken to the broth and dish it out, serving nuggets of meat with the herb flecked broth. Great served in shallow bowls with the extra gremolata on the side.