Pineapple & Coconut Chicken Rundown
Prep: 20 mins
Cook: 25-30 mins
Jamaican rundown is a thick coconut sauce with tomatoes, onion and thyme. We've teamed it up with high welfare chicken and juicy fresh pineapple to make a sensational Caribbean stew.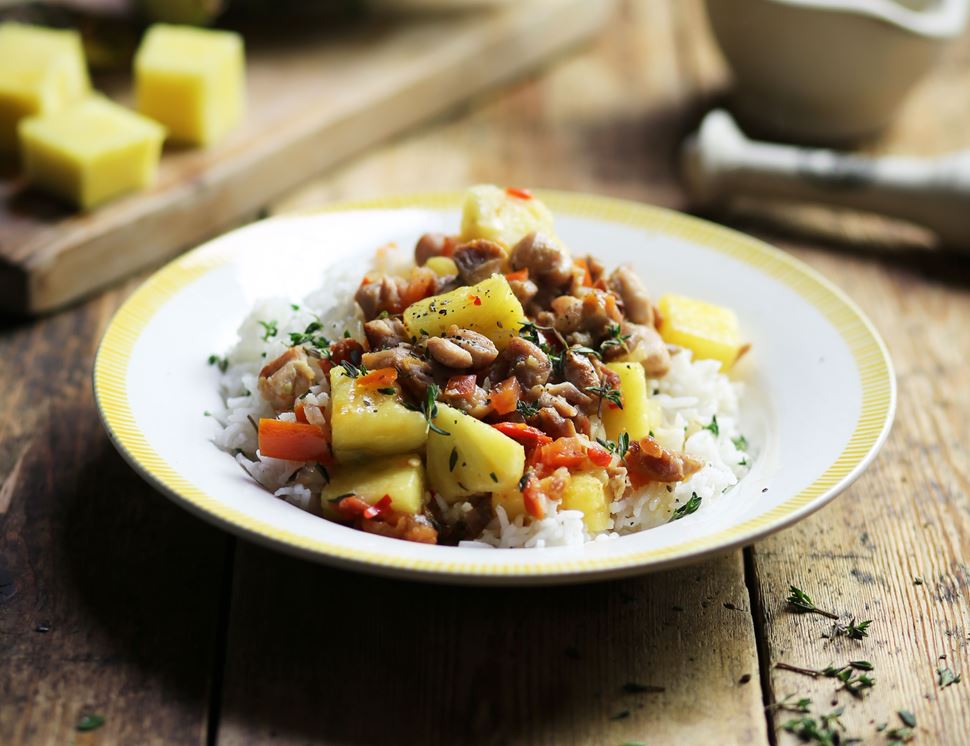 Ingredients you'll need
200g white basmati rice
1 onion
1 garlic clove
1 chilli
2 tomatoes
A handful of thyme
200ml coconut milk
1 pineapple
250g diced chicken leg
From your kitchen
1 tbsp olive or sunflower oil
Sea salt
Freshly ground pepper
100ml + 400ml boiling water
You'll need
Bowl
Sieve
2 small pans with lids
Measuring jug
Frying pan
Step by step this way
1.

Tip the rice into a bowl. Cover with cold water and whisk (you can use a fork) for 1-2 mins till the water goes cloudy (this is the starch). Drain, rinse the rice and tip back into the bowl. Cover with fresh water. Set aside.

2.

Peel and finely chop the onion. Peel and grate or crush the garlic. Finely chop the chilli, scraping out the seeds for less chilli heat. Dice the tomatoes.

3.

Warm a pan for 1 min. Add ½ tbsp oil to the pan with the onion, garlic, chilli, tomatoes and most of the thyme sprigs. Season. Cook and stir for 5 mins till the veg have softened.

4.

Shake the coconut milk in the tin, then pour into the pan. Add 100ml boiling water. Bring to the boil, then put a lid on the pan and turn the heat down. Gently cook for 15-20 mins till the tomatoes have broken down – this is your coconut rundown sauce. Stir now and then. Take off the heat and put to one side.

5.

While the sauce cooks, slice the leafy green top off the pineapple, and slice off the bottom so it sits up on the board. Slice off the skin. Use the point of a small knife to cut out the spiny eyes by cutting diagonal grooves either side of each one and flicking them out. Slice the soft flesh off the woody central core. Discard the core. Roughly chop the flesh.

6.

Drain the rice, rinse it and tip into a small pan. Add 400ml boiling water and a pinch of salt. Cover, bring to the boil and then turn the heat right down. Gently cook over a low heat for 8 mins till all the water is absorbed. Take off the heat and set aside, lid on, for 4-5 mins to finish cooking the rice.

7.

Warm a frying pan for 1 min. Add ½ tbsp oil and the chicken. Fry for 10-12 mins, turning now and again, till golden brown and cooked through.

8.

Add the pineapple to the pan and stir fry for 2-3 mins to just warm it through. Pour in the rundown sauce. Cook and stir for 1 min to mingle the flavours and warm through. Serve the with the rice, garnished with the remaining thyme leaves.