Pigeon with Corn Pancakes
Prep: 30 mins
Cook: 30 mins
There's a fusion of flavours in this inspired dish by Sorrel. Fluffy golden pancakes loaded with sweetcorn and crispy kale make great partners for our wild pigeon breasts.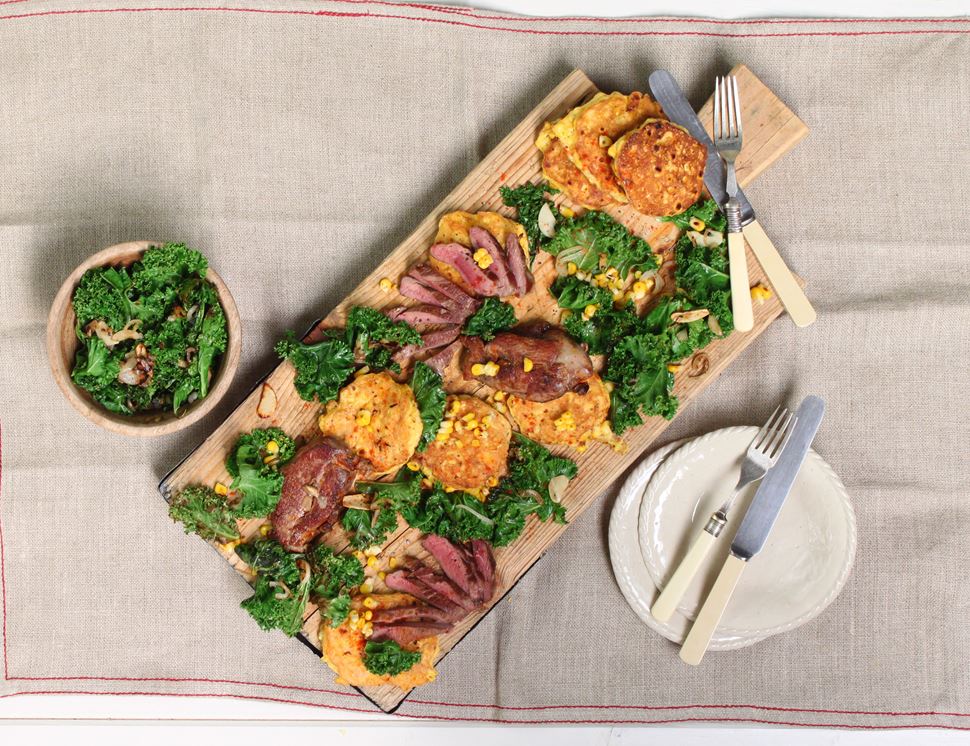 Ingredients you'll need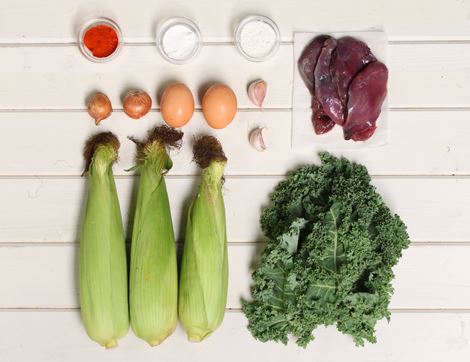 A 250g pack of pigeon breasts (may contain lead shot)
3 sweetcorn cobs
1 tbsp plain flour
1 tsp baking powder
2 eggs
1 tsp smoked paprika
A 100g bag of kale
2 shallots
2 garlic cloves
From your kitchen
1 tbsp cold water
2 tbsp olive oil
Sea salt and freshly ground pepper
You'll need
Four bowls
Frying pan
Foil
Tea towel
Step by step this way
1.

Heat your oven to 110°C/Fan 90°C/Gas ¼. Pull the leaves and the silks off the cobs. Lay two of the cobs on a chopping board. Carefully cut down the sides with a knife, rotating as you go, to slice off the kernels. Chuck them in a large bowl. Repeat with the last cob and put those kernels in a separate bowl.

2.

Separate two of your eggs, putting the yolks in one bowl and whites in another (make sure you don't get any yolk in the whites). Tip 1 tbsp flour and ½ tsp paprika into the yolks. Stir in 1 tbsp water. Tip in the kernels from two cobs and mix. Set aside.

3.

Peel and finely slice the shallots and garlic. Strip the kale from the tough stalks. Tear the leaves into bite sized pieces. Pour ½ tbsp oil onto a plate. Measure out ½ tsp paprika and tip onto the plate with plenty of seasoning. Mix together. Roll the pigeon breasts in the oil to coat.

4.

Warm a frying pan over a medium heat. Cook the pigeon for 2 mins on each side for rare, 3 mins on each side for medium and 4 mins on each side for well done. Transfer to a heatproof plate and cover with foil. Put in the bottom of the oven to rest.

5.

Add ½ tbsp oil to the frying pan. Throw in the shallots, garlic and kale. Add a pinch of salt. Stir fry for 5-6 mins till the shallots are cooked and the kale begins to turn crispy. Tip into a bowl and cover.

6.

Wipe the pan clean. Fry the remaining corn kernels in the dry pan for 2 mins till golden and beginning to pop. Tip back into their bowl.

7.

Whisk the egg whites till they form soft peaks. Beat 1 tsp baking powder into the corn and egg yolk mix. Fold this gently through the egg whites with a metal spoon. Lift and fold the mix together so you don't knock out too much air.

8.

Warm 1 tbsp oil in the frying pan over a medium heat. When hot, drop 1 heaped tbsp of the mix into the pan for each pancake. Fry for 2 mins, then carefully flip over. Fry for 2 mins on the other side till cooked through. Place on a plate and cover with a tea towel. Repeat with the remaining mix. Serve with the pigeon, crispy kale and golden corn kernels.