Pheasant a l'Orange
Prep: 10 mins
Cook: 25 mins
We've ditched the duck and gone for a pleasantly pheasanty version of this classic French meal. Buttery potato and parsnip mash and gorgeous green cabbage seal the deal.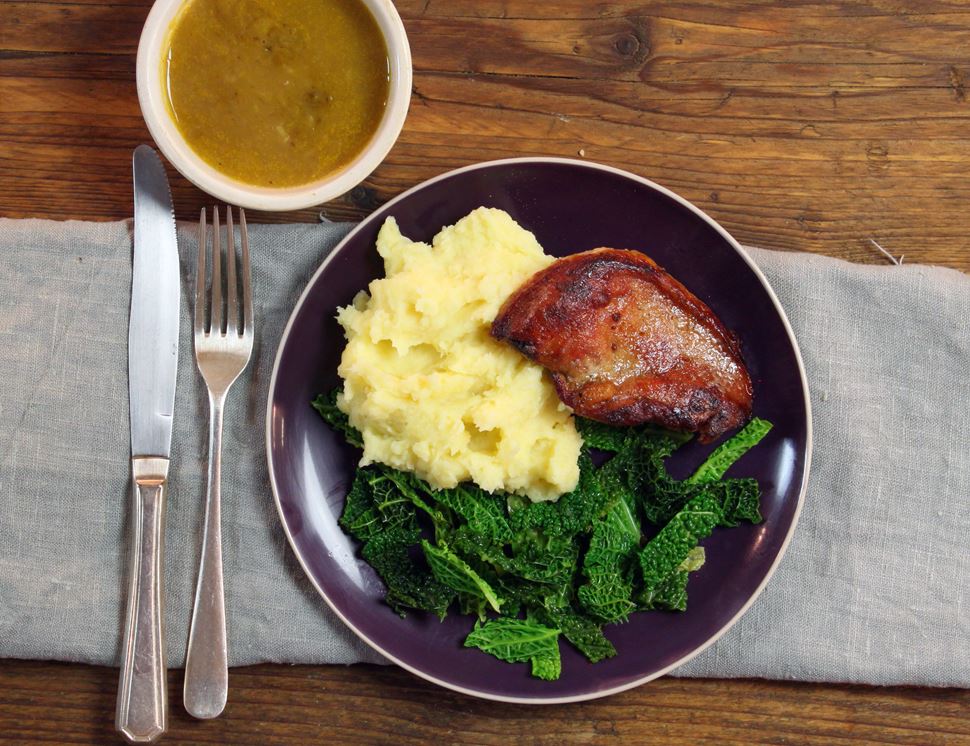 Ingredients you'll need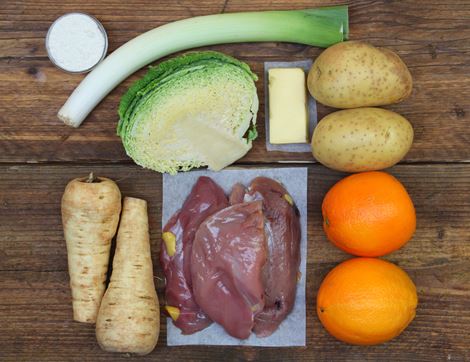 2 large potatoes
2 parsnips
A pot of butter
1 leek
½ a green cabbage
2 oranges
1 tbsp plain flour
A pack of wild pheasant breasts
From your kitchen
Sea salt
Freshly ground pepper
A drizzle of olive oil
You'll need
A couple of pans with lids
Colander
Frying pan
Foil
Step by step this way
1.

Fill the kettle and boil it. Peel and chop the potatoes into even-sized pieces. Peel and chop the parsnips into even-sized pieces.

2.

Fill a pan with hot water from the kettle. Add the potatoes, parsnips and a pinch of salt. Cover. Bring to the boil. Simmer for 20 mins or till the potatoes are soft. Drain. Tip back into the pan. Mash with 1 tbsp of the butter. Pop the lid back on to keep the mash warm.

3.

While the potatoes cook, trim, rinse and slice the leek. Halve the cabbage. Finely slice one half into ribbons, throwing away the hard middle core. Rinse the shredded cabbage. Juice the oranges.

4.

Sprinkle 1 tbsp of the flour on the plate. Season with salt and pepper. Roll the pheasant breasts in the flour to coat them. Shake off any excess flour. Set the pheasant breasts and flour to one side.

5.

Melt 1 tbsp of the butter in a pan. Add the leeks. Season. Cover. Gently cook for 5 mins till it starts to soften. Stir in the cabbage and a splash of hot water from the kettle. Cover. Cook for 5 mins till tender and wilted.

6.

Warm a drizzle of olive oil in a frying pan. Add the pheasant breasts and cook for 1 min each side on a high heat to brown them. Turn the heat down to medium. Fry for 3-4 mins to finish cooking them. Lift out of the pan. Pop on a plate. Cover with foil to rest.

7.

Melt 1 tbsp butter in the frying pan. Tip in the excess flour you saved in step 4. Stir till smooth. Pour in the orange juice. Bubble 2 mins or till thickened. Season to taste. Serve the pheasant breasts with the mash, cabbage and orange sauce.
Tip

Dial a cabbage Shred and rinse any leftover cabbage. Toast some cumin seeds. Add the cabbage with some coconut milk and a pinch of chilli flakes. Simmer till the cabbage is tender. Serve with grilled fish or meat.