Persian Tah Dig with Saffron & Broad Beans
Prep: 20 mins
Cook: 1 hr
Tah Dig means 'bottom of the pot', which is the best bit of this dish. Dig in for a layer of saffron flavoured rice that crisps up and gives this dish a delicious crunchy finish.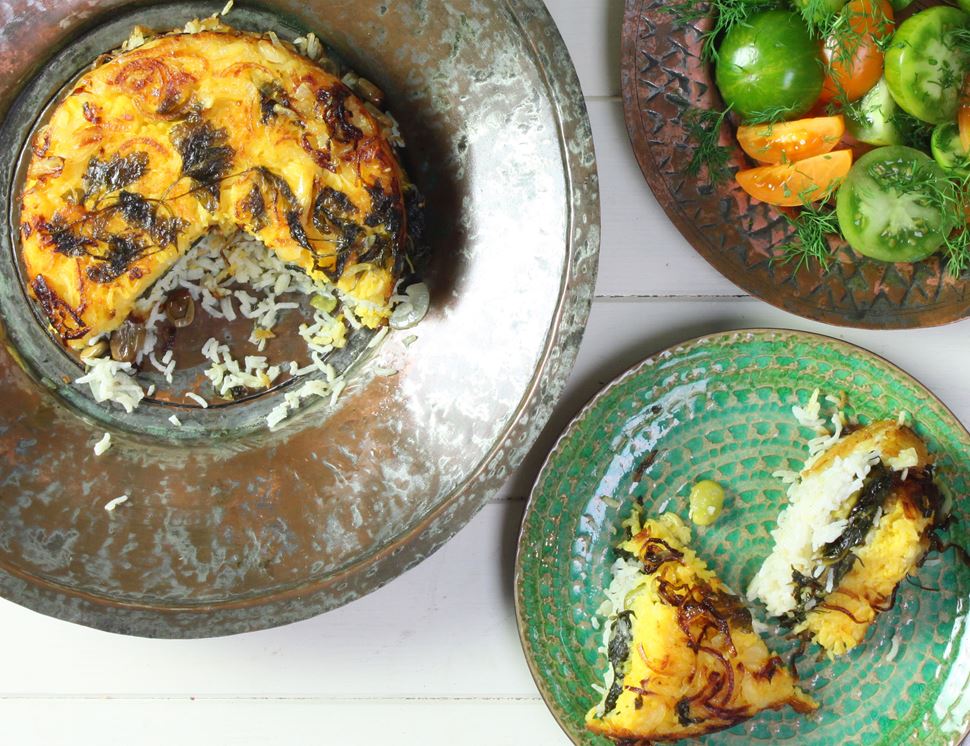 Ingredients you'll need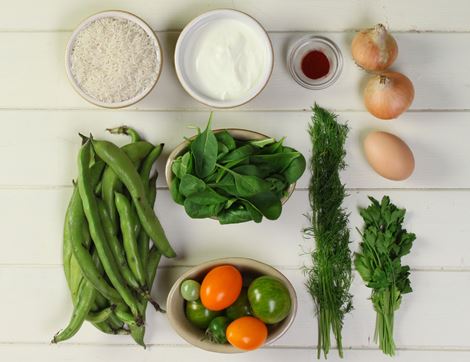 A 200g bag of white basmati rice
1 egg
A 150g pot of yogurt
A pinch of saffron powder
2 onions
2 large handfuls of baby leaf spinach
A 600g bundle of broad beans
A handful of flat leaf parsley
A 200g punnet of heirloom tomatoes
A handful of dill
From your kitchen
4 tbsp olive oil
Sea salt and freshly ground pepper
300ml boiling water
You'll need
Pan with a lid
Measuring jug
Large frying pan
Deep ovenproof pan with a lid
Step by step this way
1.

Rinse the rice under cold water. Tip into a pan. Pour in 300ml boiling water. Cover. Bring to the boil. Turn the heat right down. Simmer for 6 mins till all the water is absorbed. Take off the heat. Steam, lid on, for 2-4 mins till the rice is cooked.

2.

Separate the egg and place the yolk in a bowl with 2 tbsp of the yogurt, a pinch of saffron powder and some seasoning. Add two-thirds of the cooked rice. Heat your oven to 180ºC/Fan 160ºC/Gas 4.

3.

Peel and finely slice the onions. Add half to a large frying pan with 1 tsp olive oil. Cook gently for 5 mins. When they're soft, add the spinach. Cook till wilted. Pod the broad beans and add them to the pan. Cook for 1 min, then season.

4.

Heat 3 tbsp olive oil in a small ovenproof pan. Add the remaining onions. Cook for 5 mins. Add the parsley leaves to the pan. Spoon in the saffron yogurt rice. Press the rice down with the back of a spoon. Cook for another 10 mins on a low heat.

5.

Carefully brush 1 tsp oil up the sides of the pan. Tip in the spinach and broad bean mix and flatten it. Add 1 tbsp yogurt to the remaining rice then place on top, pressing down. Put a lid on the pan and put it in the oven for 40 mins.

6.

While the rice cooks, roughly chop the tomatoes and dill. Mix with 1 tsp oil and season.

7.

Carefully place a plate or board on the top of the rice pan. Flip over and the rice should come out ina 'cake'. Serve with the tomato salad and the remaining yogurt.