Penne all'Arrabiata
Prep: 5-10 mins
Cook: 15-20 mins
Literally "angry penne", make this spicy classic with a giant smile and loads of love. The veg is organic and you've got all the time in the world. Happy days.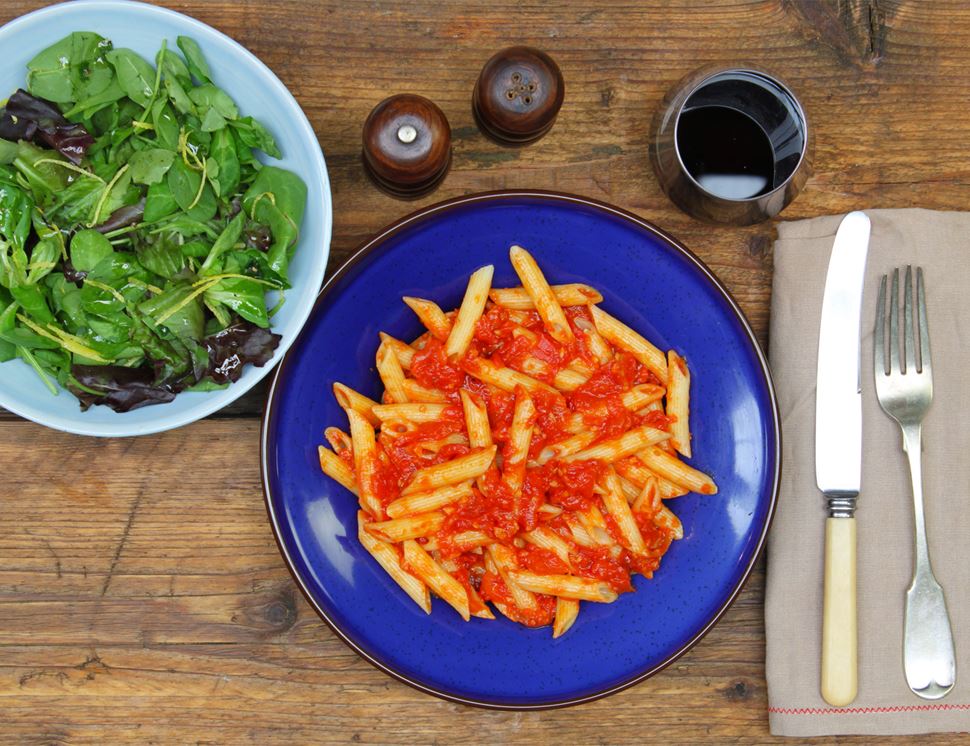 Ingredients you'll need
From your kitchen
3 tbsp olive oil
Sea salt and freshly ground pepper
You'll need
Deep frying pan or wok with a lid
Pan with a lid
A couple of bowls
Colander
Step by step this way
1.

Peel the garlic cloves and grate or crush them.

2.

Warm 1 tbsp olive oil in a deep frying pan or wok. Add the garlic. Fry over a medium heat for 10-15 seconds so it smells sweet.

3.

Add a pinch of chilli flakes and the tin of tomatoes (the chilli flakes are spicy, so don't add too much). Half fill the can with cold water and add that to the pan. Season with salt and pepper.

4.

Pop a lid on the pan. Bring the sauce to the boil. Turn the heat down to low. Simmer for 10-15 mins till the sauce is thick.

5.

Fill a pan with hot water from the kettle. Add a pinch of salt. Bring to the boil. When the water is boiling, add the penne. Pop on a lid. Simmer for 8 mins till the pasta is cooked and not too soft.

6.

Finely grate or pare the zest from the lemon. Juice half of it. Whisk the zest and juice with 2 tbsp olive oil and some salt and pepper to make a salad dressing.

7.

Pop the greens in a bowl. Add the salad dressing, Toss everything together to make sure it's well coated in the dressing.

8.

Drain the pasta. Taste the arrabiata sauce. Add more chilli, salt and pepper if you think it needs it. Tip the penne into the sauce. Stir everything together and serve with the salad.