Peking Chicken
Prep: 15 mins
Cook: 1 hr 20 mins
Try a taste of Old China with this Peking twist on a traditional roast, which gives your organic chook an incredible flavour and moreish crispy skin.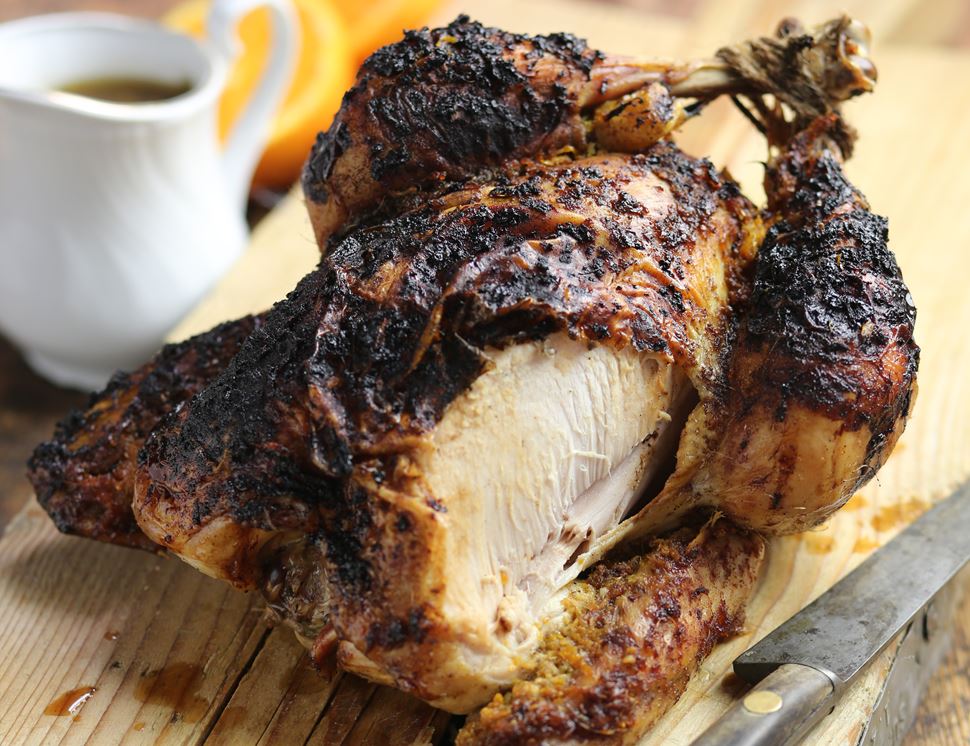 Ingredients you'll need
1.7kg whole chicken
3 garlic cloves
2 tsp China 5 spice
1 orange
A thumb of ginger
50g tamari
40g honey
You'll need
Step by step this way
1.

While the chicken roasts, peel, then finely grate or crush the remaining garlic clove. Pop in a medium bowl. Peel and grate in the ginger. Add 1 tsp China 5 spice, the zest and juice of the orange, the honey jar and the tamari. Whisk and set aside. This is your Peking glaze.

2.

Remove the chicken from the oven. Turn your oven up to 220°C/Fan 200°C/Gas 7. Uncover the chicken. Spoon all of the Peking glaze to cover it.

3.

Return the chicken to the oven. Cook for 20 mins or till well-browned and the juices on the fattest part of the leg run clear when pierced with a knife. Cook for a little longer if the juices are not clear.

4.

Let the chicken rest for a good 30 mins-1 hr before carving. Gloss with the juices from the tin before serving and drizzle more over your meat once it's carved and on your plate.

5.

Add shreds of leftover chicken to our Vietnamese Pho. Go to www.abelandcole.co.uk/recipes and search for Pho.

6.

Heat your oven to 180°C/Fan 160°C/Gas 4. Unwrap the chicken. Remove the giblets and put in the fridge to make your own stock another time. Put the chicken in a roasting tin. Peel 2 of the garlic cloves, then flatten with your hand (press firmly) and put them in the chicken's cavity.

7.

Dust 1 tsp China 5 spice over the chicken and rub it all over. Cover the tin with foil and crimp it to seal it to the edges of the tin. Roast in the oven for 1 hr.
Tip

Make stock
For a guide to making stock from the chicken giblets, go to our recipe page at www.abelandcole.co.uk/recipes and search for giblet stock.