Patrick's Potato Cakes with Shamrock Peppers
Prep: 30 mins
Cook: 30 mins
Potato farls are a favourite in Ireland. They're easy to make and hard to resist, especially topped with poached eggs and roast pepper sauce.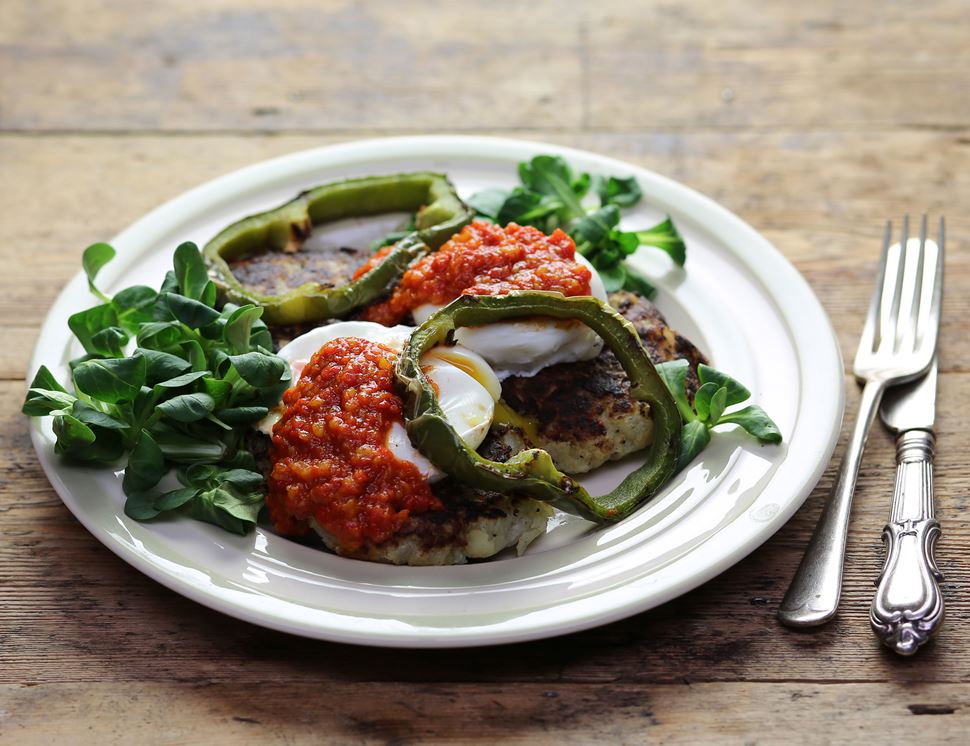 Ingredients you'll need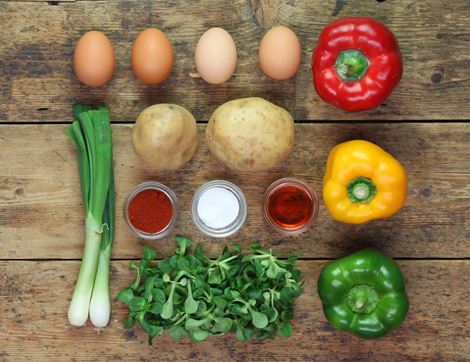 A 400g bag of potatoes
2 tsp baking powder
1 green pepper
1 red pepper
1 yellow pepper
2 salad onions
1 tsp smoked paprika
1 tsp red wine vinegar
A 50g bag of lamb's lettuce
4 eggs
From your kitchen
Sea salt and freshly ground pepper
2 tbsp olive oil
You'll need
A couple of pans
Colander
Baking tray
Foil
A couple of bowls
Cling film
Hand-held blender or food processor (optional)
Frying pan
Kitchen paper
Step by step this way
1.

Place the whole potatoes in a pan of boiling water. Cook for 20 mins till just soft. Drain and leave to dry in the colander. Heat your grill on its high setting.

2.

Meanwhile, halve the red and yellow peppers. Remove the stalk and scoop out the white bits and seeds. Place them skin-side up on a foil-lined baking tray. Slide under the grill for 10 mins till the skin is blackened. Place in a bowl and cover with cling film.

3.

Slice the green pepper into 6 slices across its width. Pull out the seeds. Put on the same tray you used for the other peppers. Slide under the grill for 4-6 mins till slightly charred.

4.

Peel and discard the skins from the grilled red and yellow peppers. Put in a bowl with 1 tsp smoked paprika and 1 tbsp red wine vinegar. Blend with a hand-held blender or food processor till smooth. Alternatively, finely chop the peppers and mix with the paprika and vinegar. This is your sauce.

5.

Finely slice the salad onions and put in a large bowl. Peel and grate in the cooked potatoes. Sprinkle in 2 tsp baking powder and some seasoning. Shape to form 4-6 potato cakes.

6.

Heat a frying pan. When hot, drizzle in 2 tbsp olive oil. Place the potato cakes in the hot pan and cook for 3-4 mins on each side.

7.

Bring a pan of water to a rolling boil. Crack an egg into a small cup. Carefully slide the egg into the water. Repeat with the remaining eggs. Cook for 2 mins for a runny yolk or 3 mins for a more set yolk. Remove from the pan and place on a plate lined with kitchen paper to drain.

8.

Place 2 potato cakes on each plate. Top each cake with a poached egg. Pour over the smoked pepper sauce. Add a few of the green 'shamrock' peppers. Serve with a handful of lamb's lettuce on the side.