Pastore Pasta Bake
Prep: 10 mins
Cook: 40 mins
Pastore pasta literally means 'Shepard's pasta'. High welfare lamb mince, a good smattering of organic veg and lashings of Cheddar make this marvellously moreish.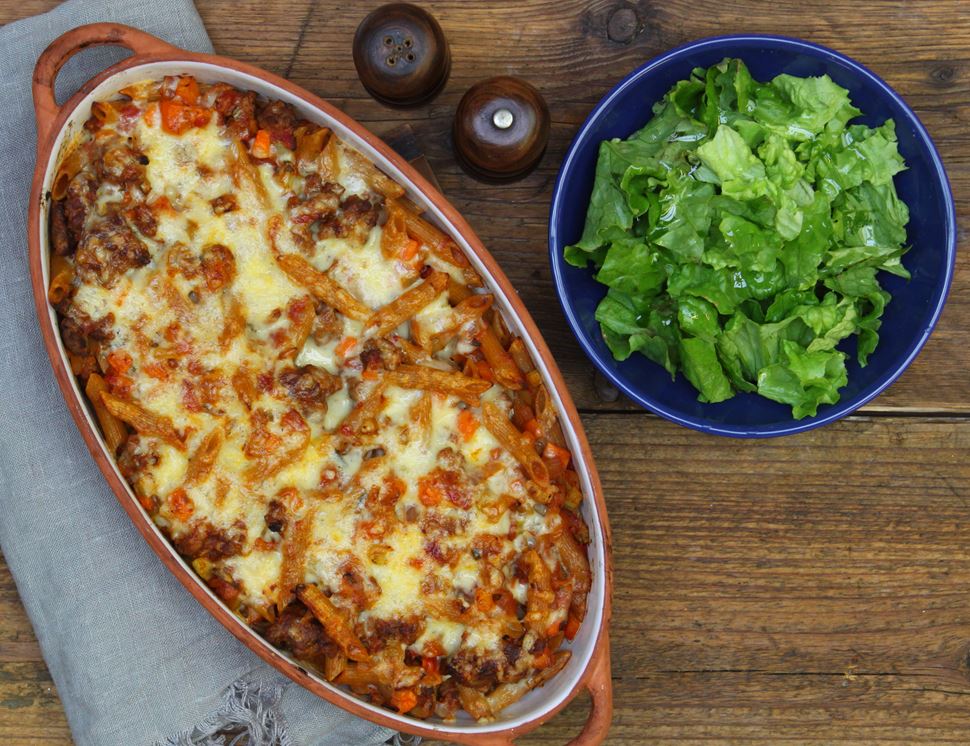 Ingredients you'll need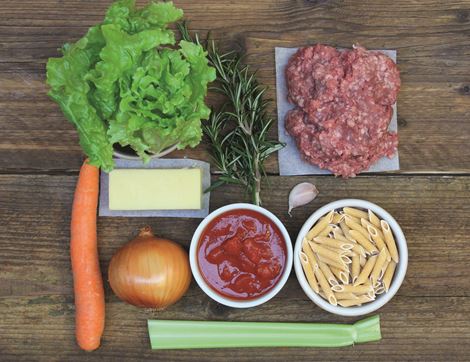 1 onion
1 carrot
1 stick of celery
1 garlic clove
A sprig of rosemary
½ a frilly lettuce
A pack of lamb mince
A tin of chopped tomatoes
½ a chunk of Cheddar
A bag of penne
From your kitchen
2 tbsp olive oil
Sea salt
Freshly ground pepper
You'll need
A ocuple of large pans with lids
Salad spinner or kitchen paper
Colander
Ovenproof dish
Step by step this way
1.

Peel the onion and carrot. Rinse the celery. Finely dice them. Heat 2 tbsp olive oil in a large pan. Add the veg. Pop on the lid. Fry gently over a low heat for 10-15 mins till soft, stirring every now and then.

2.

While the veg cook, peel the garlic. Roughly chop it. Rinse a sprig of rosemary. Remove the leaves from the stalk. Finely chop. Rinse the leaves from 1/2 the lettuce. Pop in a salad spinner or pat dry with kitchen paper. Pop in a bowl. Fill the kettle and boil it.

3.

Take the lid off your pan. Turn up the heat to high. Add the lamb mince, garlic and rosemary. Season with a little salt and pepper. Fry for 5 mins till the lamb is browned. Stir every now and then.

4.

Stir in the tomatoes and turn the heat down to medium. Fill the tomato tin a quarter full with hot water from your kettle. Add to the sauce. Simmer for 10 mins till the sauce thickens. Stir every now and then. Grate half the Cheddar.

5.

Heat your oven to 200ºC/Fan 180ºC/Gas 6. Fill a pan with hot water from the kettle. Add a pinch of salt. Cover. Bring to the boil. When it's boiling, add the penne. Simmer for 5 mins. Drain.

6.

Taste the sauce. Adjust the seasoning. Stir in the drained pasta. Tip into a baking dish. Top the pasta with the grated Cheddar. Bake for 20-25 mins till the cheese is golden and bubbling.

7.

Dress the lettuce with 1 tbsp olive oil and a pinch of salt and pepper. Serve the pasta bake on warmed plates with the dressed lettuce.
Tip

Nice to meat you
Rosemary is a great herb for pairing with meat. Chop your leftover rosemary sprigs and rub the leaves into chicken breasts or steaks before grilling them, or add a sprig to meaty casseroles.