Parmesan Polenta with Griddled Veg & Poached Eggs
Prep: 15 mins
Cook: 35 mins
Herbs and griddled courgette keep things light with bowls of cheesy polenta. We've accessorised it with a poached egg top hat.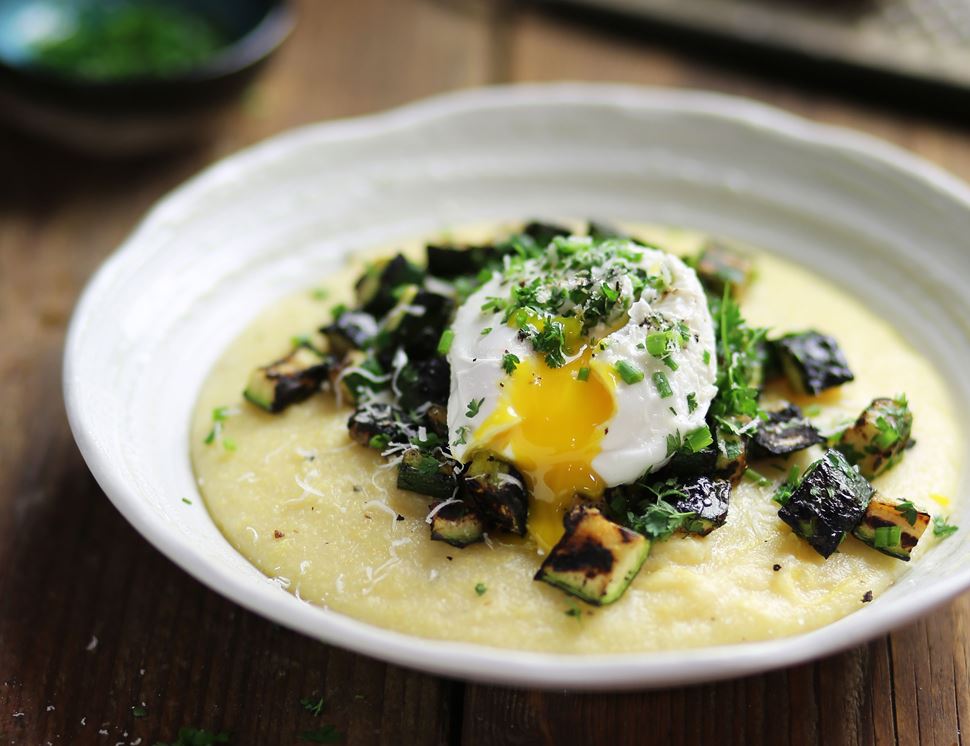 Ingredients you'll need
75g polenta
2 courgettes
A handful of chervil
A handful of chives
A chunk of Parmesan
1 lemon
1 garlic clove
4 eggs
From your kitchen
750ml water
Sea salt and freshly ground pepper
You'll need
Medium pan pan with a lid
Measuring jug
Deep frying pan with a lid
Bowl
Step by step this way
1.

Spoon the polenta into bowls. Top with 2 eggs each. Grind over some pepper. Sprinkle over the remaining herbs and Parmesan.

2.

Pour 750ml boiling water into a medium pan and add a pinch of salt. Bring to the boil. Slowly whisk in your polenta. Turn the heat right down. Cover. Simmer for 25 mins, stirring a few times till the polenta is thick, soft and comes away from the sides of the pan.

3.

While the polenta cooks, finely dice your courgettes into chunks around 1 cm across. Warm a deep frying pan over a high heat for 1 min. Add the courgettes in a single layer (you may need to do this in batches) and season with salt and pepper. Fry for 5-7 mins, turning once, till a little charred all over. Season as you cook. Don't add oil – the idea is to draw out all the moisture and get a slightly smoky taste.

4.

Tip the courgettes into a bowl when they're charred. Finely chop the chervil, leaves and stalks, and the chives. Add them to the courgettes, holding a pinch back for garnish. Wipe the frying pan clean and fill with water. Cover and bring to the boil.

5.

Peel and grate the garlic and add to the polenta after it has cooked for 20 mins. Stir. Finely grate most of the Parmesan into the simmering polenta, which should be nearly cooked. Finely grate the lemon zest. Stir it into the polenta and squeeze in the juice. Stir and take off the heat.

6.

Stir in the courgettes and herbs. Taste and add a little more salt and pepper if it needs it. Cover and leave to sit while you cook the eggs.

7.

When the pan water is boiling, crack 1 egg into a cup and slide into the pan. Repeat with the other eggs (you need a wide pan to cook all 4 at once). Simmer for 2-3 mins till the yolk is set to your liking.
Tip

Bottoms up
The polenta will probably form a brown crust on the bottom of your pan as it cooks. Leave it to set while you eat your stew, then use a spoon to peel it off the bottom of the pan. Any stubborn bits will come off after being soaked for 30 mins in hot water.