Ottoman Lamb Kebabs
Prep: 20 mins
Cook: 20 mins
These smoky grilled kebabs have the flavours of Istanbul blended into their fennel seed and cumin marinade. Served on homemade flatbreads with garlicky yogurt, charred chillies and fresh salad, they wrap dinner up.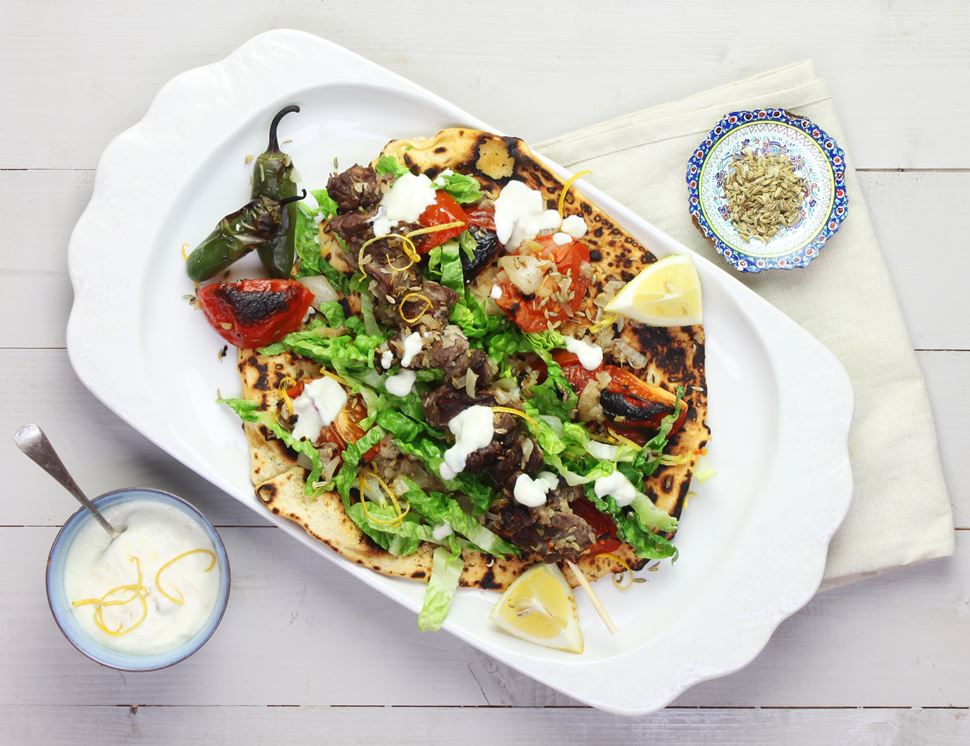 Ingredients you'll need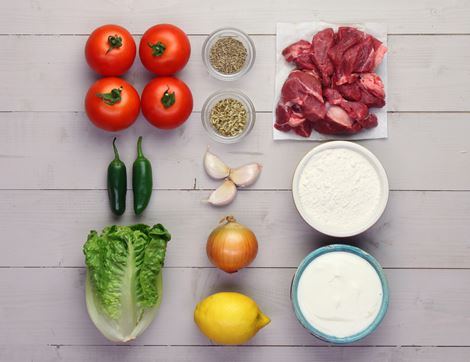 1 onion
3 garlic cloves
1 tsp fennel seeds
1 tsp cumin seeds
1 lemon
A 150g pot of yogurt
A 150g pot of plain flour
4 tomatoes
2 green chillies
A 250g pack of diced lamb
1 lettuce
From your kitchen
2 tbsp olive oil
3 tbsp cold water
Sea salt and freshly ground pepper
You'll need
A couple of large bowls
Baking tray
Foil
Skewers (soaked if wooden)
Griddle or frying pan
Step by step this way
1.

Peel and grate the onion and 1 garlic clove. Pop into a bowl with 1 tsp fennel seeds and 1 tsp cumin seeds. Pour in 1 tbsp oil. Zest the lemon and set the zest aside. Squeeze the juice from half the lemon into the bowl and mix (save the other half for later). Tip in the lamb and set aside to marinate.

2.

Add 2 tbsp yogurt to a separate large bowl. Pour in 1 tbsp oil and 3 tbsp cold water. Whisk with a pinch of salt. Scatter in the remaining cumin seeds from the sachet. Tip in the flour and knead to form a smooth dough. Cover and leave to rest.

3.

Heat your grill to its highest setting. Cut the tomatoes into quarters. Place on a baking tray lined with foil. Peel the remaining garlic cloves and drop them onto the tray. Make a long cut in the chillies and scoop out most of the seeds. Keep the stalk attached. Add to the tray.

4.

Sprinkle all the veg with a little salt. Slide the tray under the grill for 5-7 mins till the veg are softened and slightly charred. Remove the garlic cloves and chillies from the tray. Set aside for later.

5.

Thread the lamb onto skewers. Place the lamb kebabs on the tray with the tomatoes. Pour over the marinade. Slide the kebabs under the grill for 10 mins to cook the lamb, turning every now and then. The lamb should be a little charred and the tomatoes starting to burst.

6.

Squash the grilled garlic cloves and mix with the remaining yogurt. Shred the lettuce leaves.

7.

While the lamb finishes cooking, divide the dough into 2 balls. Roll into large circles. Heat a large griddle or frying pan over a medium heat. When hot, place a flatbread in the pan and cook for 2 mins on each side. Repeat with the remaining flatbread.

8.

Place a flatbread on each plate. Top with the lettuce, grilled tomatoes, lamb kebabs, a drizzle of the garlicky yogurt and a charred chilli. Sprinkle over the lemon zest and a few extra fennel seeds. Serve with wedges of the remaining lemon for squeezing.