Oodles of Singapore Tofu Noodles
Prep: 10 mins
Cook: 15-20 mins
This one's a takeaway favourite for a reason. Skip the phone call and long wait and rustle this flavourful number up in minutes. For that added virtuous feeling, it's full of organic veg too.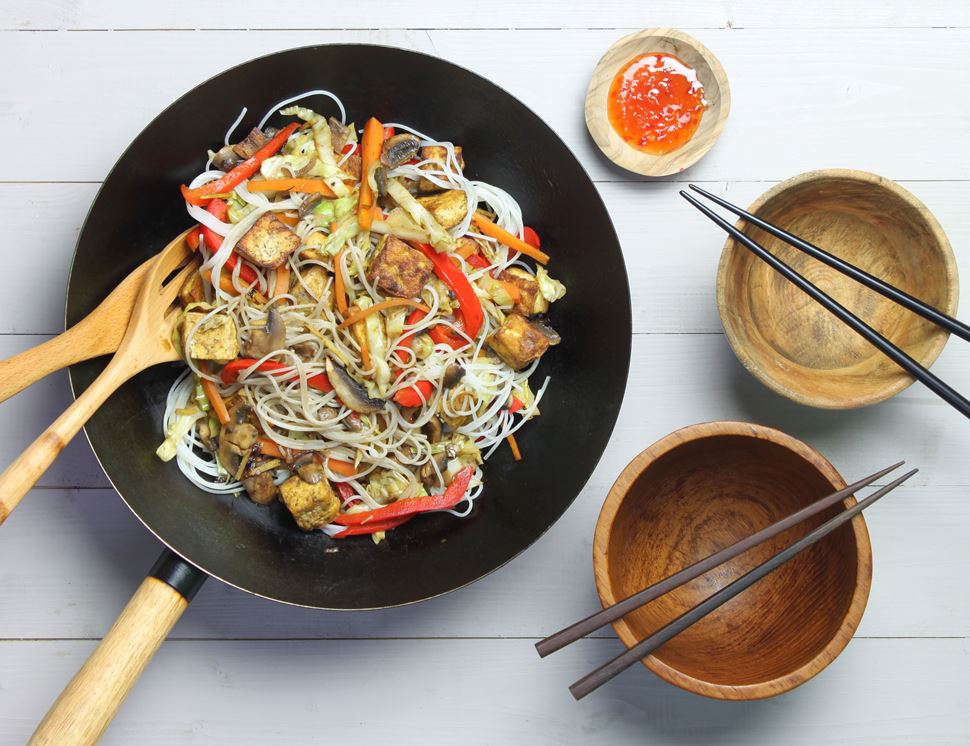 Ingredients you'll need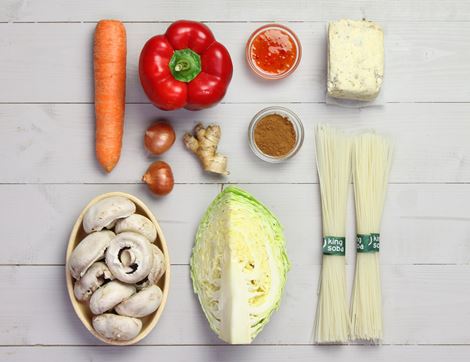 A 190g pack of marinated tofu
2 shallots
A thumb of ginger
A 200g punnet of white mushrooms
1 carrot
1 red pepper
¼ green cabbage
2 bundles of Thai rice noodles
1 tsp garam masala
A 50g sachet of Thai sweet chilli sauce
From your kitchen
1 tbsp olive oil
Sea salt
You'll need
Deep frying pan or wok
Kitchen paper
Heatproof bowl
Step by step this way
1.

Prepare your tofu and veg: gently pat the tofu dry with kitchen paper. Slice into cubes. Peel and thinly slice the shallots. Peel and chop the ginger into matchsticks. Finely slice the mushrooms.

2.

Peel the carrot and slice into thin sticks. Halve the pepper. Scoop out the seeds and white bits. Finely slice it. Finely shred half the cabbage (see our tip for what to do with the rest).

3.

Heat 1 tbsp oil in a wok or deep frying pan. Add the tofu. Fry for 4-5 mins. Turn occasionally till golden brown. Lift out of the pan. Pop on a plate lined with kitchen paper and set aside.

4.

Add the shallots to the pan. Stir fry for 2-3 mins till they just pick up some colour. Add the rest of the veg and the ginger to the pan. Season with a pinch of salt. Stir fry for 4-5 mins till soft and glossy.

5.

While the veg cook, put 2 bundles of the noodles in a heatproof bowl. Cover with boiling water. Leave for 3 mins, then drain (take the wok off the heat for a few mins if needed while you drain the noodles).

6.

Add 1 tsp of the garam masala to the veg. Stir fry for 1 min till the pan smells fragrant. Return the tofu to the pan and toss a few times to mix together.

7.

Add the noodles to the pan. Use two forks to pick everything up and drop a couple of times to mix everything together. Divide the stir-fry between two warmed bowls. Drizzle the sweet chilli sauce over the top to serve.
Tip

Curry up the cabbage
Use your leftover garam masala to spice up your leftover cabbage. Finely shred it, then stir fry with sliced leeks till soft. Add in a good pinch of garam masala, some grated ginger, garlic and turmeric. Pour in coconut milk and simmer for 5-10 mins.