Welsh Rarebit Jacket Potatoes
Prep: 15 mins
Cook: 40-45 mins
This recipe is a spuddy good twist on the toast-based Welsh classic, topping fluffy jacket potatoes with a rich, mustardy cheese and spinach sauce and adding wedges of juicy roast tomato and a fresh peppery salad on the side.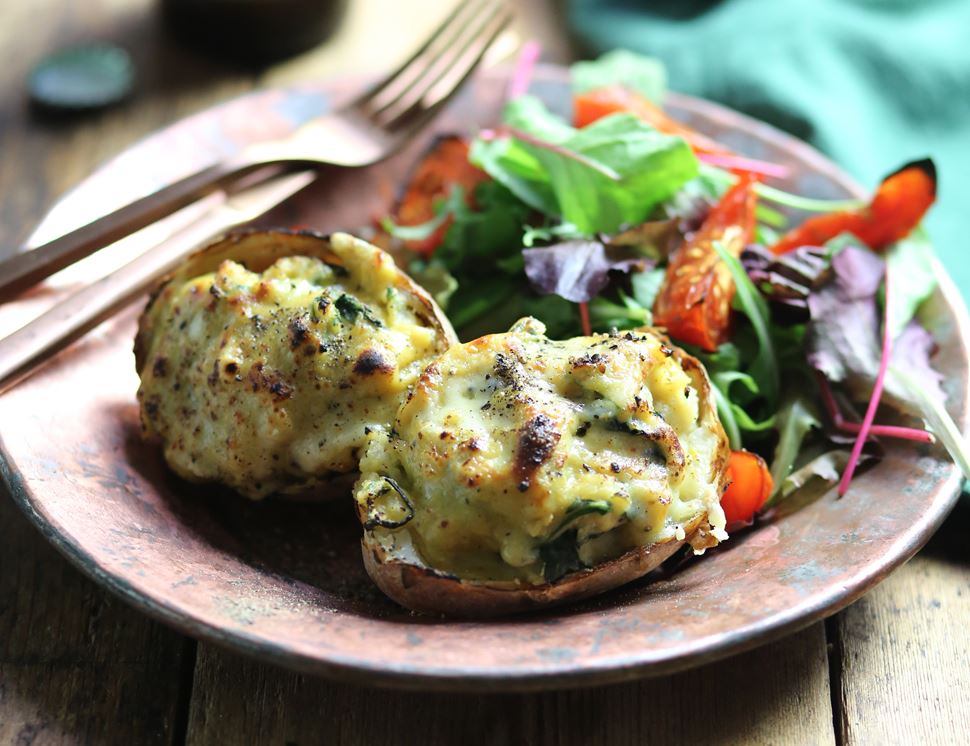 Ingredients you'll need
2 baking potatoes
2 tomatoes
100g baby leaf spinach
1 egg yolk
3 tbsp full cream milk
2 tbsp Worcester sauce
1 tsp Dijon mustard
100g cheddar
1 tbsp red wine vinegar
50g peppery salad mix
From your kitchen
2½ tbsp olive oil
Sea salt
Freshly ground pepper
Step by step this way
1.

Heat your oven to 200°C/Fan 180°C/Gas 6. Scrub the potatoes. Pierce all over with a skewer or fork.

2.

Pop them on a plate and bung in your microwave on high for 10-15 mins (No microwave? Jump to step 3). When they're tender to the touch, use oven gloves or tongs to put them on a baking tray.

3.

Drizzle each potato with ½ tbsp oil and sprinkle with salt and pepper. Bake in the oven for 30 mins till cooked through (or bake for 1 hr 30 mins if you don't have a microwave). Test them with a skewer to check they're soft all the way through.

4.

Cut each tomato into 6 wedges. Place on a baking tray. Drizzle with ½ tbsp olive oil and season. Slide into the oven with the potatoes or, if you're baking the potatoes for longer, add the tomatoes when the spuds have 25 mins left to cook.

5.

While the potatoes and tomatoes are cooking, put the baby leaf spinach in a dry pan. Cook over a medium heat for 1-2 mins till the spinach has just wilted. Drain in a colander. Press the spinach with a wooden spoon to squeeze out as much liquid as possible. Finely chop it.

6.

Separate the egg yolk from its white. Whisk 3 tbsp milk, the egg yolk, 2 tbsp Worcester sauce, 1 tsp mustard and some black pepper in a small pan. Grate the cheese and add to the pan. Add the spinach. Heat gently and stir for about 2 mins till the cheese has melted into a smooth sauce.

7.

When the potatoes are tender, halve and scoop out their flesh. Pop into a bowl and mash. Heat your grill to medium. Line a grill pan or baking tray with foil. Take the tomatoes out of the oven.

8.

Add half the cheese sauce to the mashed potato. Mix well. Spoon the cheesy mash back into the potato skins. Top with the remaining sauce. Grill for 5 mins till golden brown and bubbling.

9.

Whisk 1 tbsp red wine vinegar with 1 tbsp oil and a pinch of salt and pepper. Toss the salad leaves with the dressing. Serve the rarebit jackets with the salad and roasted tomatoes.