Sicilian Lamb Stew with Buttered Polenta
Prep: 10 mins
Cook: 40 mins
Served on top of soft, buttery polenta, a mix of aubergine, red pepper and tomatoes gives this rustic lamb stew a Mediterranean air.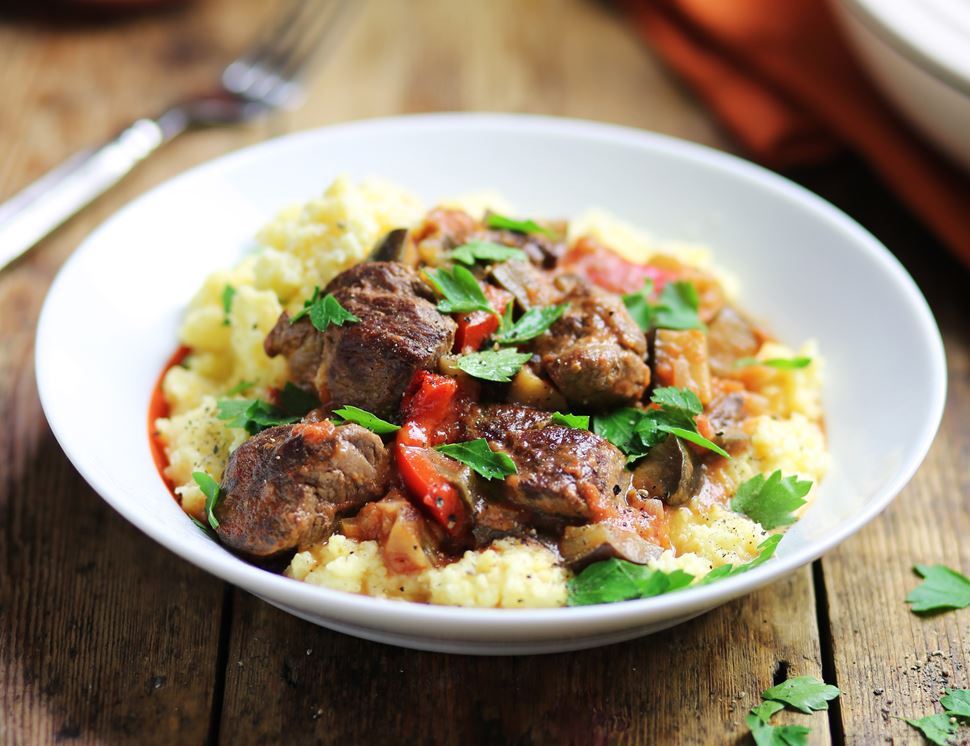 Ingredients you'll need
1 red onion
1 aubergine
1 red pepper
250g diced lamb
1 garlic clove
A handful of flat leaf parsley
1 tbsp red wine vinegar
400g chopped tomatoes
100g polenta
45g butter
From your kitchen
1 tbsp olive oil
Sea salt
Freshly ground pepper
200ml warm water
450ml boiling water
Step by step this way
1.

Peel and finely chop the onion. Trim the green top off the aubergine and chop the flesh into cubes around 1cm across. Halve the pepper. Scoop out the seeds and white bits. Finely chop it.

2.

Warm a deep frying pan or wok for 1 min. Add 1 tbsp olive oil and the lamb. Fry for 5 mins, turning now and then, till the lamb is browned all over.

3.

Lift the lamb out of the pan and pop it on a plate. Add the onion, pepper and aubergine to the pan with a splash of water. Season well with salt and pepper. Set the heat to medium-low and fry for 5 mins, stirring every so often, till the veg are soft.

4.

While the veg are cooking, peel and grate or crush the garlic. Finely chop the stalks from the parsley sprigs (keep the leaves to one side for later).

5.

Tip the lamb back into the pan with any juices from the plate. Stir in the garlic and parsley stalks. Add 1 tbsp vinegar. Cook and stir for 1 min. Tip in the chopped tomatoes. Half-fill the can with warm water (around 200ml) and add to the pan. Cover and simmer for 25 mins, till the lamb is tender.

6.

To cook the polenta, pour 450ml boiling water into a pan. Bring back up to the boil. Trickle in the polenta, whisking as you add it so the polenta and water combine smoothly. Season well with salt and pepper. (Start when the lamb has cooked for 20 mins, so they'll be done cooking at roughly the same time.)

7.

Pop a lid on the polenta pan. Keep the heat low and simmer for 5-8 mins, stirring a few times, till the polenta is thick and pulls away from the side of the pan when you stir it. Chop in the butter and stir it into the polenta till it's melted. Spoon the buttery polenta into warm bowls. Taste the lamb stew and season. Ladle it over the top of the polenta. Garnish with the parsley leaves.
Tip

Piles of polenta
The polenta will form a thick crust on the bottom of your pan. This comes off easily if you soak the pan in hot water as soon as you have spooned out the polenta. Leave it for 15-30 mins and the polenta crust will lift off in one piece.