Beef Satay Stir-Fry
Prep: 15 mins
Cook: 20 mins
In Indonesia beef skewers are served with a peanut dip as a starter. We've taken things a bit further and turned the classic pairing into a stir-fry, adding creamy coconut milk, tender rice noodles, a dollop of tamari and a rainbow of organic veg.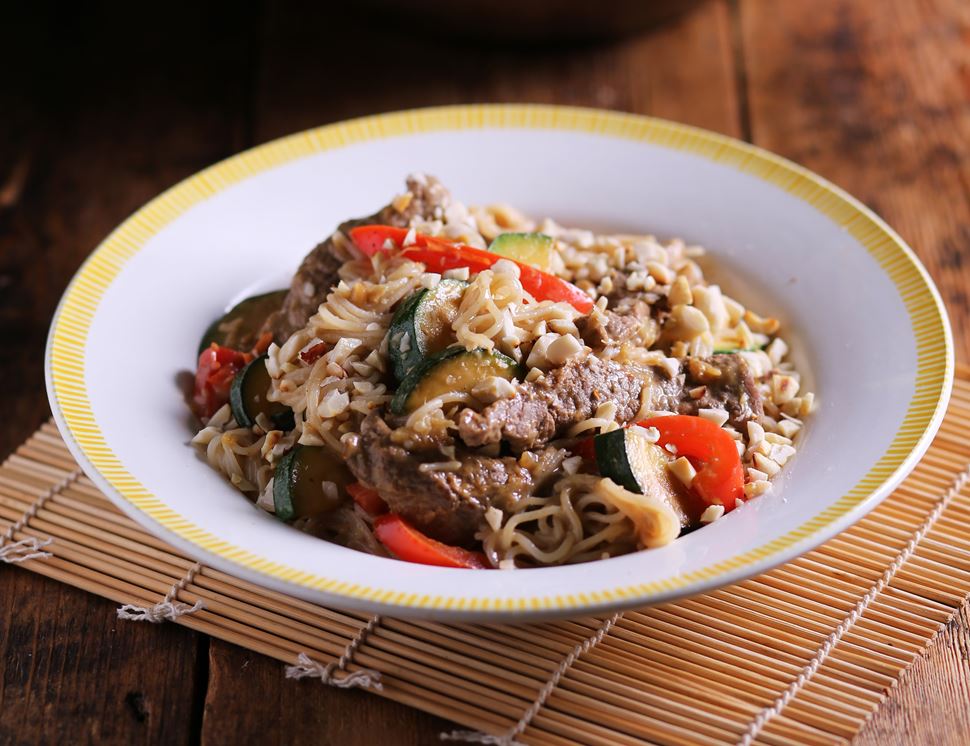 Ingredients you'll need
2 bundles of Thai rice noodles
35g peanuts
40g peanut butter
1 tbsp tamari
200ml coconut milk
1 red onion
1 red pepper
1 courgette
2 garlic cloves
A thumb of ginger
250g beef stir-fry strips
From your kitchen
100ml boiling water
1 tbsp coconut, sunflower or olive oil
Step by step this way
1.

Place 2 bundles of noodles in a large dish. Cover with cold water and set aside for 25 mins to soak – this will soften the noodles without making them too sticky or clump together.

2.

While the noodles soak, warm a wok or deep frying pan over a high heat. Add the peanuts. Toast for 3 mins till the peanuts are fragrant and golden. Tip into a bowl and set aside to cool.

3.

Pop the peanut butter in a heatproof bowl. Add 1 tbsp of the tamari (keep the rest for later) and all the coconut milk. Pour in 100ml boiling water. Gently stir to mix everything together. This is your satay sauce. Set aside.

4.

Peel and finely slice the onion. Halve the pepper and scoop out the seeds and white pith. Finely slice it. Halve the courgette lengthways, then slice it into 1cm-thick half moons. Peel and grate the garlic and ginger.

5.

Put the wok back on the heat. Add ½ tbsp oil and the beef stir-fry strips. Cook and stir for 3-5 mins till the beef is browned all over. Lift out of the pan and pop on a plate.

6.

Add another ½ tbsp oil to the pan with the onion, pepper and courgette. Cook and stir for 3 mins to just soften the veg. Add the garlic and ginger. Stir fry for another 2 mins.

7.

Add the beef stir-fry strips back into the pan. Pour in the satay sauce. Cover and bubble for 5 mins. While the beef satay simmers, roughly chop the toasted peanuts.

8.

Drain the noodles. Tip them into the beef satay and use 2 forks to pick everything up and drop it back into the pan a few times to mix it all together. Simmer for 2-3 mins to warm the noodles through.

9.

Taste the beef satay and add more tamari if you think it needs an extra kick. Spoon the beef satay noodles into 2 warm bowls and top with the toasted peanuts to serve.