Mulled Red Cabbage
Total: 85 mins
Inspired by our favourite seasonal tipple, mulled wine, this eye-catching, aromatic dish simmers tender red cabbage with a festive mix of cinnamon, cloves, bay leaf and citrus.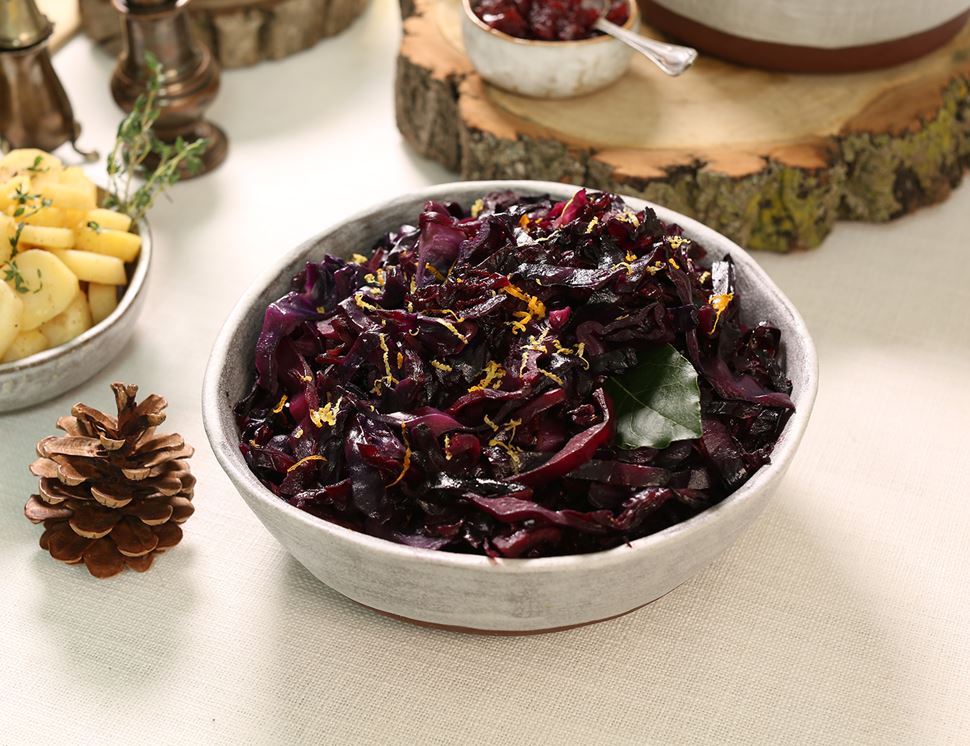 Ingredients you'll need
From your kitchen
2 tbsp olive oil
Sea salt
Freshly ground pepper
You'll need
Heavy-based casserole dish or pan with lid
Step by step this way
1.

Halve, then quarter the red cabbage. Slice out the thick, hard core in the middle and peel off any torn outer leaves (see our tip for making the most of them). Finely slice the cabbage leaves. Pop them into a colander and give them a good rinse.

2.

Finely grate the zest from the orange and lemon. Set aside. Squeeze the juice from both into a bowl. Add the red wine vinegar and 1½ tbsp of the demerara sugar (keep the rest for the Parsnips Vichy). Stir for 1-2 mins to start dissolving the sugar. Set aside.

3.

Put a heavy-based pan or casserole dish on a medium heat. Drizzle in 2 tbsp olive oil, and add the orange and lemon zest, the cinnamon stick, cloves and 2 bay leaves (save the rest for your Roast Turkey). Fry, stirring, for 2-3 mins till the pan smells aromatic.

4.

Add the cabbage to the pan, season with a good pinch of salt and pepper and stir to mix. Pour in the citrus juice and sugar mix. Pop a lid on the pan.

5.

Put on a medium heat and bring to the boil. Once it's boiling, turn the heat right down to very low. Simmer for 1 hr till the cabbage is soft. Check every so often, and if it seems too dry, turn the heat down again (if you can) and add a splash of water. Stir occasionally.

6.

Taste the cabbage and add a pinch more salt or pepper if you think it needs it. Spoon the cabbage into a warm serving bowl, discarding the bay leaves, cinnamon stick and cloves if you spot them. Serve straight away.
Tip

Low Waste, No Waste
Don't chuck your cabbage core straight into the compost. Finely slice it and any of the ragged leaves you pulled off the cabbage (slicing away any very nibbled bits), then use them to make a quick pickle. Pop them in a bowl with 2 tbsp sugar, 2 tbsp red wine vinegar and a good pinch of salt. Stir and leave for 30 mins. Eat alongside cold cuts or a cheeseboard.

Tip

Love Your Leftovers
Leftover mulled red cabbage will keep in the fridge for up to 3 days in a sealed tub. You can use it up in a cream gratin - mix it with leftover shredded roast turkey and pile in a heatproof dish. Stir crème fraîche with grated Parmesan and a little mustard, then spoon it over the cabbage and bake in a medium-hot oven till golden and bubbling.