Moroccan Lamb Neck with Roast Carrot Salad
Prep: 20 mins
Cook: 25-30 mins
Our high welfare lamb is made even more moreish in this Moroccan dish that's taken a tumble with cumin, orange zest and harissa.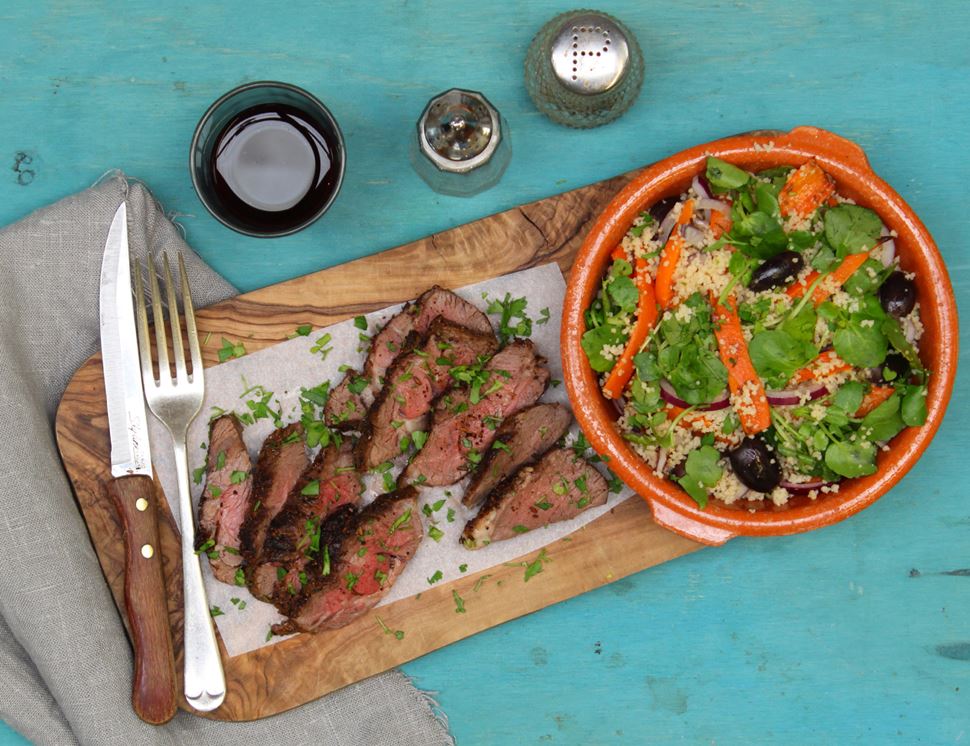 Ingredients you'll need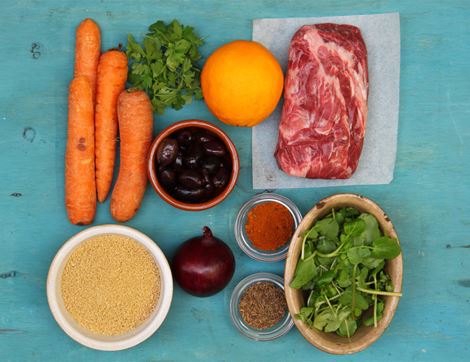 1 orange
2 tsp cumin seeds
A pinch of harissa
A pack of lamb neck fillet
A handful of carrots
A bag of wholewheat couscous
1 red onion
A bag of watercress
A handful of flat leaf parsley
A pot of black olives
From your kitchen
A glug of olive oil
Sea salt
Freshly ground pepper
150ml hot water
You'll need
Grater or zester
Baking tray
Pestle and mortar or spice grinder
Chopping board
Knife
Vegetabke peeler
Pan with a lid
Colander
Kitchen paper
Frying pan
Tongs
Heatproof bowl
Measuring jug
Cling film or saucer
Fork
Step by step this way
1.

Heat the oven to 200°C/Fan 180°C/Gas 6. Finely grate or pare the zest from the orange. Spread it out on a baking tray. Bake for 5 mins. Sprinkle over 1 tsp of cumin seeds. Bake for another 5 mins.

2.

Tip the orange zest and cumin into a pestle and mortar or spice grinder. Grind them to make a fine powder. Add a pinch of harissa and a glug of olive oil. Stir to mix. Rub the paste into the lamb. Put to one side. Fill a kettle and boil it.

3.

Peel and slice the carrots. Pop them in a pan. Fill with hot water from the kettle. Cover. Bring to the boil. Boil for 2-3 mins till just starting to soften. Drain and pat dry with kitchen paper. Lay out on the baking tray in a single layer. Drizzle with olive oil. Sprinkle over 1 tsp of the cumin seeds. Season. Roast for 10 mins.

4.

While the carrots cook, sprinkle the lamb with a little salt. Heat a glug of olive oil in a frying pan. Add the lamb. Fry for 1-2 mins till golden brown. Turn over. Fry for another 1-2 mins.

5.

Pop the lamb in the roasting tin with the carrots. Roast for 5-10 mins. Take the tin out of the oven. Cover with foil. Leave the lamb and carrots to rest for 5-10 mins.

6.

Pop the couscous in a heatproof bowl. Pour in 150ml hot water. Cover with cling film or a saucer. Put to one side to soak. Peel and slice the onion thinly. Rinse and roughly chop the watercress. Rinse and chop the parsley. Halve the olives.

7.

Fluff the couscous with a fork. Stir in the roasted carrots from the lamb tray, the sliced onion, watercress, parsley and olives. Taste and adjust the seasoning. Slice the lamb and serve with the couscous.
Tip

Roasting the lamb for 5-10 mins, depending on how thick your lamb neck fillets are, should give you nice pink meat. If you prefer your lamb cooked all the way through then roast it for 10-15 mins.