Mojo Bavette with Spicy Shoestring Potatoes & Mango Salad
Prep: 20 mins
Cook: 30-35 mins
Tonight's all about bringing a bit of mojo into your kitchen. Nothing like steak and chips for a pick me up dish. Your steaks get their mojo from their citrusy marinade.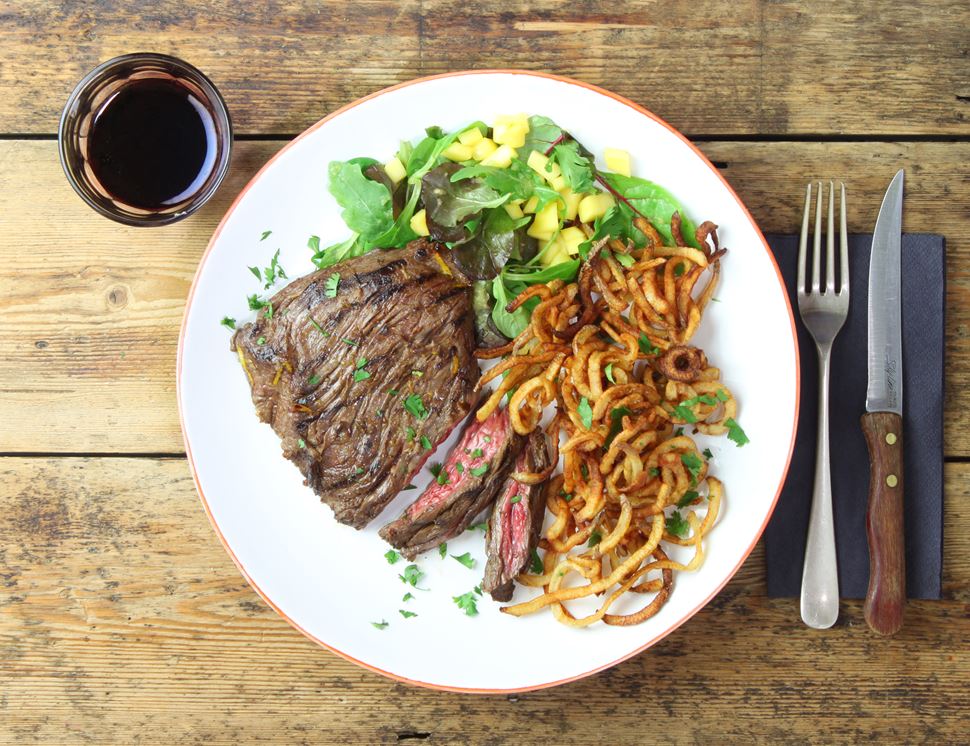 Ingredients you'll need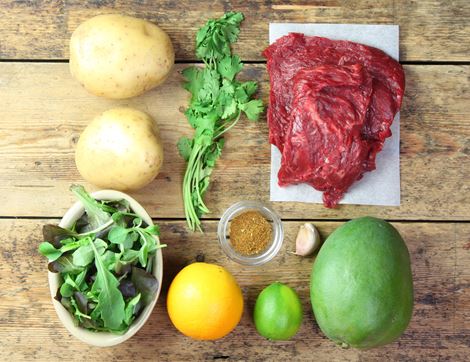 1 garlic clove
1 orange
1 lime
2 tsp Cajun seasoning
2 beef bavette steaks
2 baking potatoes
1 mango
A handful of coriander
2 lettuce
Step by step this way
1.

Peel and grate or crush the garlic. Juice and zest your orange and lime. Pour the juices into a bowl. Add the orange zest and garlic. Add 1 tsp Cajun seasoning and salt and pepper. Add the steaks. Leave to marinate for as long as possible in the fridge.

2.

Heat your oven to 180°C/Fan 160°C/Gas 4. Line a baking tray with baking paper. Cut your potatoes into fine slices, leaving the skin on. Cut the slices into matchsticks. (See our tip for making curly fries with a spiraliser or julienne peeler.)

3.

Toss the potatoes with 1 tbsp olive oil, 1 tsp Cajun seasoning and salt and pepper. Toss to coat. Spread thinly on the baking tray. The more spread out they are, the crispier they'll be. Cook for 20-25 mins till golden and crispy, tossing with a fork regularly.

4.

Peel your mango. Cut the fat cheeks off and chop them. Cut off the remaining flesh and place that into a small food processor with the lime zest. Add the coriander stalks and set the leaves aside. Add 2 tbsp cold water and blitz to form a smooth purée.

5.

Heat a frying pan. Take the steaks from the bowl and shake off any extra marinade. Rub with 1 tsp olive oil on each and place into the hot pan. Cook for 2-4 mins on each side depending on the thickness of your steaks and how well you like them cooked.

6.

Rest the steaks on a warm plate. Pour the marinade into the pan you cooked the steaks in. Bring to a simmer. Fold the mango purée through the baby leaf salad. Top with the chopped mango. Serve the steaks with the cooked marinade poured over and nestled next to piles of the fries. Scatter over the remaining coriander leaves.
Tip

Curly wurly wow
Use a spiraliser or julienne peeler to make long, curly fries. Heat a deep fat fryer or pan of sunflower oil to 130°C. Add the chips. Fry for 10 mins. Lift out. Drain on kitchen paper. Heat the oil to 160°C. Fry the chips for 4-5 mins till golden brown. Drain and serve.