Mixed Bean & Sweet Potato Nachos
Prep: 15 mins
Cook: 30-35 mins
Nacho cheese. Actually it is your cheese. And it's organic Cheddar cheese, so it's got more omega-3 goodness from all that amazing organic grass the cows eat. Get in.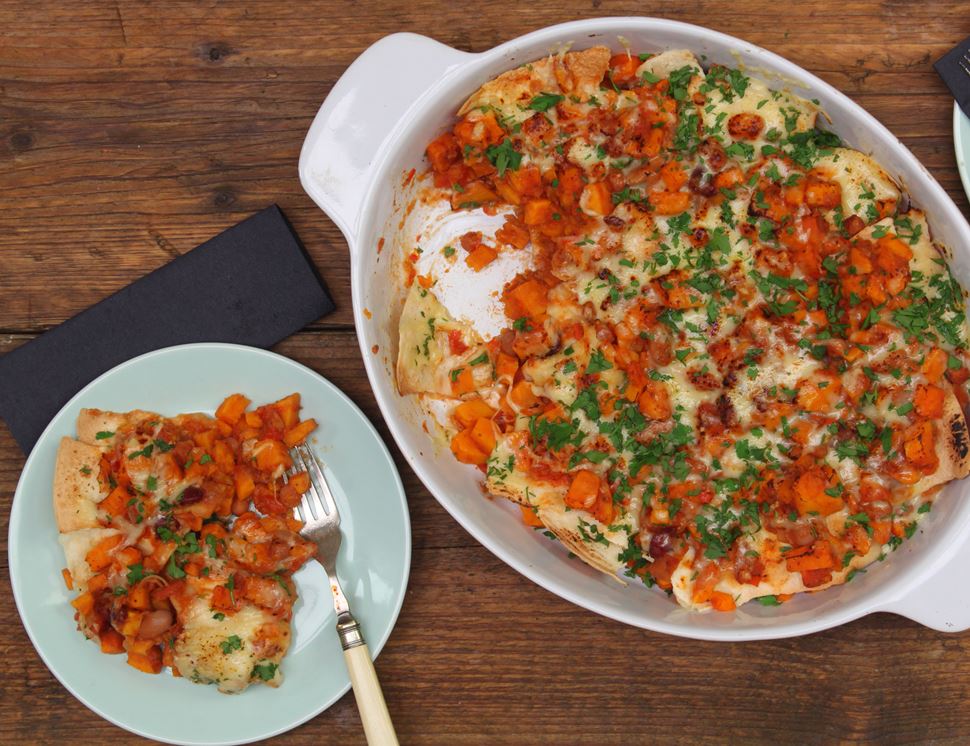 Ingredients you'll need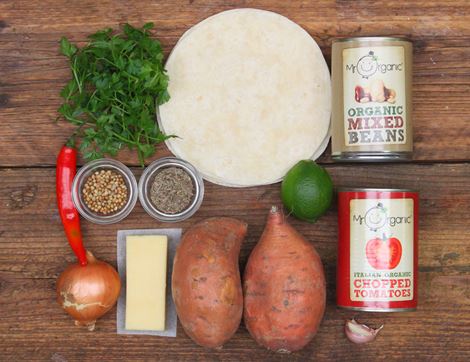 From your kitchen
1 tbsp olive oil
Sea salt
Freshly ground pepper
You'll need
Frying pan
Pestle and mortar or spice grinder (optional)
Large pan with lid
Colander
Pastry brush
2 baking trays
Heatproof dish or two small dishes
Step by step this way
1.

Peel the onion. Dice it. Peel and grate or crush the garlic. Rinse the chilli. Halve it, flick out the seeds and white bits (or leave them in for more heat). Finely chop it. Peel the sweet potatoes. Dice them. Grate or pare the zest from the lime.

2.

Heat a dry frying pan on low heat. Add 1 tsp each of cumin and coriander seeds. Toast for 1-2 mins till aromatic. Shake the pan so they don't burn. Tip into a pestle and mortar or spice grinder. Coarsely grind, or leave whole.

3.

Heat 1 tbsp olive oil in a large pan. Add the onion. Fry over a low heat for 5 mins till soft. Stir in the garlic, chilli, the spices and lime zest. Fry for 1 min. Add the sweet potatoes and chopped tomatoes. Fill the tomato tin ½ full with water. Add that.

4.

Drain the beans. Rinse. Add to the chilli. Cover. Simmer for 15-20 mins till the veg is tender. Uncover. Simmer for 5 mins till the sauce is thickened. Taste. Adjust the seasoning. While the chilli cooks, heat oven to 180ºC/Fan 160ºC/Gas 4.

5.

Slice each tortilla into 8 wedges. Arrange on 2 baking trays. Bake for 5-10 mins till they are just golden and crisp. Be careful not to let them burn.

6.

Wash the parsley and pat dry. Finely chop the leaves. Grate half the cheese. Arrange the nachos in a heatproof dish (or two individual dishes). Top with chilli and grated Cheddar.

7.

Heat your grill. Pop the nachos under the grill for 5 mins till the cheese is just melted and bubbling. Sprinkle the nachos with chopped parsley and serve straight away.

8.

Did you nacho? Nachos were invented in the 1940s when some hungry shoppers arrived at a hotel after the restaurant had closed. The hotel rustled up some cheese topped toritllas and Tex-Mex heaven was born.