Miso & Ginger Glazed Whiting
Prep: 20 mins
Cook: 30 mins
Gorgeously flaky fillets of sustainably caught whiting are drenched in a sweet-sour-salty (umami, if you're feeling foodie) glaze and grilled till sticky and tender. Served with quick stir fried organic veg and nutty basmati rice.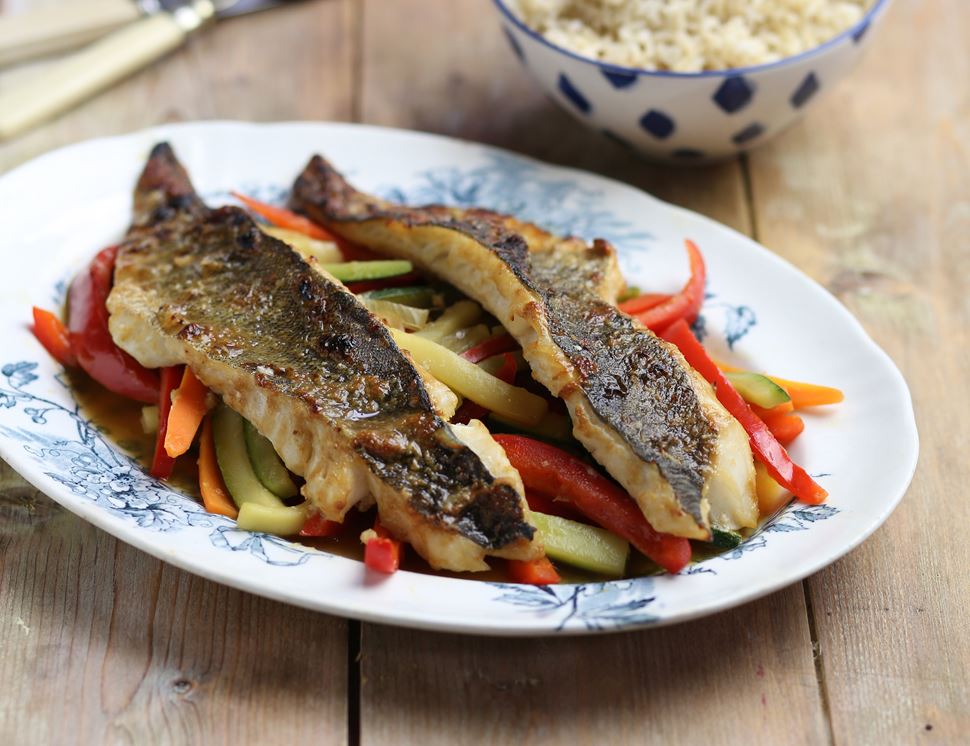 Ingredients you'll need
150g brown basmati rice
40g brown rice miso
2 tbsp brown rice vinegar
50g tamari
1 tsp Demerara sugar
A thumb of ginger
1 garlic clove
2 whiting fillets
1 carrot
1 courgette
1 red pepper
1 salad onion
From your kitchen
300ml + 150ml boiling water
Sea salt
1 tsp olive, sunflower or coconut oil
Step by step this way
1.

Tip the rice into a sieve and give it a good rinse under cold water. Tip into a pan. Pour in 300ml boiling water and add a pinch of salt. Cover and bring to the boil, then turn the heat right down to very low. Gently simmer for 25 mins till the rice is tender and has absorbed all the water. Take off the heat and let the rice sit in the pan, lid on, for 5 mins so the rice can steam and finish cooking.

2.

While the rice simmers, put the miso in a dish. Add 2 tbsp brown rice vinegar, the tamari and 1 tsp sugar. Peel and grate in the ginger and garlic. Give it all a good stir. Add the whiting fillets and turn a few times to coat them in the marinade. Set aside for 10 mins to marinate.

3.

Peel the carrot and slice it into thin batons as long as your little finger. Trim the ends off the courgette, halve it and slice it into batons to match the carrot. Halve the pepper, scooping out the seeds and white pith. Chop it into thin fingers. Trim the roots and top 3cm off the salad onion. Finely slice it.

4.

Heat your grill to high. Line a baking tray or grill pan with foil. Lift the whiting out of the marinade (keep the marinade for later) and pop it on the tray, skin-side up. Slide under the grill for 8-12 mins till the fish is browned on top and cooked through – it should be white and opaque, and flake easily when pressed with a fork.

5.

While the fish grills, put a deep frying pan or wok on a high heat for 2 mins. Add 1 tsp oil to the pan and add all the chopped veg. Stir fry for 5 mins till the veg have started to soften.

6.

Add the remaining marinade to the pan with 150ml boiling water. Simmer for 5 mins till the veg are cooked but not too soft.

7.

Fluff the rice with a fork and scoop it onto a couple of warm plates. Top with the stir fried veg, the sauce from the wok and the grilled fillets of whiting. Serve straight away.