Miso Butter Minute Steaks with Sweet Potato Chips
Prep: 20 mins
Cook: 30 mins
Minute steaks go for a flash in a pan with a savoury miso butter sauce to give them a crispy umami edge, then team up with sweet potato chips and a refreshing, crunchy salad of spring onions, radishes, ginger and garlic to make a flavour sensation of a supper.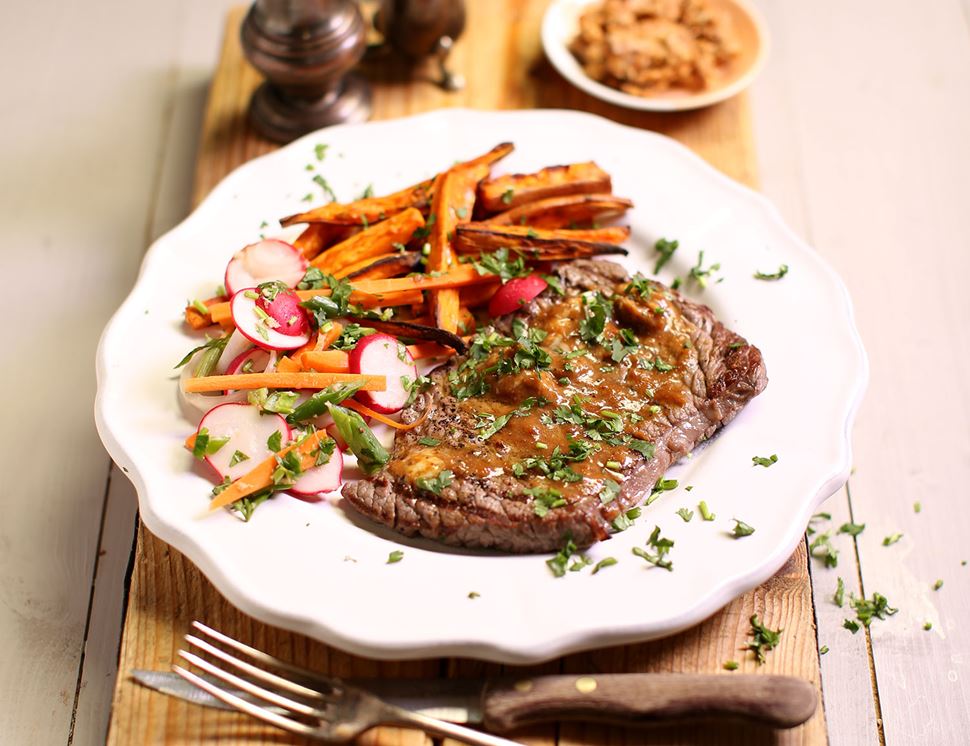 Ingredients you'll need
500g sweet potatoes
A bunch of radishes
1 bunch of spring onions
1 carrot
A handful of coriander
1 garlic clove
A thumb of ginger
1 lemon
1 tbsp brown rice miso
45g butter, room temperature
2 top rump minute steaks
From your kitchen
Sea salt
Freshly ground pepper
3 tbsp olive oil
Step by step this way
1.

Preheat your oven to 200°C/Fan 180°C/Gas 6. Scrub the sweet potatoes and slice them into chips as thick as your finger. Scatter the sweet potatoes onto a large baking tray. Toss with 1 tbsp oil and a pinch of salt and pepper. Slide into the oven to roast for 30 mins.

2.

Meanwhile, separate the radishes from their leaves (you can save the leaves for salads or to turn into a pesto). Rinse the radishes and thinly slice them. Slide the radishes into a large bowl. Trim the roots and any dry ends off the spring onions, then finely slice the spring on an angle. Scrub the carrot and slice into thin matchsticks. Add the spring onions and carrot to the radishes.

3.

Finely chop the coriander leaves and stalks. Peel the garlic and ginger and grate or finely chop. Slide the coriander, garlic and ginger into the bowl with the veg. Squeeze over the lemon juice and add a little salt and pepper. Stir well and set aside.

4.

Spoon the butter into a bowl. Add 1 tbsp miso and stir well till combined. Set aside.

5.

Pour 1 tbsp oil into a large heavy pan and warm to a high heat. When the pan is hot, add the minute steaks. Fry for 30 secs-1 min on each side, depending on how well done you like your steaks, then scoop the steaks out of the pan and onto a plate. Loosely cover with foil and let them rest for a few mins. Reduce the heat under the pan slightly and add the miso butter. Stir around the pan till melted.

6.

Divide the steaks, sweet potato chips and radish salad between plates. Spoon the miso butter over the steaks and serve.
Tip

Green means go
Don't worry, your eyes don't deceive you. These are lemons you see before you, and they are in fact green. They're called Verdelli, and they're just as juicy as you'd expect from their yellow cousins. Some lemons are forced to turn yellow through gassing with ethylene, but that's not very organic now, is it? We like these just as they are.