Minute Steaks with Jersey Royals & Wild Garlic Pistou
Prep: 10 mins
Cook: 20 mins
Less time spent cooking them means more time for you to savour these organic minute steaks topped with wild garlic and lemon pistou (French for pesto), served with a beautifully spiced heap of tender butter beans and aubergine rounds.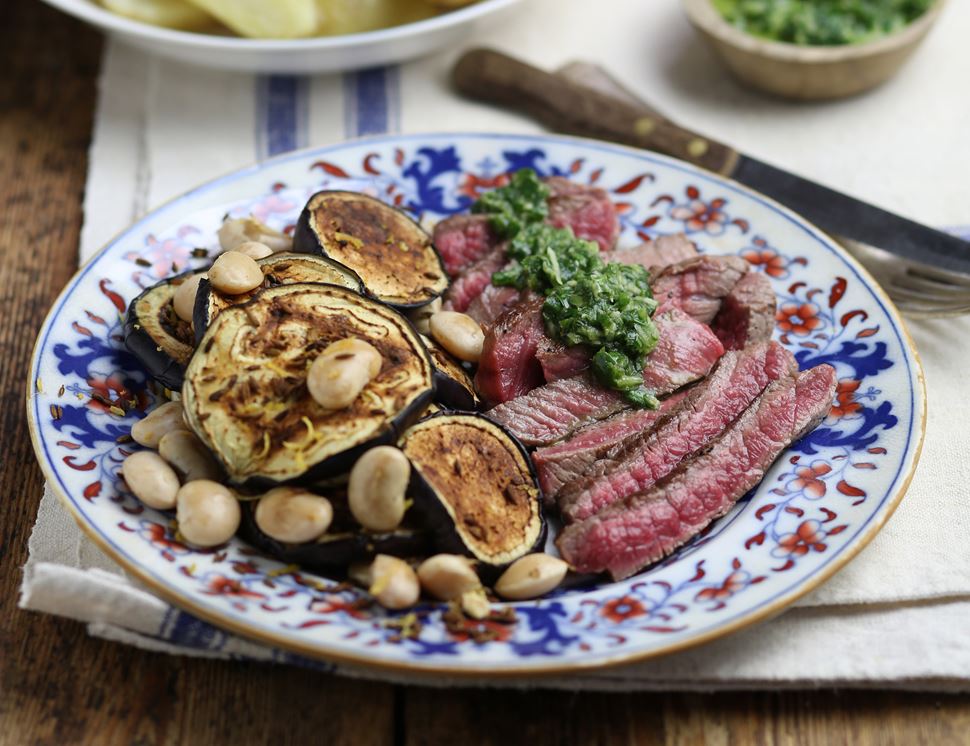 Ingredients you'll need
2 top rump minute steaks
A handful of wild garlic
1 garlic clove
1 lemon
400g tin of butter beans
400g Jersey Royal potatoes
2 aubergines
2 tsp cumin seeds
From your kitchen
Sea salt
Freshly ground pepper
2 tsp olive oil
2 tbsp cold water
Step by step this way
1.

Put a large pan of salted water to boil. Lay the steaks on a plate or board. Season well on both sides with salt and pepper. Drizzle ½ tsp olive oil over each steak. Rub all over. Set aside.

2.

Roughly chop the wild garlic. Add to your food processor. Peel the garlic and add that too. Finely grate the lemon zest into a separate bowl, then squeeze the juice from 1 half into the processor. Add a good pinch of salt, 1 tsp olive oil, 2 tbsp cold water. Blend till smooth. Taste and add more lemon, water or salt as needed. This is your pistou. Set aside. No processor? See our tip below.

3.

Drain and rinse the butter beans. Scrub the potatoes and chop them into bite-size chunks. Trim the tops off the aubergines. Slice the flesh into 1cm-thick rounds.

4.

The water should be boiling by now. Add the potatoes to the pan of boiling water and simmer for 15 mins till the potatoes are tender when pressed with a fork.

5.

While the potatoes cook, set a large frying pan over a high heat. Dust the aubergines with a generous sprinkle of salt and pepper. Cook, in a single layer, in the frying pan (no oil needed) till lightly charred on each side, about 5 mins per side. You may need to do this in batches. Pop the aubergines in the bowl with the lemon zest.

6.

Tip the butter beans into the hot frying pan and add 2 tsp cumin seeds. Cook for 5 mins. Add to the aubergines and stir to mix.

7.

Put the frying pan back over a high heat. Add the steaks. Cook for 30 secs-1 min on each side, or a little longer for more well-done steaks. Pop on a warm plate, loosely cover with foil and leave to rest for 2 mins. The potatoes should be ready to drain by now.

8.

Serve the steaks with the pistou drizzled on top, a mound of cumin-spiced aubergines and beans alongside, and the tender potatoes on the side.
Tip

How to be a whizz
No food processor to make your pistou in? Not a problem. Chop the wild garlic as finely as you can and pop it in a bowl. Peel and crush or grate the garlic. Add it with the juice of half a lemon, 2 tsp olive oil, 2 tbsp cold water and a pinch of salt. Stir to mix. Ta-dah!